Palace clarifies Philippines not dropping South China Sea claims, arbitral ruling
September 12, 2019 | 9:08pm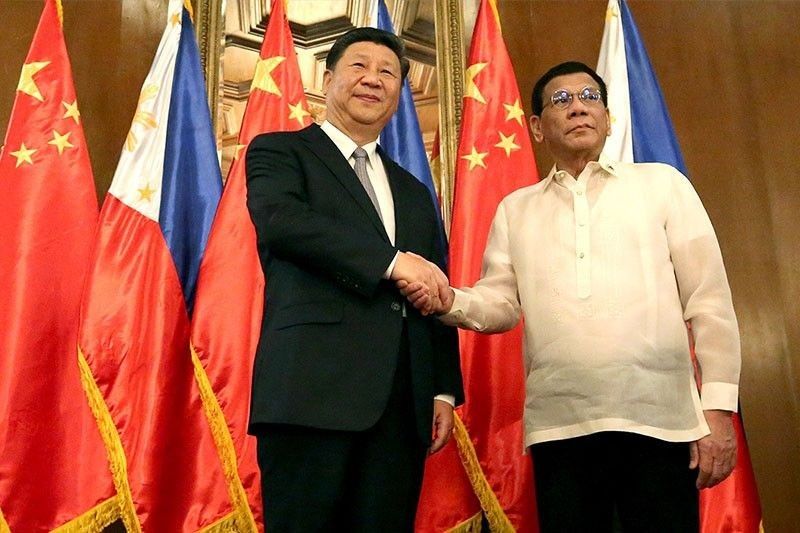 MANILA, Philippines — The Duterte administration is setting aside but not abandoning the arbitral ruling that upheld the Philippines' sovereign rights over its exclusive economic zone, Malacañang clarified Thursday.
President Rodrigo Duterte revealed this week that China had vowed to adopt a 60-40 sharing scheme favoring the Philippines in the proposed joint development of resources in the West Philippine Sea if the 2016 landmark ruling is set aside.
Duterte, who has been accused of cozying up too much to China and being too soft on the West Philippine Sea Sea row, has said the arbitral ruling on the EEZ would be "ignored" to "come up with an economic activity."
But presidential spokesperson Salvador Panelo clarified that the Philippines is not dropping its legal victory against China.
"The setting aside doesn't mean that we will abandon it. What the president means is that, as we have repeatedly said and as he has said, too, the arbitral ruling is still subject to talks between the two countries; negotiation is ongoing peacefully. But meanwhile, we focus without other concerns that may mutually benefit the two countries," Panelo said in a press briefing.
"In other words, there is an impasse so let them talk; so let's talk about other things like this joint exploration," he added.
READ: Robredo hits Duterte's 'disappointing, irresponsible' remarks on arbitral ruling
During their bilateral meeting in Beijing last month, Duterte and Chinese President Xi Jinping discussed the West Philippine Sea dispute, including the memorandum of understanding on cooperation in oil and gas development signed by the two countries last November.
Xi reiterated that China does not recognize the arbitral ruling, which also invalidated Beijing's expansive claim in the South China Sea.
Duterte has said he was not satisfied with the Chinese leader's response and admitted that the maritime dispute would remain a problem "like a sore thumb that sticks out painfully every day."
Panelo also claimed that Foreign Affairs Secretary Teodoro Locsin Jr. was not refuting Duterte when he said the proposed oil and gas development in the West Philippine Sea would not compromise the Philippines' arbitral victory.
"Not set aside, but set aside in the sense that, 'OK, let's talk about it, we will continue talking.' That's what he meant. It's not just focused on that (issue). As we have always said, the relationship between the two countries is not measured by the conflict in the West Philippine Sea alone," the presidential spokesman said.
"When he said 'ignore,' he meant set aside. It's (arbitral ruling) still there. There is an impasse. We have not moved forward but we continue to talk. We're still peacefully negotiating the the same, in fact that was joint statement of the two (leaders)," he added.
Panelo said Duterte regards the arbitral ruling as permanent, binding, final and unappealable.
"It's there forever and ever, like forever," he added.
READ: Duterte ready to 'ignore' arbitral ruling for joint exploration with China
Panelo also hit former Foreign Affairs Secretary Albert del Rosario, who said the preservation of national patrimony, including the EEZ, is "infinitely more valuable" than coming up with an economic activity.
"He (Del Rosario) talks too much. We've already responded to all his opinions and he should look at himself on the mirror and admit that he's the one responsible for losing Scarborough (Panatag) Shoal," Panelo said.