Robredo hits Duterte's 'disappointing, irresponsible' remarks on arbitral ruling
September 12, 2019 | 2:26pm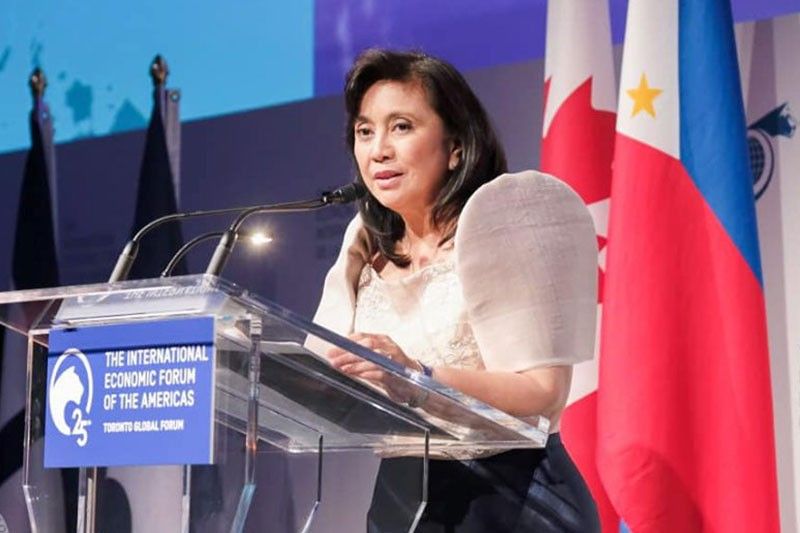 MANILA, Philippines — Vice President Leni Robredo has expressed dismay over the pronouncement of President Rodrigo Duterte to "set aside the arbitral ruling to pursue joint exploration with China.
The president earlier said China has agreed to a 60-40 sharing scheme in the possible joint oil and gas exploration in the West Philippine Sea.
"Kasi 'yang exclusive economic zone is part of the arbitral ruling which we will ignore to come up with an economic activity," Duterte said Tuesday night.
Robredo said Duterte's recent declaration on "ignoring" the arbitral ruling is "profoundly disappointing and extremely irresponsible."
The vice president pointed out that Foreign Affairs Secretary Teodoro Locsin Jr. himself said there was no need to set aside the ruling to pursue the joint exploration with China.
"Entering into any agreement should not come at the expense of upholding our rights to the West Philippine Sea," Robredo said.
Robredo also stressed that Duterte's argument that there are only two choices for the Philippines — capitulation or conflict — is not true.
Citing Vietnam and Indonesia, the vice president said asserting sovereign rights over Philippine exclusive economic zone does not entail open warfare.
"The strongest anchor to our claim must be consistency — in our official positions, in our negotiations, and in the statements of our top officials," the vice president said.
Robredo warned that Duterte's policy on the West Philippine Sea will have implications not only for the rest of his term but also for the next administrations.
"It will affect the lives not just of our generation of Filipinos, but that of our children, and our children's children. We must take great care in ensuring that we are not trading away the long-term interests of our nation and our children for short-term profit," she said.
Duterte said he raised the arbitral ruling with Chinese President Xi Jinping during their bilateral meeting in Beijing last month.
The Chinese leader, however, refused to acknowledge the arbitral ruling that invalidated Beijing's nine-dash line claim over the South China Sea.
"You know, China is there. He holds the property under the claim of ownership. 'Yan ang sagot niya. It is ours, we will not budge," Duterte said.