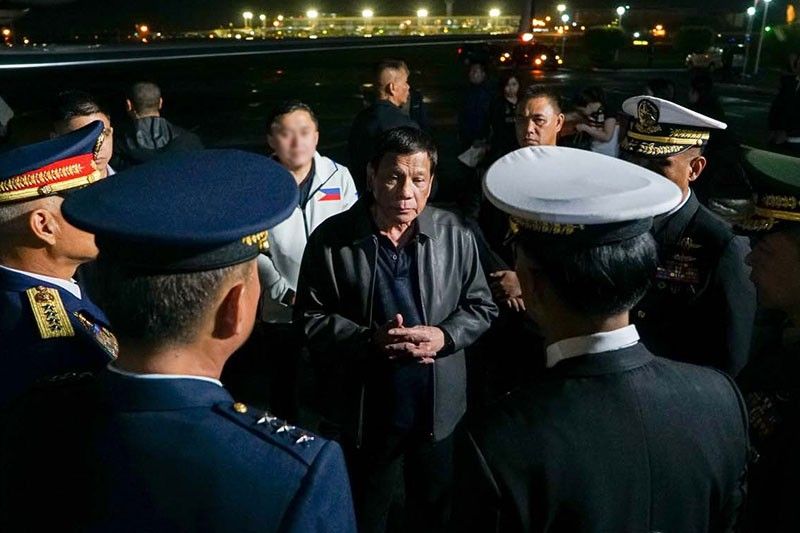 President Rodrigo Duterte discusses matters with police and military officers upon his arrival at the Villamor Air Base in Pasay City on Sept. 1, 2019 following his successful official visit to China.
Presidential Photo/King Rodriguez
Chinese warships in Philippine waters angered Duterte — Locsin
MANILA, Philippines — Chinese warships entering Philippine waters in the past months irked President Rodrigo Duterte, Foreign Affairs Secretary Teodoro Locsin Jr. said.
Defense and military officials earlier said the Chinese vessels were not merely conducting innocent passage through Sibutu Strait as they have switched off their Automatic Identification Systems (AIS).
According to Locsin, Duterte raised this issue with Beijing, which agreed to inform Manila before its warships enter the country's waters.
"Duterte said, he was really angry. He said, 'They must ask permission before going through our waters.' And then China answered, 'Of course, next time we will ask permission,'" Locsin told ANC's "Headstart" Wednesday morning.
The Philippines' top diplomat noted that the Chinese warships seemed to be going around in circles and that their tracking device have been turned off.
Shutting off the ships's AIS could mean that the Chinese were covering their movement, the secretary said.
Locsin added that the Philippine government can verify China's claim that there was a storm that forced the Chinese warships to stay longer in the country's waters.
Defense Secretary Delfin Lorenzana earlier said the Chinese could be "taunting" the country by deploying warships through Philippine waters without informing authorities.
Armed Forces of the Philippines spokesperson Brig. Gen. Edgard Arevalo also said the series of Chinese incursions in Sibutu Strait could be considered a threat to national security.
The Philippine military raised the possibility that the Chinese could be conducting maritime surveillance and other activities in the country's waters. The presence of four Chinese warships in the past months could also be considered trespassing, the military said.
"Just as when you pass through someone's backyard, you must first ask permission from the owner. And that is the requirement that we asked of them – to obtain diplomatic clearance before they pass through. But since they did not observe this, then definitely these are incursions and these are trespassing, in a sense, in our territorial waters," Arevalo said last month.
Last month, Locsin directed the Department of Foreign Affairs' Office of Asia and Pacific Affairs to file diplomatic protests over the presence of Chinese warships in Sibutu Strait.
"Drop the diplomatic crap; say it is ours period; they're trespassing," Locsin tweeted August 19.