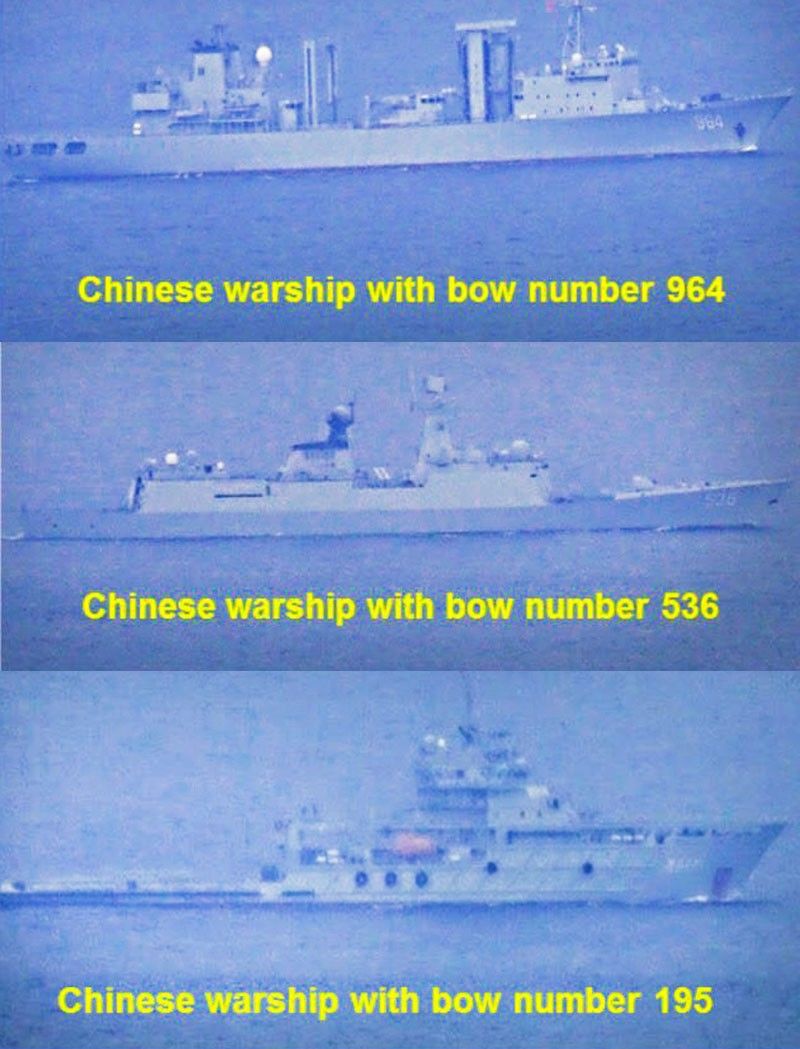 Photos provided by the Western Mindanao Command show three of the five Chinese warships spotted at Sibutu Strait in Tawi-Tawi in July and August. Philippine security officials say the ships entered into territorial waters without any coordination or advance notification and switched off their automatic identification systems.
File
China warships trespassing in Philippine waters – DND, AFP
MANILA, Philippines — The incursion of Chinese warships into Philippine territorial waters without prior coordination is a clear case of trespassing, defense and military officials said yesterday.
Defense Secretary Delfin Lorenzana said the Chinese appeared to be "taunting" the Philippines by deploying their warships through Philippine territorial waters with the vessels' Automatic Identification Systems (AIS) switched off and without prior notification of transit to Philippine authorities.
Lorenzana told "The Chiefs" last night on Cignal TV's One News that he had brought up the warship incursions with Chinese Ambassador Zhao Jianhua after the first incidents in February this year, during which the military had already taken note that the vessels were not merely conducting "innocent passage" through Sibutu Strait.
Zhao reportedly promised Lorenzana that the incidents were "wrong" and would be looked into. But the incidents were repeated in June and this month.
Armed Forces of the Philippines (AFP) spokesman Brig. Gen. Edgard Arevalo said that, on the military level, these series of incursions in Sibutu Strait, which is a passage to Indonesia, could be considered a threat to national security as the Chinese could be conducting maritime surveillance and other activities.
Arevalo said the presence of four Chinese warships last July 2 and another one on Aug. 4 "could be considered trespassing."
Unlike maritime militia vessels that China usually deploys around the South China Sea, the vessels can be clearly identified as warships because of gun turrets and related features, Lorenzana said.
Lt. Gen. Cirilito Sobejana, commander of the Zamboanga City-based Western Mindanao Command (Westmincom), reported the latest presence of warships in Tawi-Tawi late Wednesday afternoon after these were spotted during a regular Maritime Domain Awareness monitoring in the country's porous southern backdoor.
He added that while the Chinese warships were not hostile when Philippine military planes and ships spotted them, their sailing patterns appeared to be "highly suspect" as these were not consistent with international rules on innocent passage.
Sobejana pointed out that the warships were zigzagging and not sailing straight as civilian ships would do when simply passing through.
"Just as when you pass through someone's backyard, you must first ask permission from the owner. And that is the requirement that we asked of them – to obtain diplomatic clearance before they pass through. But since they did not observe this, then definitely these are incursions and these are trespassing, in a sense, in our territorial waters," Arevalo said.
He said the military does not know why the warships were sailing inside the country's territorial waters.
Lorenzana told The Chiefs that the AFP lacks the capability to stop such surreptitious incursions, but the problem could be taken up bilaterally through peaceful channels.
"We will call their attention," presidential spokesman Salvador Panelo assured the public during a press briefing yesterday. "The Chinese ambassador has invited me for dinner one of these days. Maybe I will raise that to him."
Panelo said he would ask Zhao if the Chinese government is aware of the presence of their ships in Philippine waters.
When asked if the Chinese can be trusted, Panelo did not give a direct answer and merely claimed that the Philippines complies with international laws.
"It's like asking, 'Can we trust anybody?' It depends... As for us, our position is clear: we respect the UNCLOS (United Nations Convention on the Law of the Sea) and the (Declaration on the) Code of Conduct," he said.
UNCLOS permits "innocent passage" of ships or vessels through a coastal state's territorial sea. Innocent passage is described as "continuous and expeditious" and "not prejudicial to the peace, good order, or security of the coastal state."
Sobejana has said that although the Chinese warships were not hostile, their movement could not be considered innocent passage.
"An innocent passage, following the sea lanes of communications, (is a movement in a) straight line...If it curved, that is no longer considered as innocent passage," he said last Wednesday.
'Not an act of friendship'
Panelo said the Philippines would protest any violation of the UNCLOS. He, however, could not provide updates on the protests filed by the Philippines.
"We express concern with that kind of incident. Because if they keep on saying that we're friends, I don't think this is an act of friendship," the presidential spokesman said.
He added that turning off automatic radar systems by the Chinese ships could be a "violation of the UNCLOS."
He also that Duterte would still raise the arbitral ruling during his visit to China this month even if the Chinese government does not recognize the decision. The 2016 ruling voided Beijing's maritime claims and upheld the Philippines' rights over its 200-nautical-mile exclusive economic zone or EEZ. China has said it won't change its stand on the ruling.
"And neither are we changing our position, too. But it doesn't mean that, as friends, we cannot discuss that issue. It has to be discussed, that is precisely why there is a mechanism for negotiation. There are things we can agree upon, there are differences that we may not. But that does not preclude both countries to raise that issue and discuss amicably," Panelo said.
Lorenzana will be joining Duterte in the China visit.
Panelo also responded to statements that Duterte should not use the word "invoke" when referring to the arbitral ruling. Zhao previously said he did not recall Duterte saying the word.
"The President said, 'Nobody can control my words to our people. This is my duty as President.' So when he addresses the Filipino people, nobody can stop him from saying what he has to say," Panelo said. "He will not alter his position on the matter in the same way that the Chinese government as it says will not (change its position)."
Asked what would be the "win-win" solution if China refuses to budge on the ruling, Panelo replied: "Let's see. If we are friends, there is give and take. But what is important is, as (Duterte) promised the Filipino people, he will raise that issue at the proper time and he said, 'This is the time.' "
Panelo said Duterte would also call for the crafting of a binding code of conduct for South China Sea claimants during his fifth visit to Beijing.
"The reason among others that he wants to go to China is because he wants to hasten the enactment of the Code of Conduct, because it triggers incidents," Panelo said.
Acting defense spokesman Undersecretary Cardozo Luna said it is up to the Department of Foreign Affairs (DFA) to communicate the government's security concerns with the Chinese embassy.
"If it is proven that the Chinese violated international or Philippine laws, or any maritime protocols, then the DFA can file an appropriate diplomatic protest," Luna said.
Earlier, Zhao promised Lorenzana that they would be coordinating with concerned Philippine authorities in the future voyage of their warships inside the country's territorial waters.
Jianhua made this assurance when Lorenzana confronted him during the People Liberation Army-Navy anniversary held in a Makati Hotel.
In the meantime, Sobejana said the NFWM was directed to intensify and continue its regular patrols in the country's southern part.
He also requested for an increase in naval assets that will be used to patrol the southern border because of the continuous threats posed by foreign terrorists who reportedly use the Philippines' backdoor to slip in.