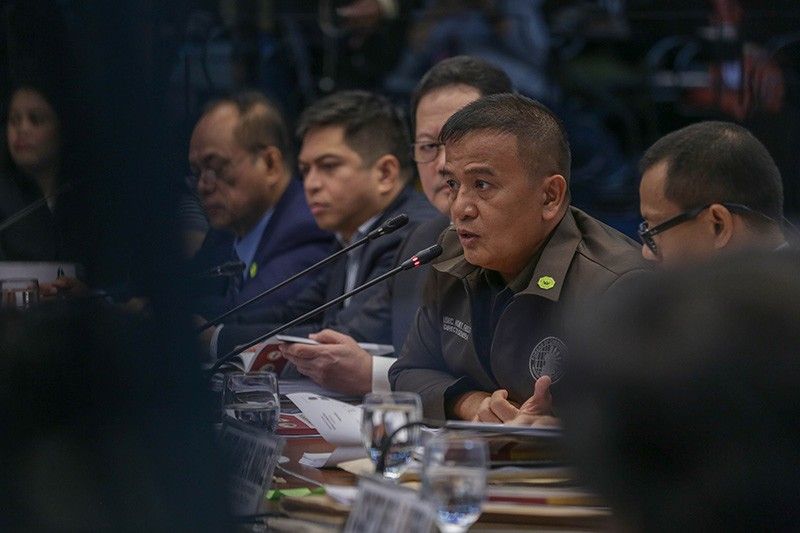 Bureau of Corrections chief Nicanor Faeldon during the second day of the Senate blue ribbon committee's hearing on the controversy surrounding the law on good conduct time allowance on Tuesday, Sept. 3, 2019.
The STAR/Mong Pintolo
Palace says it is possible Faeldon had no clue about corrupt practices in BuCor
MANILA, Philippines — Corrupt practices at the Bureau of Corrections may have slipped past its former chief Nicanor Faeldon, Malacañang said Monday, as it justified President Rodrigo Duterte's continuing trust on the dismissed official.
Presidential spokesperson Salvador Panelo said Duterte is convinced that Faeldon had nothing to do with the alleged anomalies in the implementation of the Good Conduct Time Allowance law.
"Personal yung kanyang tingin doon. Ibig sabihin hindi siya involved. Kumbaga parang sa Customs, nalusutan siya na naman (I think it's something personal. That means he is not involved. Just like in Customs, we may have been outfoxed)," Panelo said in a press briefing.
"People are having a hard time there. Ever since, even during previous administrations, they have been doing that. Regardless of who you place there, if they are good in doing that, they will really outfox you," he added.
READ: 'Honest siya': Palace tries to justify Duterte's trust in Faeldon
Last Wednesday, Duterte fired Faeldon for disobeying his order not to release high-profile crime convicts who displayed good conduct until further notice. He has also expressed suspicion that there was corruption in the implementation of GCTA and that some convicts may have resorted to bribes to secure their early release.
Two days later, Duterte, who had vowed not to allow even a whiff of corruption under his watch, declared that he still believes in Faeldon because he is an "upright man."
"Everything is possible in the Bureau of (Corrections) as what we seeing now on national television. We can see how those in the lower echelons are manipulating each other," Panelo said.
Asked how he could reconcile Duterte's trust in Faeldon with the president's anti-corruption stance, Panelo replied: "He was dismissed right? What more do you want? He is given the highest penalty of dismissal from his position. Regardless of whatever reason, he was fired."
READ: Duterte's anti-corruption body to leave no stone unturned in GCTA probe, but won't touch Bato
Panelo claimed that Duterte was not absolving Faeldon of any wrongdoing, noting that an investigation is ongoing.
"It doesn't do anything. That's the personal statement of the president because he knows him personally. And the ombudsman will never be influenced, nor intimidated. Knowing the ombudsman, Ombudsman Sammy Martires. His reputation is solid. He will go about his work as the Constitution directs him to do," he said.
"The president always respects the decision of independent bodies, whether constitutional or not, even its own department or agencies."
Palace: Duterte admires Faeldon's honesty
Panelo said Faeldon has earned the trust of Duterte when he exposed the smuggling of cigarettes when he was Customs chief.
"If you haven't known it yet, as he repeatedly said, the smuggling of the Mighty Cigarette would have not been exposed if Mr. Faeldon kept quiet. He could have earned billions because we were able to get about P37 billion out of that," the presidential spokesman said.
Duterte's remark that he still believes in Faeldon drew flak among some senators and families of heinous crime victims, including Thelma Chiong, the mother of two siblings who were kidnapped and murdered in Cebu in 1997.
READ: DOJ: 4th convict in Chiong sisters' case freed under GCTA to surrender
Three of the seven people who were convicted for the kidnapping, rape and murder of Marijoy and Jacqueline Chiong were released last month due to good behavior.
Panelo said Mrs. Chiong should trust Duterte with regard to his stance on Faeldon.
"Mrs. Chiong, thepPresident knows Mr. Faeldon personally and there have been experience in the past that gave him the trust to him remaining until now. So I would suggest trust the president first," the presidential spokesman said.
"I would suggest that she monitors the Senate hearings because right now there is an ongoing investigation, an inquiry on that. And it appears that the corruption is on the lower level. From what I can see from the testimonials I have heard so far," he added.
'Outfoxed' in Customs
In 2017, Faeldon resigned as Customs chief as he was under fire over the entry of P6.4 billion worth of shabu in the country. Despite the controversy, the president said the widespread corruption in Customs, not Faeldon, should be blamed for the narcotics smuggling. Duterte also claimed that Faeldon was just outplayed by the corrupt personnel in the bureau.
Panelo insisted Duterte can appoint Faeldon to another post if he wants to.
"That is the call to the president. He has the absolute discretion to appoint anybody whom he trusts, whom he feels competent, and whom he feels could do miracles in one particular department or agency," Panelo said.
"If the president reappoints Faeldon, we'll have to trust him on that," he added.
READ: Up to Duterte if Faeldon will be given another government post, Palace says
Asked why Duterte keeps on reappointing Faeldon, Panelo said: "He admires the man's honesty. He was thrown into a situation where he could have corrupted himself but he did not bite. The president admired that."
Pressed what Duterte's continuing trust in Faeldon says about the administration's standards in choosing government personnel, Panelo said the standard is one is removed for incompetence, for corruption, or disobeying direct orders of the president.
"If you disobey, that means you are not performing competently because you're disobeying a direct order...But the fact is when you are removed, it may be difficult for you to come back," he added.
Panelo wants GCTA scrapped
Panelo said he is in favor of scrapping the GCTA, which reduces the jail time of convicts who displayed good behavior.
"If I were invited in the Senate, if I were asked, I would just say, 'Just serve the sentence, what the court says regardless of good conduct or bad conduct,'" the presidential spokesman said.
Panelo clarified he was just expressing a personal opinion and he has yet to spoke with Duterte on the matter.
The presidential spokesman is also in favor of jamming the signals in the national penitentiary to ensure that the Internet is not being used for illegal transactions.
"The law should require them (telcos) to stop the signal, the operation of a particular use of communication system within an area...I will suggest to the president," Panelo said.