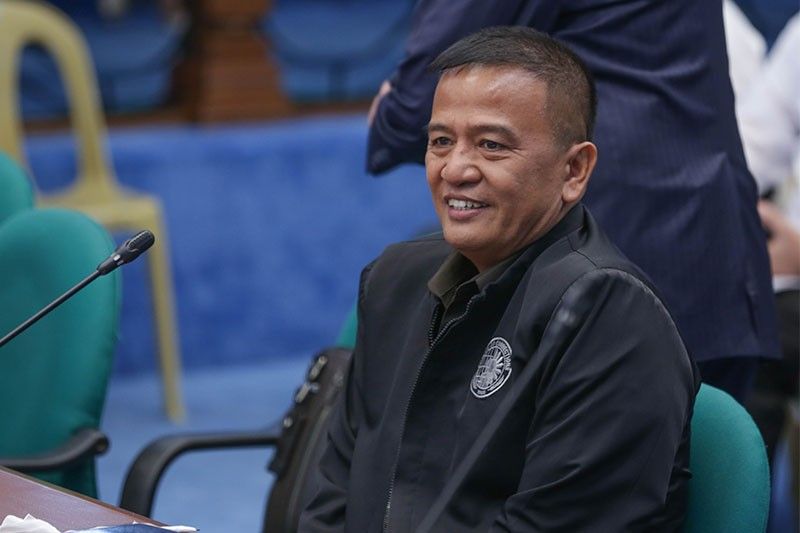 In this Sept. 2, 2019 photo, dismissed Bureau of Corrections Director General Nicanor Faeldon attends the Senate Blue Ribbon Committee hearing on the Good Conduct Time Allowance law.
The STAR/Mong Pintolo, file
'Honest siya': Palace tries to justify Duterte's trust in Faeldon
MANILA, Philippines — Despite controversies following him wherever he is appointed, sacked Bureau of Corrections (BuCor) chief Nicanor Faeldon still enjoys the trust of President Rodrigo Duterte.
Presidential spokesperson Salvador Panelo explained that Duterte personally knows Faeldon and that there have been experiences in the past that sealed the president's trust on the former Marine who later joined a mutiny against President Gloria Macapagal-Arroyo.
"'Yung honest siya (Faeldon). 'Yun ang hanga si presidente sa pagka-honest niya," Panelo said in a press briefing Monday.
(His honesty. The president is impressed with his honesty.)
The Malacañang spokesman further added that Faeldon could have stayed silent on the smuggling issue when he was at the Bureau of Customs.
It was under the term of Faeldon as Customs commissioner when P6.4 billion worth of shabu from China slipped past through the agency. Faeldon resigned from the Customs bureau in late 2017 due to the shabu controversy.
Duterte later on appointed Faeldon as deputy administrator of the Office of Civil Defense, a disaster-response agency under the Department of National Defense.
In November last year, Faeldon assumed his post as head of the BuCor to replace Ronald "Bato" dela Rosa, who resigned to run for senator in the 2019 midterm elections.
Faeldon was again embroiled in controversy for the early release of heinous crimes convicts under the Good Conduct Time Allowance law.
Just last week, Duterte ordered Faeldon to immediately step down from his post for disobeying his order not to release convicts who displayed good conduct "until further notice by higher authorities."
Panelo, meanwhile, said the possibility of Duterte appointing Faeldon to another position is still in the "realm of speculation."