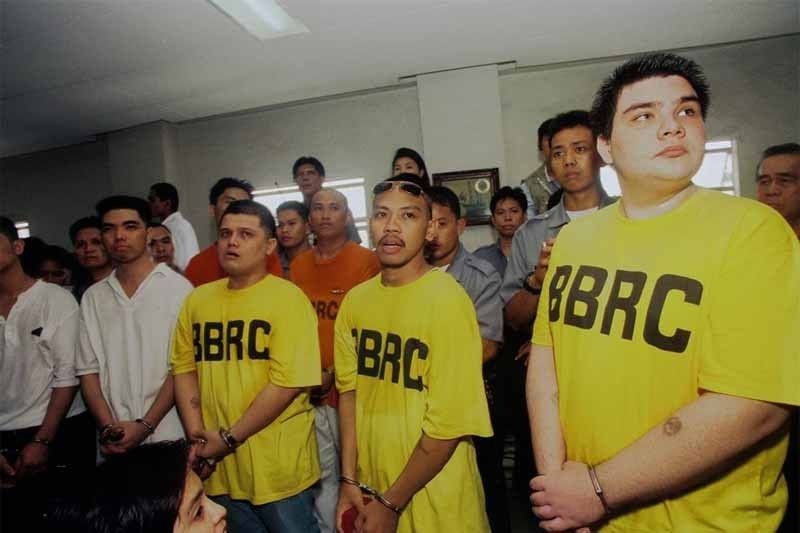 Seven men—most of them from prominent families in Cebu City—were imprisoned for the rape-slay of the Chiong sisters.
Give Up Tomorrow/Facebook
DOJ: 4th convict in Chiong sisters' case freed under GCTA to surrender
MANILA, Philippines— The Department of Justice on Monday confirmed that another convict in the rape and murder of sisters Marijoy and Jacqueline Chiong was released due to the implementation of the Good Conduct Time Allowance law.
Aside from the three convicts who were previously arrested, DOJ Undersecretary Mark Perete said James Anthony Uy was also freed due to GCTA.
"Just confirmed that he was also released, but that he will also surrender with (Josman) Aznar," Perete told the reporters.
Last week, sacked Bureau of Corrections chief Nicanor Faeldon confirmed that three convicted rapist murderers in the Chiong sisters' case were released. These are Ariel Balansag, Alberto Caño, and Josman Aznar.
These four convicted rapist-murderers were released last August 16.
They were among the seven convicts imprisoned for the kidnap, rape and slay of the Chiong sisters in Cebu City in 1997. Only Marijoy's body was recovered.
The three others were Francisco Juan "Paco" Larrañaga, Rowen Wesley Adlawan, James Andrew "MM" Uy.
Most of them are from prominent families in Cebu City. They were sentenced reclusion perpetua or life imprisonment in 1999 but the sentence was raised to death penalty except for the Uy brothers in 2004.
However, the death penalty was abolished in 2006.
Larrañaga, who is of Spanish descent, is serving his sentence in Spain due to his dual citizenship.
Last Friday, Balansag and Caño turned themselves to BuCor after President Rodrigo Duterte warned that he is giving the almost 2,000 heinous crime convicts freed under the GCTA law at least 15 days to surrender and register themselves before the BuCor or else they would be considered fugitives.