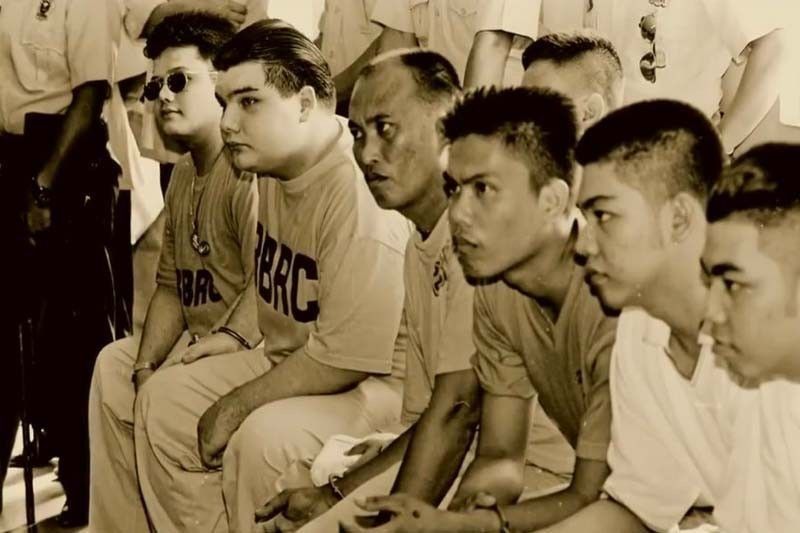 Seven men dubbed as the "Chiong Seven" were imprisoned for the alleged rape and kidnap of sisters Marijoy and Jacqueline.
Screenshot from documentary "Give Up Tomorrow"
Faeldon confirms release of 3 convicts in Chiong sisters' rape-slay
MANILA, Philippines — Three men convicted for the rape and murder of the Chiong sisters in 1997 have been released from prison, Bureau of Corrections Director General Nicanor Faeldon confirmed Monday.
Faeldon made the confirmation during the Senate inquiry into the controversial implementation of Republic Act 10592, the law that expanded the number of days prisoners who show good behavior can subtract from their sentences each month.
Sen. Panfilo Lacson asked Faeldon if he had signed the release orders for Josman Aznar, Ariel Balansag and Alberto Caño—three of the seven men convicted for the rape-slay of Marijoy and Jacqueline Chiong.
"I cannot remember ordering the release of… because I do not really distinguish what cases these PDLs (persons deprived of liberty)," the BuCor chief replied.
Lacson then showed a copy of release orders dated August 16. The documents were signed by BuCor official Maria Fe Marquez. According to the bureau's website, Marquez is superintendent of the Correctional Institution for Women in Mandaluyyong City.
Under RA 10592, only the director of Bureau of Corrections, chief of the Bureau of Jail Management and Penology and/or the warden of a provincial, district, municipal or city jail shall grant allowances for good conduct.
When asked by Lacson if the three convicts were released, Faeldon answered: "Yes, your honor."
"The first release order for [former Calauan, Laguna mayor Antonio Sanchez] was pre-empted because of the public uproar. But in this case, this one got away because this was dated four days before the supposed release order signed by you in favor of Antonio Sanchez," Lacson said.
The senator added: "The case of the Chiong sisters is as gruesome as the case of Eileen Sarmenta and Allan Gomez."
The Chiong sisters were kidnapped, raped, and in Marijoy's case, killed in Cebu City in 1997. Only Marijoy's body was recovered by authorities.
Seven men—most of them from prominent families in Cebu City—were imprisoned for the case. Aside from Aznar, Caño, Balansag, the others convicted were Francisco Juan "Paco" Larrañaga, Rowen Wesley Adlawan, James Andrew "MM" Uy and James Anthony Uy.
Larrañaga, who is of Spanish descent, is serving his sentence in Spain.