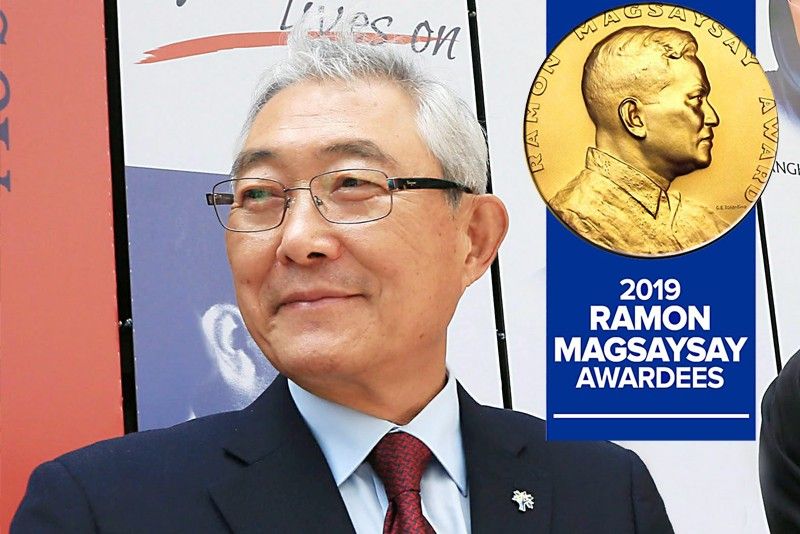 South Korean trader turns grief into mission for youth protection
MANILA, Philippines — It was news that no parent would ever want to hear about their child. But it was what businessman Kim Jong-ki had to bear when he, in the middle of traveling for work at an electronics company in China, got a call from home that his son had jumped to his death.
That was in June 1995 when Dae-hyun committed suicide, the 72-year-old Kim recalled during an interview with The STAR.
The constant bullying in school pushed Dae-hyun, then only 16 years old, to take his life.
"My son was really handsome and tall. There was a popular girl in school and she really liked my son. There were some boys who liked her. That's the point where they started teasing and bullying him," Kim said.
Back then, he already saw some signs that Dae-hyun was suffering from distress. One time, his son came home from school with clothes tattered from being beaten up.
"It was really hard to make myself happy, because I know that my son really suffered. I felt guilty about not being with him, not protecting him," he added.
In South Korea, where one of the leading causes of death among the youth is suicide, Kim knew he had to do something in memory of his son. In the same year Dae-hyun died, Kim founded the Foundation for Preventing Youth Violence that seeks to stem the tide of bullying among the youth.
His foundation's work of reaching out to both victim and bully by offering counseling and reconciliation won him this year's Ramon Magsaysay Award, Asia's equivalent to a Nobel Prize.?The awards body said Kim was recognized for "his quiet courage in transforming private grief into a mission to protect Korea's youth from the scourge of bullying and violence."
Kim's foundation helped draft the Special Act on Prevention and Handling of School Violence that was passed in 2004 by the National Assembly.
The law went through six amendments to address the tide of school violence in Korea, Kim said. The law had involved school teachers in counseling students with their problems.
"Before, teachers are so busy to teach them, (but) they're not really into their personal lives. Because of the law, they are now more involved," Kim said.
Bullying was so prevalent in Korean schools that ousted president Park Geun-hye called school violence as one of the four "social evils" in South Korea, following the suicides of two boys – aged 13 and 15 – in 2011 and 2013 due to bullying.
Kim said the pressure on kids to perform well in their academics compelled them to see each other as competitors instead of friends, paving the way for a school divide between victims and bullies.
"Not like other teenagers, if you ask Koreans what their dreams are, they will tell you that I'm going to get into a big company. That's their ultimate goal. Every single person they face in their schools are their enemies," Kim said of the competition that starts from childhood.
"That's our problem, not caring and loving others. That's the dilemma of our education," he added.
His foundation has received calls from distressed youth contemplating suicide. The counselors' task is to inspire them to hold on.
The foundation offers counseling and mediation services with Korea's Ministry of Education. It also campaigns against cyber bullying through a digital citizenship program.
In 2010, the foundation started a certificate training program on youth violence prevention and management for teachers, parents, counselors and law enforcers to detect early signs of bullying.
Reconciliation is the foundation's key to mend the relationship between the bully and the victim, which for Kim is the way to break the wheel of violence.
"There are so many ways to solve school bullying. You can leave the school or move to another place. But that cannot be the ultimate solution. Eventually, they will face each other again. By reconciling, they can recover their good relations," Kim pointed out.
He advised the youth to keep things in stride and find enjoyment in their friendships instead of being driven by competition.
"Your power is not to scare people. It's to help the weak. It's not about showing off how strong you are or how good you are. If you help the weak, that's the moment people can see your strong power," he added.
Even with the two decades of his work's successes, Kim said he continues to be wracked with guilt; and he continues to ask for his son's forgiveness.
"I always miss him. If he were here, he will have been 40 years old. He will have had his own children. Sometimes, his friends visit me, and every single time I always think of my son," Kim said.
This guilt, this desire for forgiveness, is his main motivation for establishing the foundation.
"Working in this foundation is not easy for me. Every single time, I need to think of my son, of how much he suffered, of how much he gave up. But because of that, I was able to keep up with my own mission," Kim stressed.
In the Philippines, those experiencing emotional crisis and are in need of help can contact Hopeline at hotline at 804-4673, 09175584673 and 2919 (toll-free for Globe and TM subscribers); or the National Center for Mental Health at 0917 899 8727 (USAP) and 989 8727 (USAP).