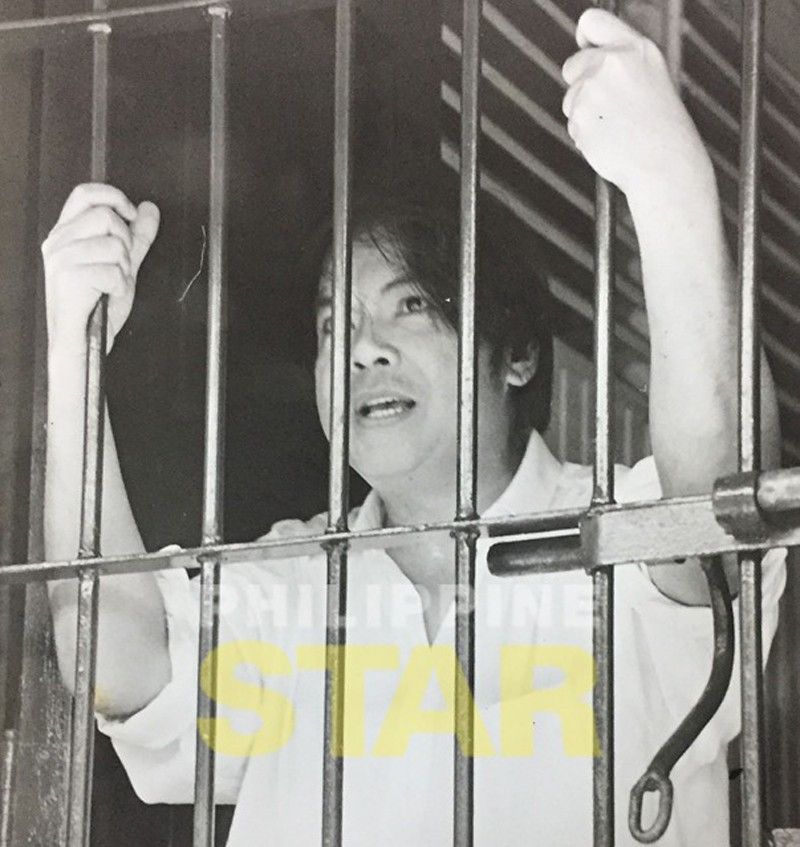 Convicted rapist and murderer Antonio Sanchez would remain in prison since he was convicted of a heinous crime, Justice Secretary Menardo Guevarra indicated yesterday.
Sanchez may not be freed after all
Heinous crimes not covered; not-so-good behavior cited
MANILA, Philippines — Not yet.
Convicted rapist and murderer Antonio Sanchez would remain in prison since he was convicted of a heinous crime, Justice Secretary Menardo Guevarra indicated yesterday.
Guevarra said Sanchez might not be covered by Republic Act 10592 for a reduction of his prison sentence for good behavior.
The justice chief said the Bureau of Corrections (BuCor) has the power to recommend if a prisoner is eligible for good conduct and time allowances (GCTA) under RA 10592.
Sanchez, a former mayor of Calauan, Laguna, was sentenced in 1995 to seven life terms, served simultaneously for a maximum of 40 years, for the rape-slay of Mary Eileen Sarmenta and the murder of her friend Allan Gomez in 1993. Both were students of the University of the Philippines (UP) in Los Baños, Laguna.
BuCor chief Nicanor Faeldon was more categorical, saying the 73-year-old Sanchez is not included in the GCTA.
"First of all, (Sanchez) has a lot of involvement in some not-so-good behavior. He may not be qualified, after all, that is really the probability," Faeldon said in Filipino.
"He may not be qualified to go home today or in the next few months. It seems he will not be eligible immediately," he added.
He said Sanchez's release may take "several years."
Faeldon noted that Sanchez was caught with an air-conditioning unit and a flatscreen television during a raid inside his cell in 2015.
He was also caught with a million pesos worth of illegal drugs stashed inside a statue of the Virgin Mary in 2010.
Sanchez was also convicted in 1996 for double murder for the killing of father and son Nelson and Rickson Peñalosa.
"As far as the bureau is concerned, because he (Sanchez) was legally caught, he may be definitely disqualified," Faeldon said.
"Let me take note on the issue of eligibility, under the 2013 law that expanded or increased GCTA there is a provision there that cites what is not covered by the law. Those who would not benefit from the law are recidivists, those habitual delinquents, escapees, and persons charged of heinous crimes, meaning (these people) are not eligible for any expanded GCTA. So, even at that stage, there is already a process of elimination," Guevarra said.
When asked if Sanchez is qualified for GCTA, Guevarra said he would leave it up to the BuCor to make the recommendation.
"We are reviewing (his case). At the first review, he has a lot of violations. We are not lingering on (his) sentence, we are just awarding them (prisoners) food conduct time allowance. So if he did not behave well while inside, they are not entitled to that," he added.
BuCor spokesman Eusebio del Rosario Jr. said the Inmates' Documents and Processing Division still has to review Sanchez' records.
"We will check the violations he committed and after that, we get to decide what will be the proper action," he said.
Guevarra noted the violations committed by Sanchez while in prison. He also noted the conviction of Sanchez for double murder in 1996.
"They could be prosecuted for crime committed while under detention. If that is the case, subject to rules that are already existing, they may disqualify a person altogether from obtaining good conduct and time allowance," Guevarra said.
"In the case of Sanchez (his GCTA) has not yet been evaluated. I do not get the impression that he has accumulated GCTA, it is still subject to review and re-evaluation of the BuCor," he added.
Guevarra said he had already asked BuCor that for those convicts serving sentence for serious offenses, the bureau should first determine if the person is eligible for GCTA; and two if they are eligible, the bureau should study carefully and make sure that the computation of the GCTA is correct.
Around 11,000 convicts are expected to have their prison sentences abbreviated under RA 10592.
After the Supreme Court came out with its decision on the retroactive application of the RA 10592, the BuCor immediately acted on the order by processing and releasing some 200 convicts as a result of their recomputed GCTA.
Faeldon said that while all 11,000 prisoners convicted from 1993 to 1998 are eligible to avail of the GCTA, only about a thousand would be qualified for the privilege.
He said the figure was based on the time the inmates had spent inside.
"The 11,000, they are subject to the re-computation, but whether or not they are entitled to good conduct is another thing, that's why we are reviewing," he said.
Faeldon challenged those who feel their sentences are too long could go to courts to question it.
Review the law
Under RA 10592, if a prisoner spends 11 years or more inside, accordingly, he or she is given 30 days or one-month reduction of sentence for good behavior.
"We are hurrying up the process," Guevarra said, adding that a convict who is eligible and earned enough time credits should already be released since it would be injustice to stay longer in jail.
Guevarra said he is aware that there are families who are objecting to the release of convicts, saying he understand their sentiments.
Guevarra was criticized for announcing the possibility of releasing Sanchez under RA 10592.
"But that is the policy laid by our Congress, by our lawmakers to give a chance, a second chance to those who are in prison, those who were deprived of liberty who have shown that they have reformed themselves during confinement. This is right because our law is not purely retributive or punitive. It is also rehabilitative so we adhere to the theory the people can reform themselves and they should be given a second chance," he said.
Guevarra also reacted to reports that a congressional investigation would be conducted on the possible release of Sanchez from prison.
Sen. Franklin Drilon reportedly threatened to file a case against the DOJ if it would proceed with the release of the convicted mayor.
"The DOJ has never insisted on the release of Mayor Sanchez and he doesn't have to threaten this department. The conduct of a legislative inquiry is most welcome, as the people are reacting to the effects of the law that the Congress itself enacted in 2013. This maybe a good time for Congress to review its own creation," Guevarra said.