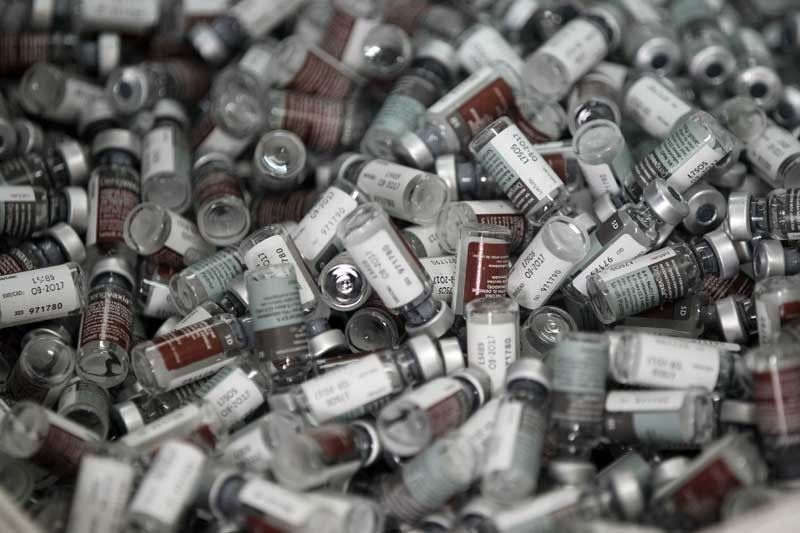 File photo shows vials of controversial anti-dengue vaccine Dengvaxia.
The STAR/KJ Rosales, File
DOH swats down Sanofi appeal to lift Dengvaxia ban
(Philstar.com) - August 22, 2019 - 3:02pm
MANILA, Philippines — The Department of Health denied the appeal of pharmaceutical firm Sanofi Pasteur to lift the ban on Dengvaxia—the controversial vaccine the company said would protect against dengue.
DOH upheld the decision of the Food and Drug Administration to permanently revoke Dengvaxia's certificate of product registration due to Sanofi Pasteur's "continued failure" to submit post-approval requirements. The revocation was not because of the inefficacy of the vaccine.
FDA permanently revoked the CPR of Dengvaxia in February 2019.
According to the Health agency, the drug maker submitted the first and second versions of the Risk Management Plans—one of the post-marketing commitments critical to public safety. Sanofi Pasteur, however, failed to submit the third version and was late in submitting the fourth version.
"The decision concerns Sanofi's complete disregard of FDA regulations, which were precisely put in place by law to ensure safety," DOH Secretary Francisco Duque III.
He added: "The Department of Health is committed to strong and strict implementation of our health laws and regulations. We know how critical this is to our efforts to rebuild public trust and confidence in our public health programs and in vaccines that have long proven effective."
DOH, however, said Sanofi Pasteur may re-apply for new CPRs as long as the pharmaceutical firm complies with relevant laws, rules and regulations.
The DOH decision comes amid the calls for Dengvaxia to be made available even only in private clinics as the cases of dengue continue to soar across the country.
From January 1 to August 3, there have been 188,562 reported cases of dengue—more than double the 93,149 cases recorded during the same period last year.
There have been 807 deaths due to the mosquito-borne disease—higher than the same period in 2018.
DOH declared a national dengue epidemic early in August.
Sanofi 'studying all possible remedies'
While it respectfully disagrees with the violations that led to the denial of the appeal, Sanofi Pasteur said in a statement that it is "grateful to the DOH for recognizing that the 'safety of Dengvaxia is not on trial' and for emphasizing 'the dire need to have [a dengue vaccine] introduced or—in the case of Dengvaxia—reintroduced in the market.'"
It also expressed gratitude to the Health department for stressing the decision is without prejudice to the re-application for CPRs for Dengvaxia.
"With this, we will thoroughly study all possible remedies available to us under Philippine laws and regulations while keeping in mind the best interest of the Filipinos," Sanofi said. — Gaea Katreena Cabico