DOH declares national dengue epidemic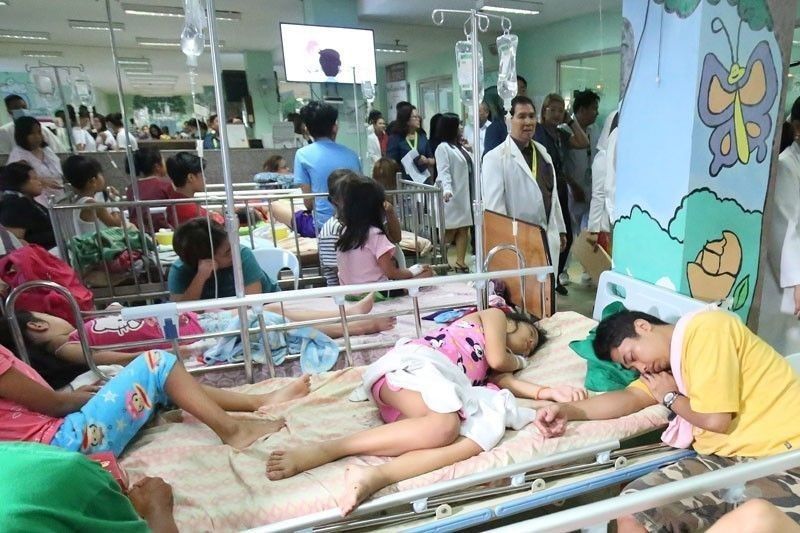 MANILA, Philippines (Update 2, 5:14 p.m.) — The soaring number of dengue cases in several regions of the country has prompted the Department of Health to declare a national dengue epidemic Tuesday.
DOH announced a state of national dengue epidemic less than a month after the agency had declared national dengue alert.
From January 1 to July 20, 2019, there have been 146,062 cases of the mosquito-borne disease recorded, with 622 of those cases leading to death.
This is 98% higher than the cases documented in the same period last year, DOH said.
Figures from the DOH showed that Western Visayas had the most number of cases with 23,330. It was followed by CALABARZON with 16,515 cases, Zamboanga Peninsula with 12,317 cases, Northern Mindanao with 11,455 cases and SOCCSKSARGEN with 11,083 cases.
Seven regions—CALABARZON, MIMAROPA, Bicol, Western Visayas, Eastern Visayas, Zamboanga Peninsula and Northern Mindanao—have exceeded the epidemic threshold for the past three consecutive weeks.
Meanwhile, Ilocos region, Central Visayas and Bangsamoro Autonomous Region in Muslim Mindanao have exceeded the alert threshold level.
Health chief Francisco Duque III said it is important to declare a national epidemic to identify where localized response is needed and enable local government units to use their quick response to address the situation.
The Health agency also launched "Sabayang 4 o'clock Habit para Deng-get Out"—which aims to search and destroy of mosquito breeding sites—as one of its interventions to prevent and control the disease.
Decision on Dengvaxia
Duque said the DOH will decide within the next two weeks whether the government will re-introduce Dengvaxia—the controversial first vaccine licensed to protect against the mosquito-borne virus.
"The status of Dengvaxia as a vaccine has been permanently revoked. We are in possession of appeal from Sanofi Pasteur and we have to go over the documents. It's quite voluminous. It will take a little bit more time to go over this," he said.
Malacañang said President Rodrigo Duterte to the recommendation of DOH on calls to bring back Dengvaxia.
The Health chief, however, said the vaccine manufactured by French pharmaceutical firm Sanofi Pasteur is not cost-effective and not recommended for outbreak response.
"This vaccine does not squarely address the most vulnerable group, which is the five to nine years of age," he added.
At the tailend of 2017, the government stopped the mass immunization program after Sanofi Pasteur had disclosed that Dengvaxia may cause "severe dengue" if given to those without prior exposure to the virus.
In February 2019, the certificate of product registration of Dengvaxia was revoked. The Food and Drug Administration cited the drugmaker's failure to submit post-approval commitment documents as the reason.