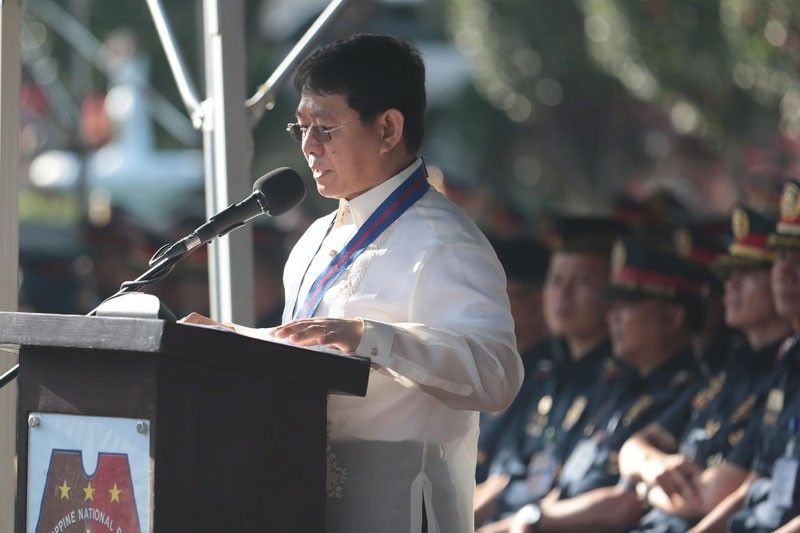 Department of Interior and Local Government Secretary Eduardo Año reminded the department's employees, which include cops, that "public service is a reward in itself."
File photo
DILG: Actually, cops shouldn't accept gifts 'of monetary value'
(Philstar.com) - August 13, 2019 - 5:24pm
MANILA, Philippines — The Department of Interior and Local Government warned police officers that they may be held liable if they receive gifts while in service, despite President Rodrigo Duterte's remark saying that it is allowed.
In a statement Tuesday, DILG Secretary Eduardo Año reminded the department's employees and police officers that they "will be held criminally and administratively liable if they receive or solicit gifts of monetary value from people they serve or transact with."
The Philippine National Police is an agency under the DILG.
He stressed that the policy is contained in National Police Commission Memorandum Circular 2016-002, which penalizes accepting gifts or receiving for personal use of a fee in the course of official duties, in expectation of a favor.
Republic Act 6713, or the Code of Conduct and Ethical Standards for Public Officials and Employees, also contains a provision on this.
The law states that government personnel "shall not accept, directly or indirectly, any gift, gratuity, favor, entertainment, loan or anything of monetary value from any person in the course of their official duties or in connection with any operation being regulated by, or any transaction which may be affected by the functions of their office."
Duterte's remarks
Duterte said Friday that police should accept gifts if they were given of generosity. "Well, if you're given a gift, accept it. It cannot be bribery because it is allowed by law. What I mean if there is generosity in them, the anti-graft law says you cannot accept gifts. That's nonsense," he said.
Presidential spokesperson Salvador Panelo has defended Duterte's remarks and pointed out that a gift is a bribe if it was given to a public official with an expectation of something in return.
READ: Palace defends Duterte stand on gifts
Año said that this was an "exception" in the law, but reminded government officials that people's taxes pay for their services.
"Therefore, gifts received in exchange for favors or as a form of a bribe is in direct violation of your oath of service and is a violation of law," he added.
Albayalde: Receiving gifts depends on integrity, discretion of person
Police General Oscar Albayalde, chief of the PNP, meanwhile pointed out that the law does not provide the value of the gift that would make it a bribe.
"It was not defined what is the amount but there is that clause that states 'insignificant value,' but this 'insignificant value' was also not defined," the police chief added in a mix of English and Filipino.
He added: "It falls on the discretion and the sound judgment of a person."
The police general also agreed with Año's statement that police officers who receive gifts may face complaints.
He said that the police agency has created the Integrity Monitoring Enforcement Group that focuses on cleansing their ranks. The group also goes after cops accused of extortion, Albayalde added.
In a separate statement, Albayalde said: "As a general rule there is no need to give gifts or token of gratitude for services rendered, because we are just doing our job and we are reasonably compensated for our services through our salaries." — Kristine Joy Patag