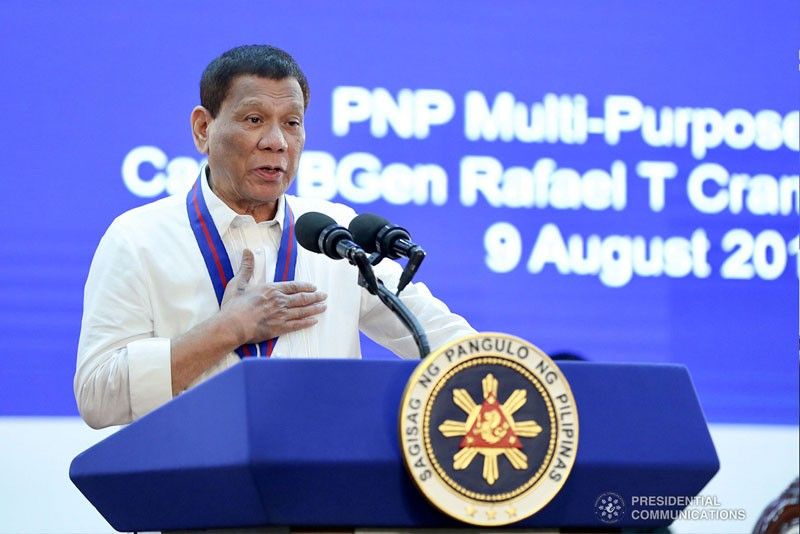 Speaking to police officials and personnel gathered for the celebration of the 118th police service anniversary at Camp Crame the other day, Duterte explained he does not consider "as bribery" the act of giving monetary reward or gifts to public servants, including policemen.
Pcoo.gov.ph
Not bribery: Duterte says cops can accept gifts
MANILA, Philippines — President Duterte believes police officers should accept gifts if these are given out of gratitude or generosity.
Speaking to police officials and personnel gathered for the celebration of the 118th police service anniversary at Camp Crame the other day, Duterte explained he does not consider "as bribery" the act of giving monetary reward or gifts to public servants, including policemen.
"Well, if you're given a gift, accept it. It cannot be bribery because it is allowed by law. What I mean if there is generosity in them, the anti-graft law says you cannot accept gifts. That's nonsense," he said.
Duterte was referring to the provisions of Republic Act 6713, or the Code of Conduct and Ethical Standards for Public Officials and Employees.
Under Section 7 (d) of the law, "Public officials and employees shall not solicit or accept, directly or indirectly, any gift, gratuity, favor, entertainment, loan or anything of monetary value from any person in the course of their official duties or in connection with any operation being regulated by, or any transaction which may be affected by the functions of their office."
"If you are able to solve a crime and the family would like to be generous to you or would nurture a feeling of gratitude for what you accomplish, then by all means, accept it," Duterte said.
In the same speech, Duterte called on the members of the PNP to protect their integrity and maintain good public image for them to become effective law enforcers.
Duterte also said he does not mind if police officials go into private businesses to improve their lives, as long as they are not into illegal activities.
Wisdom
The PNP, for its part, said it will "submit to the wisdom" of the President in justifying the receipt of gifts.
Even with the President's blessing, PNP spokesman Brig. Gen Bernard Banac said they are still bound by rules and laws that govern conduct in any situation.
"We submit to the better wisdom of our lawyer-president that it is harmless to receive gifts so long as there is no element of corruption involved and no oppression or abuse of authority is committed," Banac said in a statement.
Banac said policemen as a rule are covered by RA 6713 that prohibits the solicitation or acceptance of gifts, directly or indirectly, in the course of their official duties despite the pronouncement of the President.
He said policemen are still required to strictly adhere to the Code of Conduct and Ethical Standards.
"Our intensified campaign on internal cleansing is ongoing and we will never hesitate to investigate and charge PNP personnel found doing illegal acts," Banac said.
Banac stressed there is no need for groups or individuals to gift policemen for tasks accomplished.
He said taxpayers are already paying the policemen their salaries.
Banac noted policemen deal with instances of gift-giving events, like birthdays and Christmas. He said most policemen give them away to inmates or barangay volunteers, especially if these are perishable food items.
Sen. Panfilo Lacson, however, did not agree with Duterte's "wisdom," saying it may trigger "insatiable greed" on the part of the policemen.
"Mr. President, insatiable greed starts with simple, petty graft. It could be more addicting than drugs. There is no detox, nor is there rehab facility available for addiction to money," Lacson said in his Twitter account.
Lacson, a former PNP chief, warned addiction to money is worse than addiction to illegal drugs since the former does not have a rehabilitation facility.
For Sen. Ronald dela Rosa, also a former PNP chief, receiving gifts is no big deal as long as it is given out of gratitude.
"The President is a very pragmatic individual. Anything that is given in the spirit of goodwill is not a problem," Dela Rosa told GMA News.
'Keep your integrity intact'
Duterte said he expects PNP personnel to enforce the rule of law, prevent and control corruption, and to be true to their mandate to maintain peace and order.
"In all of these undertakings, I call upon you to keep your integrity intact as you uphold the highest ethical and professional standards in public service," the President said during the event held at Camp Crame.
"Take inspiration from our awardees today for their exemplary work and selfless dedication to duty," he said.
Apart from individual awards, Duterte presented the Special Unit Award to the Police Regional Office 4A for accomplishing the most number of arrested gun-for-hire suspects in relation to the implementation of gun ban during the 2019 election period.
Police Regional Office 6 under the leadership of Brig. Gen. Rene Pamuspusan received the Special Unit Award as the highest performing regional office in the implementation of the PNP Anti-Crime Strategy "Enhanced Managing Police Operations."
Duterte also commended the PNP for its strong campaign against criminality, illegal drugs, illegal gambling and terrorism, as well as for its efforts to clean its ranks.
"Now, more than ever, we need to rebuild and sustain the confidence of the Filipino people in our police force. Be assured of strong government support in strengthening the capabilities of the PNP in securing and ensuring the welfare and protection of your personnel," Duterte said.
Partners in nation building
With PNP's undaunted commitment to duty, and with the active participation of citizens in nation building, the President said he is confident that his administration can achieve a safer, stronger, and more peaceful future for the Filipino people.
"The entire Filipino nation is truly grateful to your almost 193,000 PNP personnel who are currently deployed in the National Headquarters, Police Regional Offices across the country, and the various PNP National Support Units," he said.
The PNP started as Philippine Constabulary on Aug. 8, 1901. It was created by the Second Philippine Commission to maintain law and order during the American occupation.
The Philippine Constabulary eventually became the PNP on Jan. 29, 1991, pursuant to Republic Act 6975. In almost three decades, the organization has evolved to become a highly capable and effective community and service-oriented agency. – With Romina Cabrera, Cecille Suerte Felipe