Duterte: I love Xi Jinping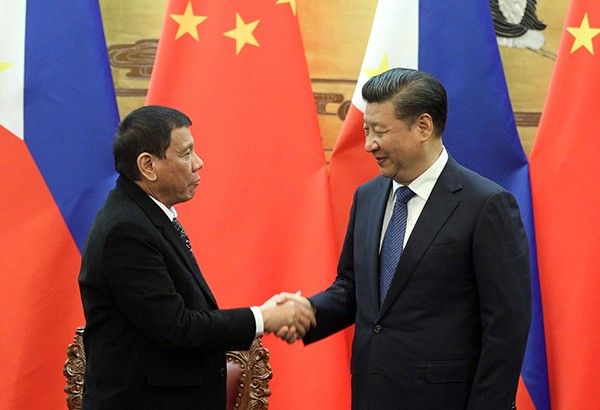 MANILA, Philippines — While China refuses to budge from areas in the West Philippine Sea where the Philippines has been awarded sovereign rights, President Duterte continues to profess goodwill toward Beijing.
"I simply love Xi Jinping," Duterte said at a press briefing yesterday before leaving for China, referring to his Chinese counterpart. "He understands my problem and he's willing to help. And I'd like to say, 'thank you, China.' "
Duterte and his delegation arrived at the Qionghai Boao Airport at 5:55 p.m. yesterday.
The President's daughter Davao City Mayor Sara Duterte-Carpio and her son Stingray were among the delegates.
This is the first time that Carpio has joined her father in an overseas trip.
The President said he would only raise the issue regarding the South China Sea or West Philippine Sea when necessary as he is careful not to create tension with Beijing.
He said the Philippines needs China as an ally at this time so he would not mention the issue unless they talk about exploration of Philippine resources.
"If I think there's a need for me to raise the issue and if we delve into the business of exploration and development we might… I might say my piece also on that matter," Duterte said.
Among the officials who accompanied Duterte were Finance Secretary Carlos Dominguez III, Economic Planning Secretary Ernesto Pernia, presidential communications Secretary Martin Andanar, spokesman Harry Roque, Energy Secretary Alfonso Cusi and Science Secretary Fortunato dela Peña.
The President said he would also push for the administration's trade and business agenda during the Boao Forum.
"I am into business. I am not going into war. We can postpone that war 100 years from now. In the meantime, I need the resources for my country to make the people comfortable and provide education for the children and food on the table."
Duterte likened Philippine-China relations to a flower that has started to bloom.
"It's one-stemmed and China and the Philippines will bloom, and you and I are in the middle of the flower," he said, teasing a female reporter of a Chinese television network.
At the same briefing, Duterte expressed confidence that Beijing would not renege on its promise not to encroach into Philippine territories in the South China Sea.
He said he would thank China for honoring its promise on the territorial issue.
"I am sure China would not want to lose our friendship and our goodwill," the President said.
Duterte is hopeful about Beijing's new pledge of millions of pesos in assistance for Marawi as well as a plan to open China's doors for Filipino workers. – Alexis Romero