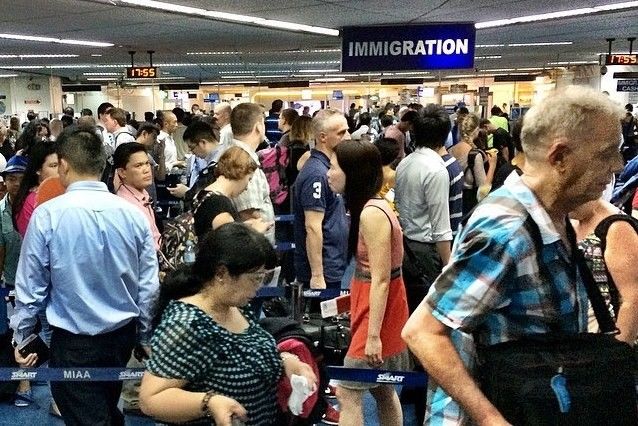 Foreign Affairs Secretary Teodoro Locsin Jr. earlier called for an end to the "visa upon arrival" privilege of foreigners entering the Philippines.
File
Philippine visa to be stamped on passports of Chinese nationals
MANILA, Philippines — The Philippine visa will now be stamped on passports of Chinese nationals wishing to enter the country.
President Rodrigo Duterte has approved Foreign Affairs Secretary Teodoro Locsin Jr.'s proposal to replace the practice of putting the visa on a piece of paper, presidential spokesperson Salvador Panelo said.
Justice Secretary Menardo Guevarra, meanwhile, vowed that the Department of Justice will monitor the stay of Chinese tourists in the country.
During the Cabinet meeting Monday night, Guevarra assured the president that the DOJ will implement immigration measures should the Chinese nationals exceed their allowable stay in the country.
RELATED: Tighter rules for foreign workers ready, Immigration says
Last week, Justice Undersecretary Mark Perete bared that the Bureau of Immigration has been reviewing the visa upon arrival privilege of foreigners entering the Philippines.
According to Perete, there have been informal recommendations to review the scheme to address the loopholes in the system.
The Immigration bureau has been reviewing the mechanism as early as about a month before Locsin suggested ending the visas upon arrival scheme.
"We saw a rise in the number of foreign nationals in the previous years due to emerging industries such as the online gaming industry," Immigration Commissioner Jaime Morente said in May, referring to Philippine Offshore Gaming Operators, where 138,001 foreign nationals are employed based on data from the BI and the Department of Labor and Employment.
"Issues and challenges only appear now. This has never been a problem in the past because of the relatively smaller number of foreign nationals working in the Philippines then," he also said then.
"We need to put an end to visas upon arrival; all visas should be issued by consular offices after vetting. We must take extra care in outsourcing any part of the visa application process, picking only the most reputable worldwide," Locsin tweeted July 31.
This was in response to the remarks of National Security Adviser Hermogenes Esperon Jr. that he considers the influx of Chinese nationals in the country as a threat.