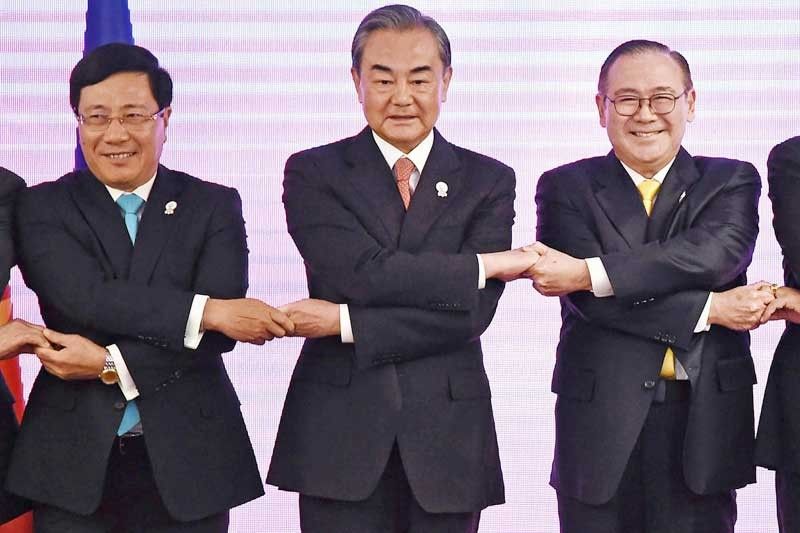 Foreign Affairs Secretary Teodoro Locsin Jr. poses with his counterparts Wang Yi of China (center) and Pham Binh Minh of Vietnam during the Asean-China Ministerial Meeting in Bangkok yesterday.
AFP
Locsin seeks end to visa upon arrival
MANILA, Philippines — Foreign Affairs Secretary Teodoro Locsin Jr. is pushing for an end to the issuance of Philippine visas upon arrival as the influx of Chinese tourists is seen as a security risk.
"We need to put an end to visas upon arrival, all visas should be issued by consular offices after vetting. We must take extra care in outsourcing any part of the visa application process, picking only the most reputable worldwide," Locsin tweeted yesterday.
"So we curtail visas on arrival which means: visitors not vetted in our consulates abroad; planes have passengers without visas thereby incurring US Homeland Security wrath. We have to stop stamping visas on slips of paper rather than foreign passports. We need a new visa stamp," he said.
For his part, National Security Adviser Hermogenes Esperon Jr. admitted he tends to look at the influx of Chinese nationals in the country as a security risk.
Esperon said he would ask the Bureau of Immigration (BI) if immigration rules are strictly implemented on arriving Chinese nationals.
"As the national security adviser, I have the tendency to look at it as a threat," Esperon said at the Kapihan sa Manila Bay forum yesterday.
Esperon said while he recognizes the value of the tourism industry and real estate to the economy, he was concerned if immigration and labor rules are being followed by Chinese nationals, thus the government must remain wary.
The number of Chinese arriving in the Philippines has nearly tripled since 2016 due to online gaming, according to the BI, and is expected to continue in the long-term amid rekindled relations between the Philippines and China.
In a report last March, real estate services firm Leechiu Property said mainland Chinese have become the top buyers in the residential market.
It added that residential buildings in Makati, Manila, Ortigas and Quezon City are "experiencing brisk take-ups of 12 units a month" due to the proliferation of Philippine offshore gaming operators or online Chinese gaming firms that have sprouted in Metro Manila.
"We want healthy investment opportunities in terms of housing and all these condominiums. We want more tourists but there is always another side of the coin... We must not let our guard down," Esperon said.
"You would also start getting worried when a whole building, a condominium tower, is occupied by only one nationality where you might not be able to guard their activities," he added.
The Office of the National Security Adviser earlier said the Department of Labor and Employment, Bureau of Internal Revenue, BI, Department of Finance and Ninoy Aquino International Airport have been holding interagency meetings to look into the matter.
President Duterte earlier this year said he was in favor of allowing Chinese nationals to work in the country, likening their presence in the Philippines to the presence of Filipinos in China.
Esperon, however, downplayed fears that some Chinese working in the Philippines could be part of China's People's Liberation Army, the naval force of which is grossly manifested in the South China Sea, parts of which the Philippines claims as the West Philippine Sea.
"There are some who say 'maybe they're part of the Chinese army'. I think that's some wild imagination," he said.
For good measure, the nation's top security adviser said he would ask BI Commissioner Jaime Morente if his agency has been strictly implementing immigration rules on Chinese nationals entering the country.
Most Filipinos believe that the Philippines cannot trust China, according to a recent public opinion survey conducted just weeks after a Chinese vessel rammed a Filipino fishing boat off Recto Bank.
Navy probe
The Philippine Navy, through its Naval Forces West (NavForWest), is conducting an investigation into how two Chinese tourists were allegedly allowed inside and were caught taking photographs of a naval facility in Palawan last week.
Armed Forces of the Philippines spokesman Brig. Gen. Edgard Arevalo said the Navy is now coordinating with the local tourism office.
He confirmed that the Chinese visitors reportedly took pictures at the Tide Pole Naval Facility located in Parola on July 23. – With Michael Punongbayan, Neil Servallos