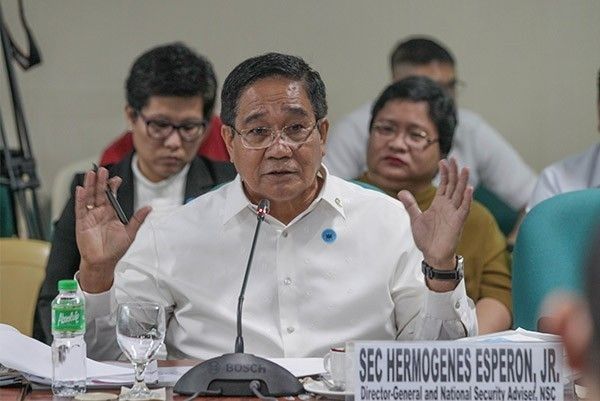 In this Feb. 26, 2018 photo, National Security Adviser Hermogenes Esperon Jr. speaks at the Senate hearing on Benham Rise following reports of a Chinese entity conducting marine scientific research in the area. In a press conference Wednesday, Esperon admitted that he considers the influx of Chinese nationals in the country as a threat.
The STAR/Mong Pintolo, File photo
Security adviser Esperon sees influx of Chinese nationals as 'threat'
MANILA, Philippines — National Security Adviser Hermogenes Jr. admitted that he considers the influx of Chinese nationals in the Philippines as a threat.
"I have the tendency to look at it as a threat," Esperon said when asked about the matter at the "Kapihan sa Manila Bay" forum Wednesday.
The nation's top security adviser added that he was concerned if immigration and labor rules are being followed by the Chinese nationals.
"I'm on the cautious side because when foreigners, regardless of nationality, come in and their intent is not clear or when some of them are undocumented or have wrong documentation, forged documentation meaning some of them would come in as tourists and yet end up as workers," Esperon said.
Esperon said he would ask Immigration Commissioner Jaime Morante if his agency has been strictly implementing immigration rules on the Chinese nationals entering the country.
According to Esperon, the Department of Labor and Employment, Bureau of Internal Revenue, Bureau of Immigration, Department of Finance and Ninoy Aquino International Airport have been holding interagency meetings to look into this matter.
While Chinese nationals have been buying properties and spiking up tourism in the country, the government must stay wary.
"We want healthy investment opportunities in terms of housing and all these condominiums. We want more tourists but there is always another side of the coin... We must not let our guards down," he said.
Earlier this year, President Rodrigo Duterte said he is in favor of allowing Chinese nationals to work in the country.
The president likened the presence of Chinese workers in the country to Filipinos working in China.
"Iyong mga Chinese dito hayaan mo 'yan na dito magtrabaho. Hayaan mo (Allow the Chinese here to work. Let them)," Duterte said in February.
Presidential spokesperson Salvador Panelo later on clarified that immigration laws against illegal Chinese workers will be enforced.