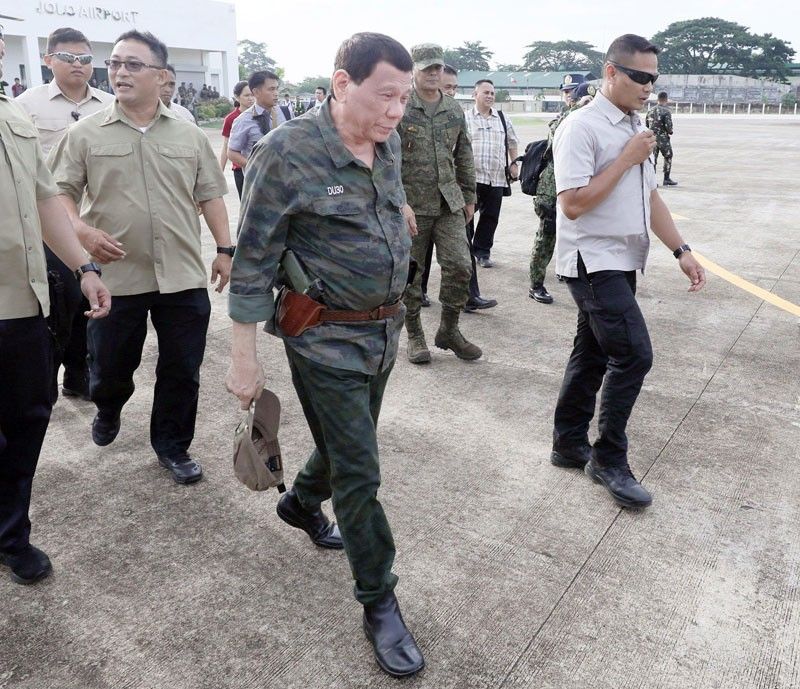 President Duterte arrives at the Jolo Airport before heading to Camp Bud Datu in Indanan, Sulu yesterday.
Duterte mulls cutting ties with Iceland
MANILA, Philippines — President Duterte is "seriously considering" cutting ties with Iceland over its resolution seeking a review of the Philippines' war on illegal drugs, his spokesman said yesterday.
Presidential spokesman Salvador Panelo said the Iceland-initiated resolution adopted by the United Nations Human Rights Council "reeks of nauseating politics completely devoid of respect for the sovereignty of our country."
He said Duterte "is seriously considering cutting diplomatic relations with Iceland."
"The adopted Iceland resolution is grotesquely one-sided, outrageously narrow, and maliciously partisan," Panelo said at the 80th anniversary of radio station dzRH at Sofitel. "It is bereft of the gruesome realities of the drug menace in the country."
Panelo went on to lambast the resolution, saying it was "based on false information and unverified facts and figures." He said the resolution was designed to "embarrass" the Philippines before the international community and the global audience.
"The resolution likewise demonstrates how the western powers are scornful of our sovereign exercise of protecting our people from the scourge of prohibited drugs that threaten to destroy the fabric of our society. Their intrusive abuse is patent and condemnable," Panelo said. "It smacks of policization designed to force our free state to be subservient to their imagined superiority."
The Philippines and Iceland established diplomatic ties on Feb. 24, 1999. There is no Iceland embassy in the Philippines; Iceland's ambassador in Tokyo is accredited in Manila. The Philippine ambassador to Norway has jurisdiction over Iceland. The two countries have honorary consulates in Manila and Reykjavik.
The number of Filipinos residing in Iceland is unclear; many have married Icelanders. But Filipinos are said to constitute the largest Asian and the sixth largest foreign population in Iceland. Bilateral trade is low. There are ongoing cooperative projects on geothermal power development.