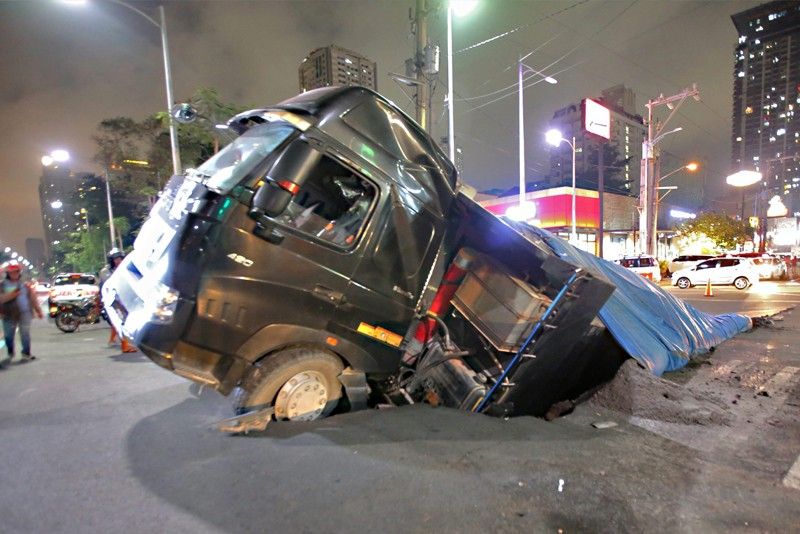 A truck carrying 40 tons of sand lies in a box culvert as the pavement on Roxas Boulevard collapsed at past midnight on Sunday.
Ernie Peñaredondo
Truck proves too heavy for Roxas Boulevard
Edu Punay
(The Philippine Star) - June 24, 2019 - 12:00am
MANILA, Philippines — A portion of Roxas Boulevard in Manila collapsed as a 14-wheeler-truck exceeding the road's weight capacity passed by early yesterday.
The truck loaded with sand fell on its side, creating a sinkhole during the incident near the corner of Roxas Boulevard and Remedios street at around 1 a.m.
The Department of Public Works and Highways (DPWH) said it would investigate the incident to determine the cause of the incident and possible liabilities of the truck driver.
DPWH district engineer Mikunug Makud noted that the truck exceeded the maximum weight capacity of the portion of Roxas Boulevard that was built for drainage and flood control.
Makud explained that the road has a weight capacity of 20 tons. The truck, he said, was loaded with almost 40 tons of sand.
The DPWH official also said the truck fell in the drainage, where there is no support in the ground.
In a statement, the DPWH said the double barrel box culvert along Remedios street was constructed in the 1970s and is not part of the Build, Build, Build Project of the Duterte administration.
Makud said the driver of the truck, Michael Lagco, could be held accountable for the damage incurred.
When interviewed by traffic enforcers, Lagco said they came from Pampanga headed for Manila Baywalk to deliver the sand for the Manila Bay rehabilitation when the incident happened.
He said they were supposed to pass through Roxas Boulevard but traffic enforcers directed them to take the service road to give way for a marathon event along the boulevard yesterday.
Lagco and his two passengers did not sustain any injuries.
As of noon yesterday, a portion of Remedios street at the corner of M.H. Del Pilar was still closed to traffic as a clearing operation was ongoing. – With Marc Jayson Cayabyab