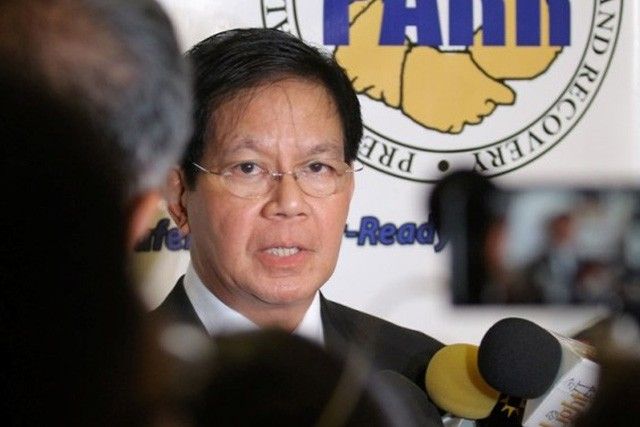 Sen. Panfilo Lacson found Duterte's description of the collision as a "little maritime accident" as "heartbreaking" and "insulting" because it not only limited the country's options in dealing with the incident that risked the lives of 22 Filipino fishermen but is also likely to invite more bullying from China in the West Philippine Sea.
File
Duterte's maritime accident statement heartbreaking —Lacson
Paolo Romero
(The Philippine Star) - June 19, 2019 - 12:00am
MANILA, Philippines — President Duterte appeared to have shown weakness and immediately capitulated to China instead of defending the country's honor and dignity when he tried to downplay the ramming of a Filipino fishing boat by a Chinese vessel at the Recto Bank last week, senators said yesterday.
Sen. Panfilo Lacson found Duterte's description of the collision as a "little maritime accident" as "heartbreaking" and "insulting" because it not only limited the country's options in dealing with the incident that risked the lives of 22 Filipino fishermen but is also likely to invite more bullying from China in the West Philippine Sea.
"No matter how many diplomatic protests or notes verbale we sent, we're easily read by China. Even if we don't act, they know our capacity because we keep on advertising our limitations, our weaknesses. We must show some strength, even a little," Lacson told reporters.
He believes China is testing how the government will react and "as things are developing, we're failing the test."
Over CNN Philippines, he said: "Clearly they're (China) lying. And it's even worse because the Chinese government itself is in a cover-up operation, even deceiving an ally that is the Philippines."
He said the investigation of the Department of National Defense, the Philippine Navy, as well as the accounts of the 22 fishermen that were thrown overboard because of the collision were clear that what happened was a hit-and-run by the Chinese crew.
"Vehicular hit-and-run is bad but with fishing vessels, when you are left to die in the high seas and there are 22 of them, that's really a criminal act," he stressed.
He added that the way the Chinese government was reacting to the incident shows that it has no respect for the country.
But he noted that Beijing changed its "script" on the incident, and expressed hope China would be fair and thorough in its investigation, present the members of the crew and take punitive action against them.
He lamented that the reaction of the country's leadership, including statements coming from Energy Secretary Alfonso Cusi and Agriculture Secretary Emmanuel Piñol, appear to be heavily favoring China.
"We must tell China that we can't be bullied instead of telling them we can't confront you. I mentioned before, if we are weak we should not advertise our weakness. But when you say we're helpless because we're very weak, what's that? Does it make sense to you? The more we'll be bullied," Lacson stressed.
Duterte, he pointed out, has repeatedly highlighted that the Philippines cannot win a shooting war with China in asserting the country's claim over the West Philippine Sea.
But Lacson believes that, while the country's military is one of the weakest in Southeast Asia and its economy is puny compared to China, the Duterte administration still has some potent options, including invoking the Mutual Defense Treaty (MDT) with the US, to address the matter and prevent similar incidents.
Earlier, Lacson in a Twitter post described Duterte's statement as "disappointing to say the least, not much by his insulting remark but his self-limiting course of action which disregards an effective 'weapon' in our arsenal," referring to the MDT.
No less than US Secretary of State Mike Pompeo, he said, recently stated that the US and the Philippines have an obligation under the MDT to respond accordingly if a vessel belonging to either party, military or civilian, is attacked in the West Philippine Sea.
"I am not praying for World War III, but at least a strong presence of the US Pacific fleet in the West Philippine Sea can make China feel the balance of power in that area," Lacson said.
'Confused'
Sen. Joel Villanueva said officials of the administration appear to be confused based on their respective descriptions of the incident.
"At first, some Cabinet members described the case as a collision. A few hours after, the official line became allision. Then later on, it was called a 'maritime incident.' One thing is clear to our minds. It seems that, in this particular case, even the government is in a state of confusion," he said.
Villanueva appealed for clarity from government officials as the contradictory terms continue to muddle the issue further. He said the Chinese fishing crew responsible for the incident must be brought to the country to be held accountable and make amends.
"How many more fishermen should be put in harm's way before we get our act together? Let's not belittle their ordeal," Villanueva said.
For detained Sen. Leila de Lima, Duterte and Cusi's reactions were just "too much."
"I see an odious yet subtle effort on the part of our executive authorities to cover up for China, implicitly accepting the flawed and implausible version proffered by the Chinese government regarding the incident, a version soundly rejected by credible observers and experts. The pro-China Duterte regime is hard put at supporting the causes of the Filipino fishermen victimized by this latest act of bullying within our own EEZ," she said.
"It's ultra cowardice, if not treason, at the highest level!" she added.
Opposition Rep. Gary Alejano of Magdalo shared her sentiment, saying that Duterte, by repeating China's assertion of a mere maritime incident, is serving as Beijing's "echo chamber."
"I take exception to the statement of Duterte implying that assertion of our rights in our territory is based on one's military capability. Between war and subservience, there are many options," he said.
Alejano said a leader of a country should not announce to the whole world that it could not defend itself even in the face of aggression and harassment by another nation.
"Let us give some respect to our country and people. I would have wanted to hear from the President his gratefulness that our fishermen were safe. We all have wanted to hear words of assurances that actions would be taken to address the issue," he pointed out.
He added that the President should have thanked "our Vietnamese friends for their goodwill and for saving our fishermen."
"It is not too much to ask China to hold their fishermen accountable and compensate the damage done to the boat of our poor fishermen. This is actually a test of their sincerity as a friend and validation of their pronouncements, if indeed they seek peace and stability in the South China Sea," he stressed.?Another congressman, Bayan Muna's Carlos Zarate, said the President "has practically surrendered our country to China for benefits only he knows."
"During the 2016 election campaign, he declared his 'jet ski foreign policy,' promising to assert our sovereign rights in the West Philippine Sea. Yet, when he took office, he changed it to 'kowtowing to China' foreign policy," he added.
Zarate urged the military to defend the country's national territory and sovereignty, saying: "If there are patriotic officials in the Duterte administration, it is time that you should all speak up and stand up for our country."
Selective justice
Officials of the Catholic Bishops' Conference of the Philippines (CBCP) yesterday joined the growing criticism on President Duterte's response to the incident.
Broderick Pabillo, Manila auxiliary bishop and CBCP commission on the laity chairman, and Arturo Bastes, Sorsogon bishop and CBCP commission on missions chairman, slammed the Chief Executive for siding with the Chinese government on the issue.
"Duterte is selective in dispensing justice. This is a sign that his judgment cannot be relied upon on serious moral and social issues. He avoids trouble with China because he is indebted to their money," Bastes insinuated.
In a statement, Pabillo also stressed: "The government has a duty to protect its citizens and its territory."
"It should not allow itself to be bullied and let its people suffer. The government should use its diplomatic channels to demand from the other and to send the message that this is a serious matter that should be resolved and not be treated only as a mere incident," his statement also read. Pabillo is a vocal critic of the administration.
Bastes, in a separate statement, agreed with this opinion, saying Duterte's reaction "shows his bias in favor of the Chinese rather than of his fellow Filipinos, whose President he is."
He said the President has again shown how unreliable he is when it comes to matters involving China.
Last Monday, Duterte broke his silence regarding the sinking of a Filipino fishing boat by a Chinese ship in the West Philippine Sea, dismissing the incident as a mere "maritime incident."?He said he opted to await the results of investigation and that the other party, which is China, should be heard first. – With Jess Diaz, Cecille Suerte Felipe, Edu Punay