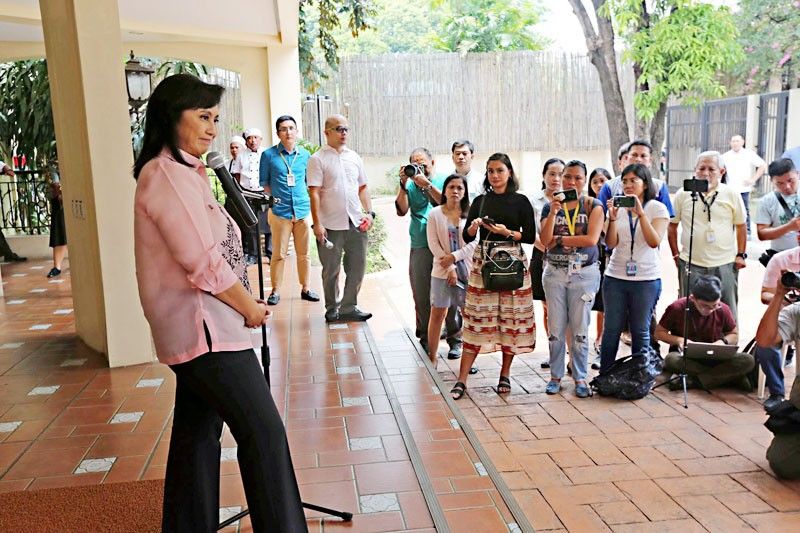 Vice President Leni Robredo denies accusations hurled against her and the Liberal Party by Peter Advincula yesterday.
Boy Santos
Leni Robredo denies Liberal Party links to Bikoy, ouster plot
MANILA, Philippines — The Liberal Party has nothing to do with the so-called "Bikoy" videos that tagged President Duterte, his close relatives and allies as leaders of a drug syndicate, party chairperson Vice President Leni Robredo said yesterday.
"I can speak for the party: wala kaming kinalaman dito sa Bikoy issue," Robredo said at a press conference to belie the claim of Peter Joemel Advincula – supposedly the man behind the videos – that the opposition concocted a plan to oust the President prior to the midterm elections.
She said she is ready to face her accuser in any forum or investigation to clear her name and that of her partymates.
She recalled asking party president Sen. Francis Pangilinan about the matter and the latter vehemently denied knowing Advincula – much less meeting with him to plot Duterte's ouster.
"Kaya tingin ko unfair na isali ulit iyong LP dito (That's why I think it's unfair to again link LP here)," she added.
The Vice President maintained she would never take part in any plot to oust Duterte.
"I will never be part of any destabilization," she emphasized.
"I've always said my entry in politics was accidental. I've been saying the presidency is destiny – not planned or plotted," she added in Filipino.
Plotting the ouster of an administration, she added, is a "waste of time" and a "subversion of the will of the people."
She called Advincula a liar for claiming she had personally met with him to plot Duterte's ouster.
"I'm sure he's not credible, especially when he said we met at the Ateneo. I've never met him in my life," Robredo said.
She said she knew nothing of any meeting or event at the Ateneo where she met Advincula. "Now if he keeps on claiming we had met, then he's a liar."
Robredo also clarified that Sen. Antonio Trillanes IV, whom Advincula claimed to be the mastermind behind the videos, is not a member of LP but of the Magdalo party.
"Magdalo is part of our coalition because of congressman Gary Alejano. I met Senator Trillanes a few times during the campaign for campaign-related meetings," she said.
Alejano was among the senatorial candidates of the opposition Otso Diretso, which failed to win a seat in the recent midterm polls.
"In all of our meetings, there was no mention of destabilization, no mention of Bikoy. We only talked about the campaign," Robredo added.
Pangilinan, in a statement, said the administration always links the LP to ouster plots to cover up the administration's failure as well as the corruption involving top officials.
He said that after more than three years in power, Duterte has yet to arrest, prosecute and put behind bars even a single drug lord.
The administration, Pangilinan added, could not even explain the smuggling of shabu through the Bureau of Customs.
What meeting?
Alejano, for his part, also denied knowing or meeting Advincula. "I deny the allegations of Bikoy. I don't know him and have never met him. Further, the Otso Diretso did not meet Bikoy ever," Alejano, a former Marine captain, said in a statement.
"His claim that the Otso Diretso is planning to bring down the administration to have VP Leni sit as president is a lie," he added.
Alejano said he could not understand why some people believe Bikoy's latest "exposé," considering that he had already admitted making up the narco-list videos.
"The PNP should have thoroughly investigated first the issue before giving a platform to this certain Bikoy to spew out lies after lies. The IBP was precisely criticized due to the same treatment to Bikoy," Alejano lamented, referring to the Integrated Bar of the Philippines.
"I will consult with the Magdalo group, Otso Diretso members and my lawyers regarding the appropriate legal actions that I could take against Bikoy," he warned.
Otso Diretso candidates also assailed Advincula for telling lies just to save himself.
"I do not understand these allegations against Otso Diretso candidates and the Liberal Party, why I am being implicated and what this political harassment is for," human rights advocate Samira Gutoc said in a Twitter post. "But in every dark place, the light and the truth will always prevail."
Gutoc said she does not know Advincula and has never met or talked to him.
"I have met thousands of people during the campaign, but I have and will never meet somebody on such matters," she added.
Human rights lawyer Chel Diokno said their organization, the Free Legal Assistance Group (FLAG), does not represent Advincula, contrary to claims made by the latter yesterday.
He admitted Advincula first approached FLAG but the latter was advised to seek help from the IBP instead.
"Lawyers do this usually when they turn down a case," he said.
PNP probe sought
Senate Minority Leader Franklin Drilon, meanwhile, urged the Philippine National Police (PNP) to get to the bottom of the latest caper of Advincula.
Drilon said appropriate charges should be filed against people behind Advincula.
He described as absurd the accusation that the Liberal Party had connived with an obviously professional con artist to topple the government.
"The Liberal Party had nothing to do with the so-called Bikoy video. We deny the accusations. That the Liberal Party connived with an obviously professional con artist to topple the government is most absurd. It is ridiculous on so many levels. It's excruciating to have listened to all his lies," he said.
Sen. Risa Hontiveros said Advincula's purported exposé was a product of Malacañang's wild imagination.
Hontiveros said the Duterte administration is apparently trying to distract the public from the real concerns of the people.
"I find it odd that when 'Bikoy' came out with his videos accusing President Duterte, his family and close political friends of links to illegal drugs, this administration was quick to shoot down his credibility, even going so far as to threaten him with arrest," she said.
"And now, when he sings a different song and accuses the opposition of outlandish things, all of a sudden his credibility is restored? How absurd," she added.
"This is fanciful and another attempt by this administration to distract the public. Just like the President's matrices, it is another product of Malacañang's wild imagination," she said. With Cecille Suerte Felipe, Jess Diaz, Delon Porcalla