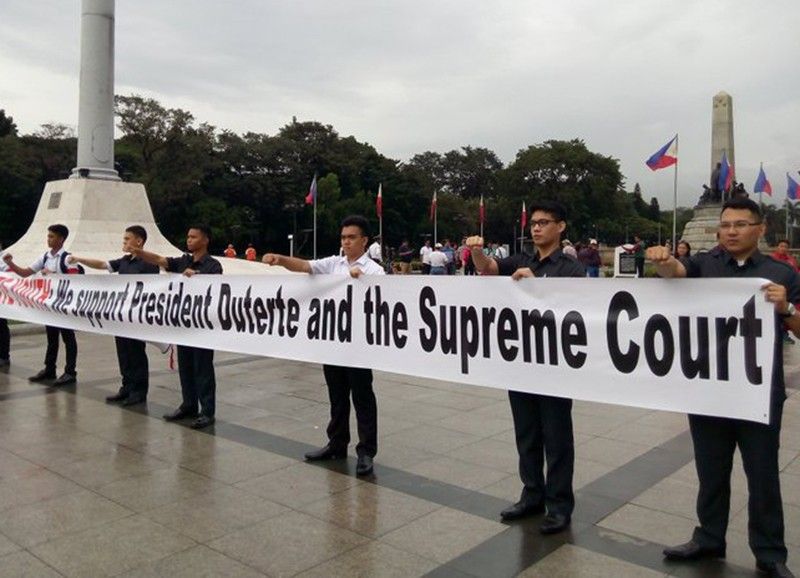 SEVEN STRONG: Cardema (R) and six other members of the Duterte Youth hold up a banner during a Black Friday protest against the burial of the remains of ousted dictator Ferdinand Marcos at the Libingan ng mga Bayani in November 2017
The STAR/Ghio Ong, file
Comelec allows Cardema's surprise substitution as Duterte Youth rep
MANILA, Philippines — Ronald Cardema, a 33-year-old former chairman of the National Youth Commission who has described himself and his Duterte Youth as "radical rightists," represent the group at the House of Representatives as far as the Commission on Elections is concerned.
In an interview with The STAR, Comelec Chairman Sheriff Abas confirmed that the commission en banc approved Cardema's petition for substitution.
"Kanina, napirmahan ko yung kuwan. May majority siya eh... Under our rules naman, puwedeng withdrawal and substitution before election day." he said.
(There is already a majority decision... Under our rules, withdrawal and subsititution are allowed before election day)
Commission on Elections chairman Sheriff Abas said the Comelec has already accepted the substitution plea of former NYC chair Ronald Cardema to be the first nominee of winning partylist Duterte Youth. #BilangPilipino2019 | @CESuerteFelipe pic.twitter.com/GFkiqtrNKw

— The Philippine Star (@PhilippineStar) May 22, 2019
Abas said the Comelec only ruled on whether the substitution petition was submitted in time.
"Whether or not eligible siya o hindi, ibang usapan iyon," he said.
He also said questions on Cardema's eligibility are matters that the House of Representatives Electoral Tribunal — an electoral tribunal composed of six representatives and six Supreme Court justices — can rule on.
READ: 51 groups proclaimed as party-list winners
Surprise subsititution on a Sunday
The development comes after Cardema's last-minute bid at substitution as a nominee of the group, of which he remained national chairman while sitting as head of the policy-making NYC, at 5:30 p.m. on the Sunday before elections on May 13.
All five original nominees of the party-list had reportedly backed out despite doing well on pre-election surveys and in the May 13 elections.
RELATED: Comelec exec on Cardema plea: Now that party-list won, he wants to kick out his wife?
His substitution at the last minute raised opposition from, among other sectors, Kabataan party-list, which Cardema had framed as his group's rival and whom he has described as "New People's Army-allies who are all bitter with the election results."
'We represent youth and professionals'
In a May 7 release accusing Kabataan party-list of taking down Duterte Youth posters, Cardema is quoted as saying: "Labanan ito ng dalawang party-lists sa youth sector, isa solid na anti-government at isa solid na pro-government, isa galit sa government troops at isa gusto pa ibalik ang ROTC military training sa kabataan ng bansa."
(This is a fight between two party-lists in the youth sector, one that is solidly against the government and one that is solidly pro-government. One that hates government troops and one that wants to make reservist training mandatory for the country's youth.)
When questioned about being too old to represent the youth—under the law, representatives of the youth sector must be between 25 and 30 years old on election day—he said Duterte Youth "is registered in the Comelec to advocate for the Youth & Professionals sectors and under the latter category, there is no age limit."
"Inside Congress, Duterte Youth is now ready to fight and defend the government, our government troops, and the majority of the Filipino Youth, against all those radical leftist party-lists in Congress whose main goal is to bring down our government," he also said.
RELATED: Duterte Youth nominees may face criminal raps, election lawyer says
Subversion of party-list system
The party-list system, meant to give underrepresented sectors a chance at having a voice in Congress, has seen an increase in entrants either formed or backed by political clans.
"Ronald Cardema and the Duterte-youth party list are just two of many reasons why the party list system has become a joke," Sen. Panfilo Lacson said Thursday on his Twitter account, adding the system should be reviewed to see if it is still giving marginalized sectors the representation that the party-list law is supposed to be doing.
Cardema's Duterte Youth was among the party-lists that former human rights commissioner Etta Rosales, Center for Youth Advocacy and Networking, Dakila, and Akbayan Youth called out at a May 9 press conference for going around the intent of the Party-list System Act.
Rosales, a former representative of Akbayan, said voters should not let an "apathetic elite made up of several hundreds of clan families and continue to dominate the rules of the games with respect to winning in congress "
She added: "There are many sectors in our country that remain underrepresented and continue to be marginalized and yet certain families use the party-list system to establish political dynasties."
Also in the groups that they included in their "Kamag-Anak Inc. 'matrix'" was 1-PACMAN, which is getting two seats at the House and whose 3rd nominee is a brother of Senator-elect Ramon "Bong" Revilla Jr. — with a report by Kristine Joy Patag