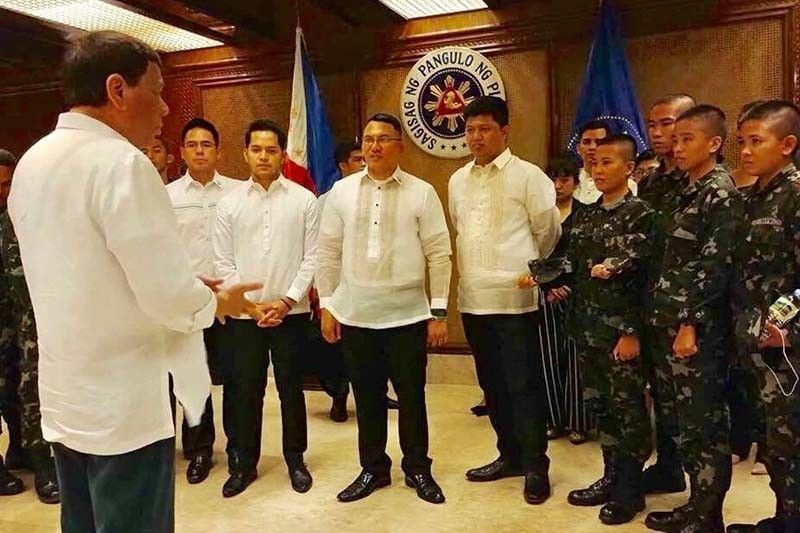 This photo shows National Youth Commission Chair Ronald Cardema (center) with President Rodrigo Duterte.
Facebook/National Youth Commission
Duterte Youth nominees may face criminal raps, election lawyer says
MANILA, Philippines — Election lawyer and Otso Diretso senatorial candidate Romulo Macalintal Monday said the nominees of the Duterte Youth party-list might face a criminal case for resigning to pave way for the substitution of National Youth Commission Chair Ronald Cardema.
"This means that the Duterte Youth nominees who are probable winners in the last polls [should] first take their oath and assume office as representatives and thereafter, if they still desire, may resign but their replacements [should] follow the line of succession as listed in its list of nominees in their Manifestation to Participate in the PL (party-list) system," Macalintal said in a statement.
Macalintal cited that the nominees may be charged under Article 234 of the Revised Penal Code.
"The penalty of arresto mayor or a fine not exceeding 1,000 pesos, or both, shall be imposed upon any person who, having been elected by popular election to a public office, shall refuse without legal motive to be sworn in or to discharge the duties of said office," the law stated.
The poll lawyer also slammed the nominees for their move and called it a "mockery of electoral processes."
"These nominees are not only making a mockery of our electoral processes and when they resigned they [have] practically abandoned their office entrusted to them by the electorate," Macalintal said.
"Cardema cannot even substitute for any of these nominees since the period for substiturion had long expired," he added.
The poll lawyer was acting to reports that Cardema filed the petition after all five of the party-list's nominees "backed out." The nominees reportedly withdrew to pave way for Cardema's substitution.
Duterte Youth, of which Cardema is the national chair, originally listed his wife Ducielle Marie Suarez as its first nominee. The party also listed the following as nominees:
Joseph de Guzman - 2nd nominee

Benilda de Guzman - 3rd nominee

Arnaldo Villafranca - 4th nominee

Elizabeth Anne Cardema - 5th nominee
On Thursday, Kabataan party-list Rep. Sarah Elago said she got word that Cardema filed for substitution to replace his wife as Duterte Youth's nominee.
Elago cited that under Section 18 of Comelec Resolution No. 3307-A:
A party-list nominee may be substituted only when he dies, or his nomination is withdrawn by the party, or he becomes incapacitated to continue as such, or he withdraws his acceptance to the nomination...

No substitution shall be allowed by reason of withdrawal after the close of polls.
For this, Elago said Cardema's petition must be rejected.
Comelec spokesman James Jimenez on Friday also said that the period for substitution had "lapsed."
READ: Cardema as sudden Duterte Youth nominee? 'Period has lapsed,' Comelec says | Palace: Cardema deemed resigned amid bid for party-list seat
However, Comelec Director Frances Arabe, later clarified that Cardema's petition had been filed at 5:30 p.m. on May 12, a Sunday.
Substitutions by reason of withdrawal are not allowed for party-lists after polls close.
Government offices usually close by 5 p.m. on weekdays and are usually closed on Sundays. Elections last May 13 closed at 6 p.m.
Comelec studying Cardema's plea, decision eyed Monday evening
Due to this, Jimenez said that the poll body en banc is studying and discussing the plea of Cardema as it covers "substantive issues."
RELATED: All issues surrounding Ronald Cardema's partylist nominee substitution
"There are some overlapping rules that would impact that (decision) kaya pinag-aaralan yan ng mabuti sa ngayon (that's why it is being studied now)" Jimenez said in a press briefing on Monday.
Aside from the rules on the period of filing for substitution, Cardema's plea is also being questioned for his age. Cardema is reportedly 33 years old but according to Section 9 of the Party-list System Act, a nominee of the youth sector must not be more than 30 years old.
Jimenez said the Comelec is still deciding on Cardema's petition but it is expected to be resolved on Monday evening so that party-list winners could be proclaimed on Tuesday.
"That's the expectation. Kailangan ma-resolve muna kasi sino ipo-proclaim kung hindi (We need to resolve it first because who will we proclaim if it's not resolved)?" Jimenez told reporters.
"Just like the rest of you I am also awaiting the word of the banc on that," he added.
As of posting, Comelec Commissioner Rowena Guanzon said the poll body still has not resolved Cardema's plea.
"The substitution of Cardema has not yet been approved," she tweeted.