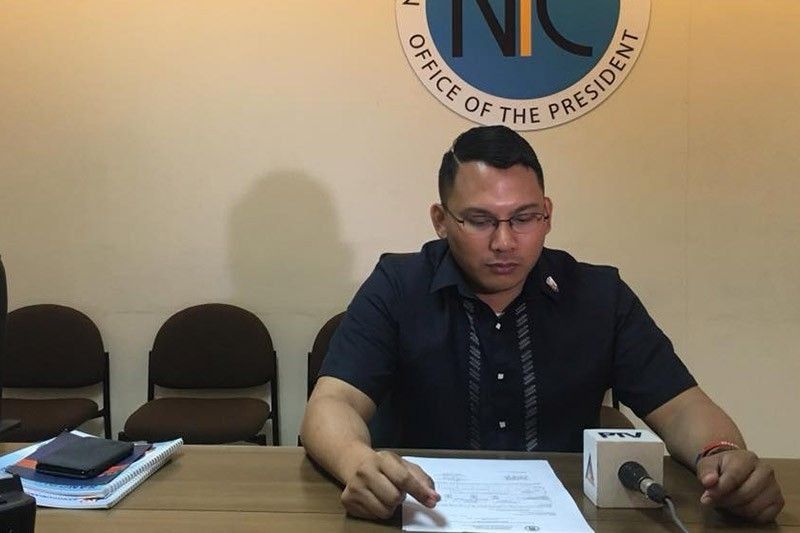 National Youth Commission chair Ronald Cardema listed on his Facebook page that he was born April 13, 1986, making him 33 years old.
National Youth Commission/Facebook, released
Comelec exec on Cardema plea: Now that party-list won, he wants to kick out his wife?
MANILA, Philippines— Commission on Elections Commissioner Rowena Guanzon on Tuesday questioned the petition for substitution filed by former National Youth Commission chair Ronald Cardema.
In a series of tweets, Guanzon asked about Cardema's age as well as his intention for the substitution.
"What is the date of birth of Mr. Cardema?" Guanzon said in a tweet.
Questions on Cardema and his age were raised after the NYC chair pushed for his substitution as a nominee for Duterte Youth party-list.
The Palace has deemed Cardema, who was national chairman of the Duterte Youth while NYC chairman, resigned because of his last-minute bid for a seat at the House of Representatives.
Duterte Youth initially listed Cardema's wife Ducielle Marie and another relative among its nominees. All five nominees of the party-list reportedly backed out, prompting the filing of Cardema's petition for substitution at 5:30 p.m. on May 12, a Sunday.
According to Cardema's Facebook page, he was born on April 13, 1986, making him 33 years old.
Section 9 of the Party-list System Act states that a nominee of the youth sector must not be more than 30 years old but Cardema has said that Duterte Youth does not actually represent the youth sector and is a party-list for "Youth and Professionals."
RELATED: Lacson: Cardema, Duterte Youth make party-list system a 'joke'
Commissioner questions timing
Guanzon also questioned the timeliness of Cardema's plea.
"Now that the PL won a seat he wants to kick out his wife as nominee?" she asked.
According to the partial and unofficial tally of the Pastoral Council for Responsible Voting, Duterte Youth ranks 21st in the party-list race. It earned 346,676 votes or 1.26% of the votes garnered by the party-lists.
The tally was based on 98.29% of election returns already tabulated.
Election lawyer Romulo Macalintal, who lost his run for the Senate, said the Duterte Youth nominees may face criminal case under Article 234 of the Revised Penal Code for abandoning their elective posts.
READ: Duterte Youth nominees may face criminal raps, election lawyer says
Last week, Kabataan Party-list Rep. Sarah Elago also slammed Cardema's move, saying his petition was filed late.
Elago cited that under Section 18 of Comelec Resolution No. 3307-A:
A party-list nominee may be substituted only when he dies, or his nomination is withdrawn by the party, or he becomes incapacitated to continue as such, or he withdraws his acceptance to the nomination...

No substitution shall be allowed by reason of withdrawal after the close of polls.
Comelec spokesperson James Jimenez initially said the period for substitution had "lapsed" but Comelec Director Arabe later on clarified that Cardema's petition had been filed at 5:30 p.m. on May 12.
Party-list's substitutions by reason of withdrawal are allowed only until election day.
Government offices usually close by 5 p.m. on weekdays and are usually closed on Sundays. The May 13 polls closed at 6 p.m.
Jimenez said the Comelec en banc is studying these substantive issues on Cardema's case.
He said that there is no update on the resolution yet.
Despite this, Cardema already indicated on his page that he is an incoming congressman.