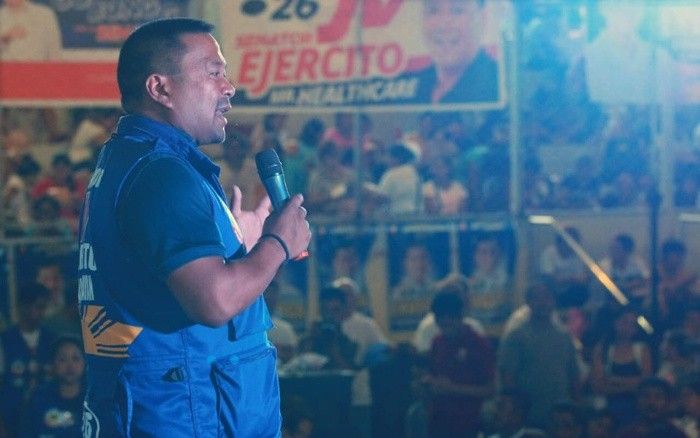 Sen. JV Ejercito speaks in Quezon province in this May 10, 2019 photo released by his campaign. Results of a May 3 to 6 poll of 1,800 likely voters showed Ejercito got a statistical ranking of 9-15 out of 15 Senate bets that would possibly win in the May 13 midterm polls.
Ejercito camapign
JV emerges in Pulse Asia pre-election poll, overtakes brother Jinggoy
(Philstar.com) - May 11, 2019 - 10:25am
MANILA, Philippines (Updated 11:24 a.m.) — Coming from the edge of the likely winners' circle, Sen. JV Ejercito managed to rank higher in the May pre-election survey by Pulse Asia that also showed the reelectionist lawmaker narrowly overtaking his half-brother Jinggoy Estrada.
Results of a May 3 to 6 poll of 1,800 likely voters released a few days before Monday's midterm elections showed JV enjoying a statistical ranking of 9th-15th place out of 15 candidates that could possibly win in the Senate race. He got a voters preference score of 31.2%.
That was an improvement from his performance in the preceding survey where he got a voters preference score of 28.1%, placing him at the bottom of the list of 14 candidates with a statistical chance of winning a Senate seat.
On the other hand, 30.8% of respondents said they will vote for the other Estrada heir, Jinggoy, who also got a statistical ranking of 9th-15th. Jinggoy's voters preference score was higher than 28.8% he received in the previous Pulse Asia poll.
JV previously acknowledged that Jinggoy, who is moving to repair a political career beset by graft and plunder charges, enjoys the edge of using "Estrada" — the hugely popular name of a political dynasty in San Juan City where their father, disgraced former president and reelectionist Manila Mayor Joseph Estrada, was mayor five decades ago.
But this time, JV made sure that voters would know he, too, is an Estrada when he filed his certificate of candidacy last year. He will use the name "Ejercito Estrada JV (NPC)" on the ballot and "JV Estrada" as a campaign nickname.
During the 2013 senatorial race, JV ran under the United Nationalist Alliance and also used "Estrada" after the name change boosted his ranking in pre-election surveys.
Cynthia Villar 'in solo 1st place'
The new Pulse Asia survey also showed 55.9% of Filipino registered voters polled supporting Sen. Cynthia Villar's reelection bid, making her the only candidate at the top.
Next to Villar was Sen. Grace Poe, who earned a voters preference rating of 47.7% and statistical ranking of 2nd-3rd.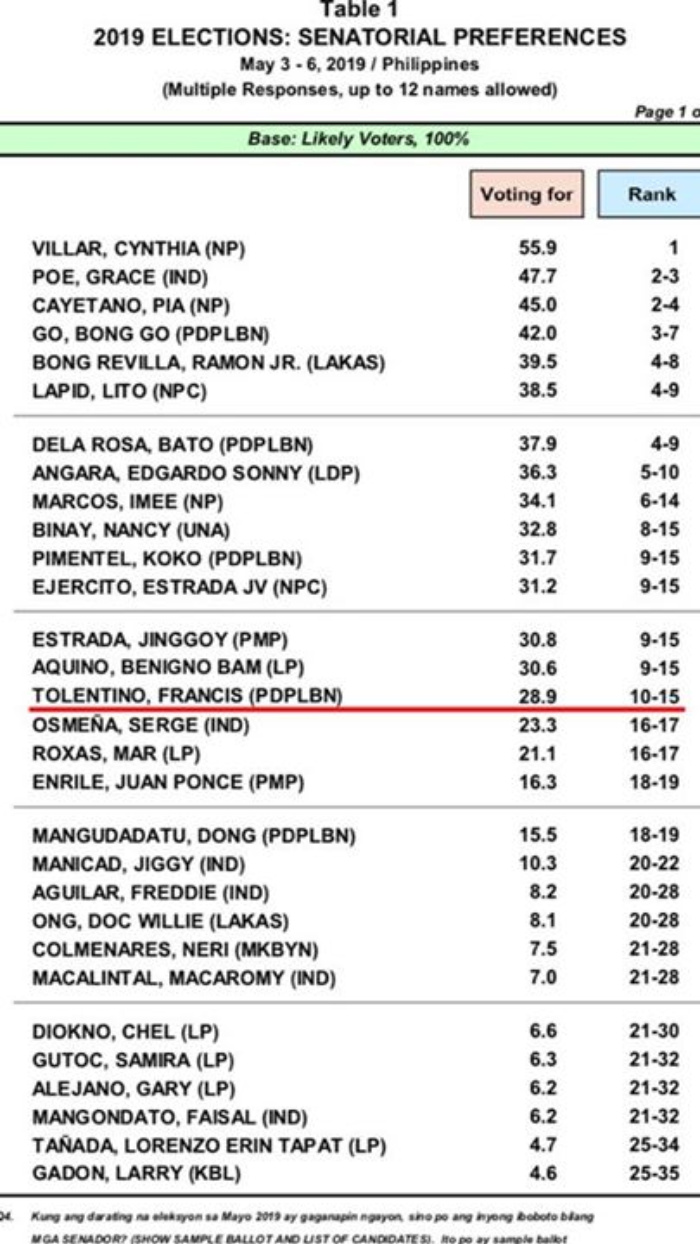 At the third spot was Taguig Rep. Pia Cayetano whose voters preference score climbed to 45% from 43.9%, putting him at the 2nd-4th place.
Meanwhile, reelectionist Sen. Bam Aquino is the only candidate from the opposition ticket who made it to the list of possible winners.
Completing the possible winning circle are Bong Go (3rd-7th), Bong Revilla (4th-8th), Lito Lapid (4th-9th), Bato Dela Rosa (4th-9th), Edgardo Sonny Angara (5th-10th), Imee Marcos (6th-14th), Nancy Binay (8th-15th), Koko Pimentel (9th-15th), JV Ejercito, Jinggoy Estrada, Bam Aquino (9th-15th) and Francis Tolentino (10th-15th).
"Among those with a statistical chance of winning, 11 belong to the Hugpong ng Pagbabago coalition, one is running as an independent candidate, and the Nationalist People's Coalition, the United Nationalist Alliance, and the Liberal Party have one candidate each in the winners' circle," Pulse Asia said. — Ian Nicolas Cigaral