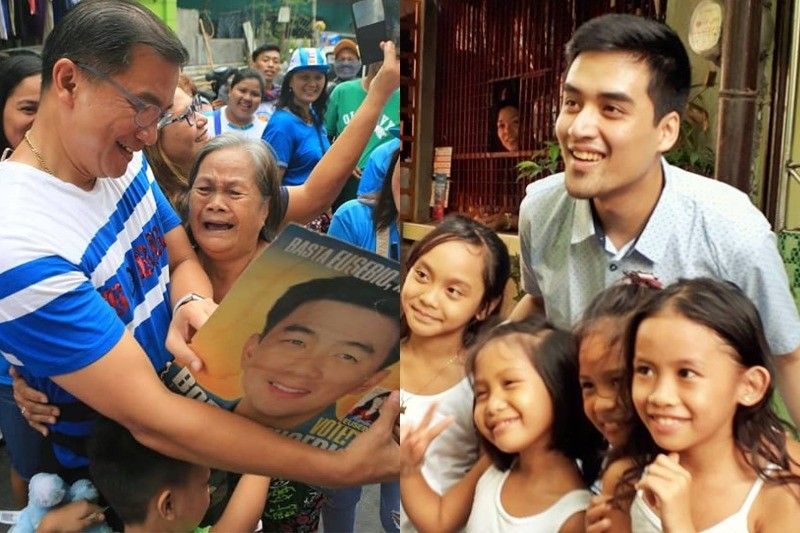 This composite photo shows Pasig City Mayor Robert "Bobby" Eusebio and Councilor Vico Sotto.
Bobby Eusebio/Facebook and Vico Sotto/Facebook
#IbaNaman vs continuity: Political 'payanig' in Pasig
MANILA, Philippines — For Vico Sotto, there is no better time to challenge the Eusebios—the family that has been in charge of Pasig City for 27 years—than now.
"The message was very clear that someone needs to run. If I didn't run, no one else would've run," Sotto said in an interview on ANC's "Headstart" in April.
So at age 29, Sotto, a candidate for Aksyon Demokatiko, is making a long-shot bid for mayor against the incumbent, Robert "Bobby" Eusebio.
He likens his political joust with Eusebio to the biblical David and Goliath story: He does not have the money and machinery of the ruling clan and does not have candidates for vice mayor or councilor under his slate.
'Authentic change'
But the bullish Sotto is banking on the Pasigueños' desire for an authentic change.
"Panahon na para baguhin natin ang kultura ng politika sa ating lungsod. Let's govern with transparency. Bigay natin ng pagkakataong makilahok ang tao sa governance [para] maramdaman naman ng pinakamahihirap ang pag-asenso ng city," Sotto tweeted in October last year when he formalized his mayoral bid.
(It's time to change the culture of politics in our city. Let's govern with transparency. Let's give the people the chance to participate in governance so the poor will feel the progress of the city.)
I'm running for Mayor of Pasig City.

Panahon na para baguhin natin ang kultura ng politika sa ating lungsod. Let's govern with transparency. Bigyan natin ng pagkakataong makilahok ang tao sa governance. Para maramdaman naman ng pinakamahihirap ang pag-asenso ng city. pic.twitter.com/GviSHH4O12

— Vico Sotto (@VicoSotto) October 17, 2018
The son of show business heavyweights Vic Sotto and Coney Reyes is often seen as someone who does politics that is not usual.
"I've always done things a bit unconventionally and I believe if I'm going to keep my idealism and go to this race and challenge the traditional politicians, I need to do it in a different way," the Political Science graduate from Ateneo De Manila University said. In 2018, he received a master's degree in Public Management from the Ateneo School of Government.
Dennis Coronacion, chair of University of Santo Tomas political science department, called Sotto a "breath of fresh air" to Pasig City.
"He stands out in terms of approach, ideas and solutions to his city's problems. His decisions and actions have not shown any sign that he is constrained by patronage politics," Coronacion told Philstar.com in a text message.
#IbaNaman vs continuity
Eusebio—dubbed "Mr. Serbisyong Totoo"—hopes to extend his family's reign in Pasig on the theme of continuity. In one Facebook post, he said there is no need for change.
Eusebio is anchoring his leadership on the so-called "Green Program," which serves as the module for his projects and policies.
Bobby's brother Ricky is also seeking re-election as the representative of Pasig's lone district.
But Sotto, whose slogan is #IbaNaman, is determined to take Pasig from the hands of the Eusebios with his platform-based leadership, noting that progress has only been concentrated in one portion of the city—the west side—and has benefitted only the few.
"When you go to the east side of Pasig City, across the Marikina River, near the Pasig River, that's where you'll see that a lot of Pasigueños are still in poverty lot of Pasigueños still live in informal settler communities. They haven't received or haven't felt the progress of the city," he said.
So he has come with "Big V" (Big Five) Agenda, focusing on universal healthcare, housing programs, education, public consultation and anti-corruption efforts.
At the top of his priority is healthcare. He said that while healthcare facilities in the city are "nice," hospitals and health centers lack medicine.
"Siguro hangga't marami pang naghihirap na Pasigueño, unahin muna 'yung mga proyekto na makatutulong para makaahon sila sa kahirapan. Healthcare is a big anti-poverty measure," he said.
(I think that as long as many Pasigueño are poor, we should make projects that will help them out of poverty a priority. Healthcare is a big anti-poverty measure.)
Sotto is also big on transparency and inclusivity. Among his achievments as Pasig councilor is the creation and passage of the Pasig Transparency Mechanism Ordinance, the city's version of the freedom of information bill. The ordinance, however, is yet to be implemented.
If elected as mayor, he would also change how the budget is used by reducing infrastructure spending.
Battle of influential surnames
Should Sotto win in the May midterm elections, he would be the city's first mayor with a different surname in a long time.
"Now is the best time for someone to challenge the incumbent family. We've had four mayors with one last name for the last 27 years. And I strongly believe now is the right time," he said.
Name recall is expected to be an advantage for the young Sotto who rejects personality-based politics. "It's not a good system," he said in an earlier interview on One News' "The Chiefs."
Coronacion, however, said that Sotto's circumstances still make him part of a political dynasty.
Sotto is among the next generation members of the Sotto clan—a family involved in politics in Quezon City—who chose public service over the entertainment industry but the clan has a longer history in politics.
Sotto's great-grandfather Vicente was mayor of Cebu before representing its 2nd District in the 1920s before running for and being elected senator. A government hospital in Cebu City is named in his memory.
Gian is also the nephew of Senate President Vicente "Tito" Sotto III, a comedian and variety show host who has also served as vice mayor of Quezon City.
The Senate president's children Gian and Lala are councilors in the third and sixth districts of Quezon City, respectively. Gian is also running for vice mayor of Quezon City.
The Senate president's other daughter, Ciara, is the second nominee of Luntian party-list.
"If successful in his mayoral bid, Vico's achievement may lead to a potential branch of the Sotto dynasty in Pasig. This is a common behavior among political dynasties and their reasons vary," Coronacion said.
According to Ronald Mendoza, dean of the Ateneo School of Government, there are two kinds of dynasties: "thin" ones where members of the same family succeed each other in the same office and "fat" ones, where members of the same family occupy two or more elected positions at the same time.
"The average effect of political clan leadership in the country is that while there is a fat political clan, poverty deepens," Mendoza said in a Senate hearing on the anti-political dynasty bill in early 2018. Members of political families counter that the choice is still up to the voter and that there are "good" dynasties whose members perform well in office.
In a 2016 study, he noted that political dynasites can lead to a deterioraton of political competition because of the concentration of political power while also weakening mechanisms for governance and accountability.
"They can also use state power to influence the selection of political leaders, thereby favoring individuals (who are often relatives) and preventing the best and the brightest from serving in the government, as well as biasing policies in favor of certain elite groups and interests," Mendoza also notes in "Political Dynasties and Poverty: Illustration of Measurement and Initial Evidence of Linkages in the Philippines".
As a counterpoint in the same paper, Mendoza notes that past studies also suggest that "political dynasties can allow for extended time horizons that not only enable immediate socioeconomic reforms but also encourage long-term policies and programs."
Pasig's Sotto, who is in favor of a proposed anti-political dynasty measure, said he is focused on representing a new brand of politics instead of just changing the family in power.
"It's not going to be easy but I believe that if we spread the message of real, authentic change, not just the change in the face of the mayor, not just the change in the name of the mayor but the change in the system and culture of palakasan and the culture of patronage and culture of fear that they've set in the last 27 years," he said.