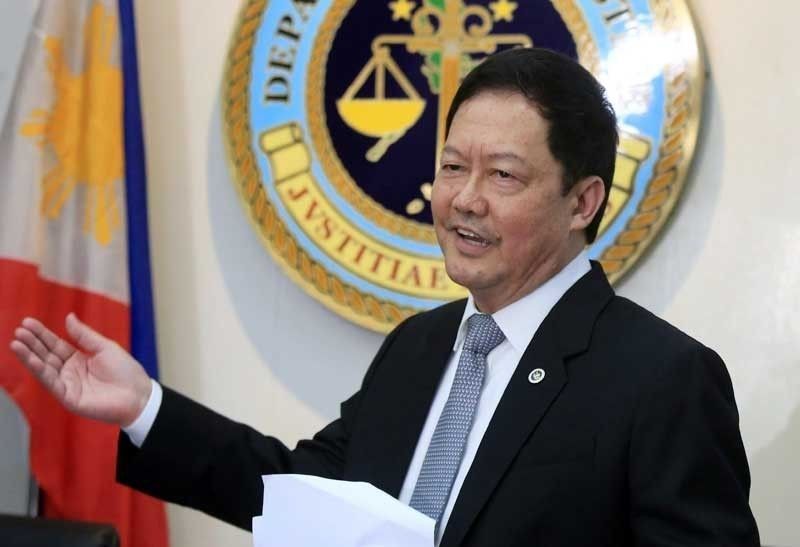 File photo shows Justice Secretary Menardo Guevarra in a press conference at the Department of Justice office in Padre Faura, Manila.
The STAR/Edd Gumban, File
Admin of site posting links to 'Bikoy' videos in custody, DOJ clarifies
MANILA, Philippines — Authorities have arrested the man they said is behind a website that constantly shared links to anonymous videos linking the president and his family to the illegal drug trade, but not the actual uploader of the Youtube videos, Justice Secretary Menardo Guevarra clarified Thursday.
News broke early Thursday morning that authorities are in custody of the "uploader" of the video that features a certain "Bikoy." The videos allege that the Dutertes, including the president's daughter Kitty, have links to the illegal narcotics trade.
In a televised conference, Guevarra clarified reports and said that the authorities have in custody a certain Rodel Jayme, the alleged the administrator of website metrobalita.com which shared links to the "Ang Tototong Narcolist" videos.
Search warrant issued, served
Guevarra explained that he directed the Department of Justice-Office of Cybercrime and the National Bureau of Investigation Cybercrime Division on April 17 to "uncover the identity of producers and uploaders of the video."
Guevarra said investigators found that website metrobalita.com "was constantly posting links of the aforesaid 'Ang Totoong Narcolist' which allowed public to have easier access" to the videos.
The Justice chief stressed the anonymous videos accuse a minor of involvement in drugs.
The domain of the website was traced to a certain Rodel Jayme, Guevarra said.
The NBI Cybercrime Division then asked the Makati City Regional Trial Court Branch 148 to issue a warrant to search and seize of computer data on April 29, which was issued on the same day.
The NBI CCD agents served the search warrant at dawn on April 30.
"Jayme was cooperative and surrendered his desktop computer, mobile phone and internet service provider," Guevarra said.
A forensic examination of the seized gadgets "showed that Jaime was indeed the registrant and administrator of the website metrobalita.com."
"It appears—it appears, ha—that he was the one who started all of this by creating the website, behind the subsequent uploading of the videos," Guevarra explained.
He added: "It's just logical that the NBI starts with him."
Raps to be filed vs Jayme
Guevarra stressed that the NBI is still conducting data gathering on the gadgets seized from Jayme.
Data gathering "might reveal something deeper that cybercrime."
But Guevarra said that complaints of violation of the Cybercrime Prevention Act and of child abuse may be filed against Jayme.
He added: "Possibly then, even a higher type of offense," including inciting to sedition complaint.
Article 142 states that inciting to sedition can be done through speeches, proclamations, writings, emblems, cartoons, banners or other representations "that tend to disturb or obstruct any lawful officer in executing the functions of his office, or instigate others to cabal and meet together for unlawful purposes, or which suggest or incite rebellious conspiracies or riots, or which lead or tend to stir up the people against the lawful authorities or to disturb the peace of the community, the safety and order of the government, or who shall knowingly conceal such evil practices."
He said he would leave the matter to the National Prosecution Service.
As It Happens
LATEST UPDATE: June 11, 2019 - 8:41am
Get the latest updates on alleged ouster plots floated by the Duterte administration.
June 11, 2019 - 8:41am
Sen. Antonio Trillanes debunks ouster claims and says he is ready to present evidence to disprove claims that the "Bikoy videos" were orchestrated by the Liberal Party.
"First and foremost, the objective is to debunk his claim that the opposition or his critics have concocted these allegations using him against the Duterte family and that we paid him money so I brought with me some of the evidence. Also, more importantly, I'll be a showing video later on at a press conference about Mister Bikoy freely ranting about his allegations," Trillanes says in an interview over ANC's "Early Edition."
"There is no ouster plot. All of these things are just an afterthought when he was already in the custody of the police."
"NO OUSTER PLOT." Sen. Antonio Trillanes said he is ready to present evidence, including bank records provided by companions of Peter Joemel Advincula in an alleged drug syndicate, to debunk claims that the "Bikoy videos" were orchestrated by the Liberal Party. #ANCEarlyEdition pic.twitter.com/ax67k0ISen

— ABS-CBN News Channel (@ANCALERTS) June 11, 2019
June 6, 2019 - 9:45am
Lingayen-Dagupan Archbishop Socrates Villegas denies allegations by "Bikoy" that he was part of a supposed plot to unseat President Rodrigo Duterte and install Vice President Leni Robredo as the country's chief executive.
"On the day and time, December 12, 2018 in the evening, that I allegedly met with some plotters to overthrow the government, I was in the parish church of Orani in Bataan to deliver the homily at the first Mass of a friend newly ordained priest," the priest says in a statement.
"As a mortal being like the rest of us, I have no capacity to be in two places at the same time."
Peter Joemel Advincula, the man claiming to be "Bikoy," identified Villegas, whom he said was present at a meeting on Dec. 12, 2018 at the Jesuit Residence of the ADMU in Quezon City.
May 8, 2019 - 12:12pm
Presidential spokesperson Salvador Panelo says President Rodrigo Duterte has received intelligence report showing conspiracy among groups to discredit the administration for the purpose of the May 13 polls.
Panelo shows diagram on the alleged conspiracy against the Duterte admin @PhilippineStar @PhilstarNews pic.twitter.com/b0N4OasPVC

— Alexis B. Romero (@alexisbromero) May 8, 2019
The groups allegedly include the Liberal Party, the Magdalo group, media organizations, among others, as presented in the matrix.
May 6, 2019 - 8:22pm
Sedition is an archaic law used to silence political critics, former Rep. Erin Tañada (Quezon) says in reaction to the indictment of a website administrator for allegedly sharing anonymous videos alleging the Dutertes are involved in illegal drugs.
"To put it simply, sedition punishes political criticism. In the Philippines, it is a relic of our colonial past. Jose Rizal himself was charged with sedition by Spanish authorities before he was executed. It was also one of the favorite tools used by the Marcos dictatorship to silence critics. It's an age-old strategy that leaders who cannot be honest and transparent to the people always choose," Tañada says in a statement.
He notes that the government seems to have moved quickly to investigate the posting of the videos while progress in other cases has been slow.
Senatorial candidate Erin Tañada criticized the government for prioritizing the prosecution of its critics after the arrest of a person accused of sharing videos critical of the administration.
"Pag maliit na tao ang napatay, taon ang lumilipas pero walang nangyayari. 'Yung nagbanta sa buhay ng mga obispo at pari hindi pa rin ma-identify. Yung mga akusado sa Ampatuan massacre hanggang ngayon nasa korte pa. Pero pag binatikos mo si Presidente Duterte at pamilya niya, isang buwan lang may arestado na," he says.
(When it is a regular person who is killed, years pass and nothing happens. Those who sent death threats to the bishops and priests are still not identified. The accused in the Ampatuan massacre are still in trial. Bu when you criticize President Duterte and his family, someone is arrested within a month.)
May 6, 2019 - 5:57pm
Former aide to the president Bong Go takes off his shirt at a press conference in Calamba, Laguna to show he has no tattoos, as response to fresh allegations by an alias "Bikoy," who was earlier today identified himself as Peter Joemel Advincula.
Bikoy, known producer of viral videos "Ang Totoong Narcolist," surfaced earlier today at the office of the Integrated Bar of the Philippines and accused Go and President Rodrigo Duterte of being "senior members" of a drug syndicate. He says he was part of a team who scanned tattooed codes of big-time drug traffickers.
Go says Advincula should not have approached the Integrated Bar, but should have gone to a psychiatric hospital instead.
"May sinabi s'ya noon na kapag ipinakita ko ang aking likod ay titigal na siya. Hinubad ko na at ipinakita ang aking likod. Wala kayong nakitang tattoo," Go says at the event.
"So ngayon, hubarin ko ulit ang damit ko. Tingnan nyo ng mabuti. Ito, huling beses ko ng hubarin ito. Maging uto uto na ako kung gagawin ko pa ng pangatlong beses," he adds.