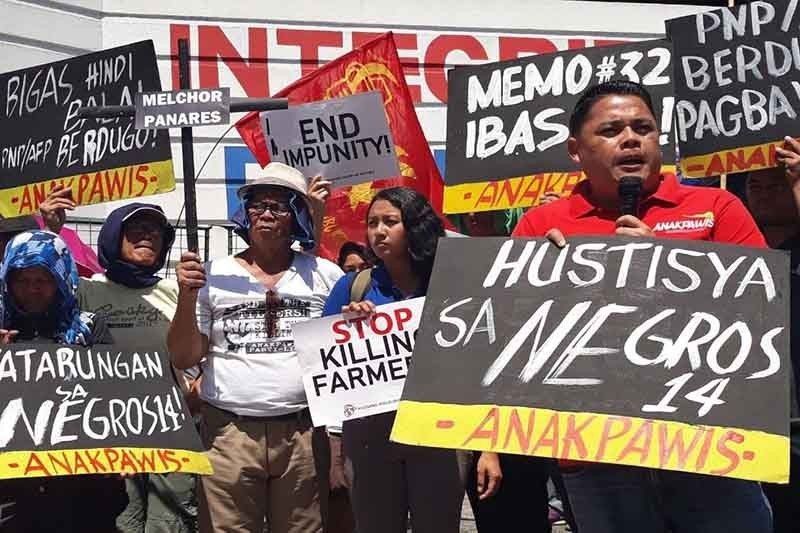 File photo shows members of Anakpawis and Kilusang Magbubukid ng Pilipinas troop to the Philippine National Police headquarters at Camp Crame to denounce the killings of 14 farmers in Negros Oriental.
Anakpawis/Released, File photo
Palace urges public not to believe 'leftist propaganda' on Negros 14
MANILA, Philippines — Malacañang has urged the public not to fall for what it described as "leftist propaganda" on the death of 14 people in Negros Oriental.
Presidential spokesman Salvador Panelo maintained that the incidents are "legitimate" police operations and was not a massacre as claimed by human rights groups.
"We welcome any investigation on the matter," Panelo said in a statement issued last Friday.
"In the meantime, we urge the public not to be swayed by leftist propaganda, especially those stemming from groups linked with the Communist Party of the Philippines and the New People's Army, designed to stigmatize each and every operation of our law enforcers," he added.
A total of 14 people were killed in separate operations against what authorities have described as "hardcore criminals" in Negros Oriental last week. But activists are claiming that the slain individuals were farmers and labeled the incidents as "extrajudicial killings."
Farmers groups Unyon ng mga Manggagawa sa Agrikultura and Kilusang Magbubukid ng Pilipinas and human rights group Karapatan have announced plans to conduct a fact-finding mission on the police operations.
While officials insist that the 14 individuals were killed in shootouts, the provincial director of the Negros Oriental police and three town police chiefs were relieved to give way to an impartial investigation.
Panelo said it was "unfortunate that "interest groups" are using the Negros Oriental incident "to sow hate and spread fear" towards duly constituted authorities.
The presidential spokesman insisted that Negros Oriental law enforcers were implementing search warrants that were duly issued by competent courts. He reiterated that 14 residents died when they fought with the law enforcers
"This is not a case of massacre given the fact that those who surrendered without forceful resistance were lawfully apprehended unharmed following the discovery of illegal items pursuant to the court sanctioned search," Panelo said.
"In fact, a policeman was wounded which goes to show that there were indeed some who used violent resistance when authorities were conducting the search," he added.
Panelo also defended police chief Gen. Oscar Albayalde from critics calling for his resignation over the incident. He said Albayalde has acted objectively by relieving ranking officers to pave the way for a thorough and impartial investigation and to determine whether lapses were committed during the operations.
"There is absolutely no basis in fact and in law for the PNP Chief, General Oscar Albayalde, to resign," Panelo said.