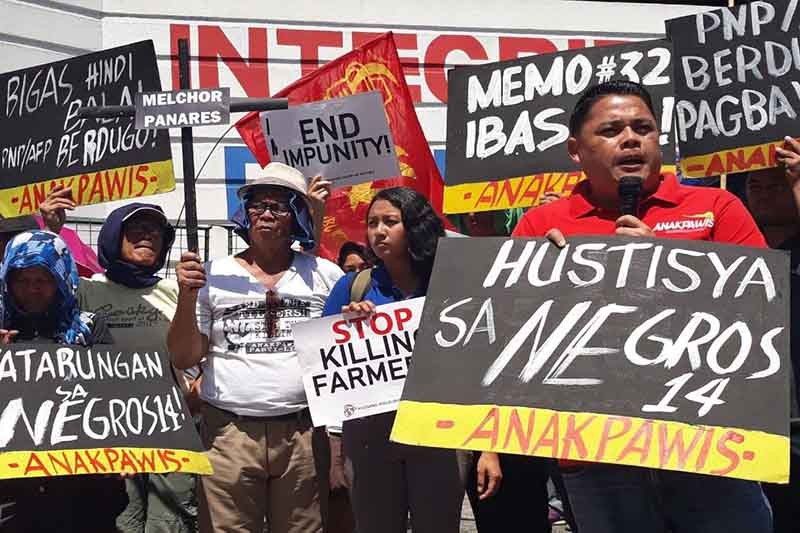 Members of Anakpawis and Kilusang Magbubukid ng Pilipinas, meanwhile, trooped to the PNP headquarters at Camp Crame on Tuesday to denounce the killings.
Anakpawis/Released
14 farmers latest in killings of 'red-tagged' personalities in Negros — group
MANILA, Philippines — In a span of five months, personalities who were "red-tagged" by the government have been killed on the island of Negros, a legal rights group said Tuesday.
In a statement, Kaisahan condemned the deaths of 14 farmers in the hands of the Armed Forces of the Philippines and Philippine National Police last weekend.
Kaisahan is a non-government organization that pushes for land rights of farmers in Negros Occidental.
The group pointed out that the death of the "Negros 14" is the latest in the spate of killings of personalities that authorities have linked to communist groups on the island province in five months.
"The 'Sagay 9' massacre, the murder of human rights lawyer Atty. Ben Ramos and the killing of 'Negros 4'—all of these happened within five months in the same island. This is an unfortunate proof that 'red-tagging' endangers the life of our farmers and the marginalized communities who do nothing but work hard for their basic needs, and reclaim their rights," Kaisahan said.
Philippine jurisprudence defines red-tagging as "the act of labelling, branding, naming and accusing individuals and/or organizations of being left-leaning, subversives, communists or terrorists (used as) a strategy... by State agents, particularly law enforcement agencies and the military, against those perceived to be 'threats' or 'enemies of the State.'"
Nine sugarcane workers in Sagay, Negros Occidental were killed in October 2018. PNP chief Oscar Albayalde said that the New People's Army uses the group to "occupy land and make money out of it"—a claim denied by the National Federation of Sugar Workers.
A month later, rights lawyer Benjamin Ramos, was gunned down. He was included in a poster of supposed "CNN"—a government abbreviation for Communist Party of the Philippines-New People's Army-National Democratic Front—personalities, according to a report from independent news site Bulatlat.com.
READ: Murdered NUPL lawyer was 'red-tagged' earlier in 2018
Last weekend, 14 were killed in separate PNP and AFP operations in Negros province. Albayalde said the 14 killed were tagged as suspects in the ambush of police and army officials, contrary to what rights groups stated that they were farmers and "habal-habal drivers."
The PNP and presidential spokesperson Salvador Panelo also asserted that the operations were legitimate. The 14, Albayalde said, "fought back" against the cops—a common explanation for deaths related to the "war on drugs"—and were killed in the process.
Witnesses' accounts and rights groups however, contradict the government's claim.
Meanwhile, calls for an independent investigation into the incidents continue to mount in the face of a statement from the Palace and the police justifying the deaths.