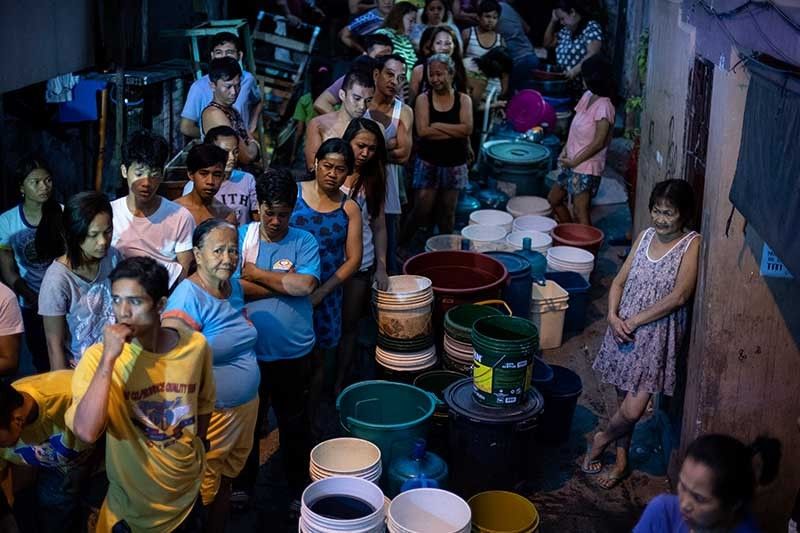 Residents of Addition Hills in Mandaluyong City, Manila, queue to receive water distributed on water tank truck and fire trucks on March 15, 2019.
AFP/Noel Celis
Manila Water customers ask MWSS to penalize service concessionaire
(Philstar.com) - March 25, 2019 - 2:13pm
MANILA, Philippines — Customers affected by the water supply interruption filed a petition against service concessionaire Manila Water over the water shortage felt in parts of Metro Manila and Rizal.
The customers—led by Bagong Alyansang Makabayan Secretary General Renato Reyes—filed the petition Monday before the Metropolitan Waterworks and Sewerage System, asking the government regulator to impose penalties on Manila Water for "failure to comply with its service obligation on continuity of supply."
"In view of the admissions of Manila Water and the actual situation within the east zone concession in which continuity of supply or the availability of an uninterrupted 24-hour supply of water has not yet been achieved and might not be achieved until the end of the summer months, there should be no doubt in anyone's mind, particularly the MWSS-Regulatory Office and its chief regulator, that penalties should be imposed on Manila Water," petitioners said.
In a House committee hearing earlier this week, MWSS Chief Regulator Patrick Sy said the government regulator cannot impose fines or penalties against the Ayala-led water concessionaire.
But Ty, later on, clarified his statement the next day. When asked by Senate President Tito Soto if the MWSS can penalize Manila Water for its violation to provide 24/7 water service, Ty answered: "Yes."
Parts of Metro Manila and Rizal province experienced low water pressure to no water, which the private concessionaire attributed to high demand and low water level at La Mesa Dam, its alternative water source.
Unexpected costs, undue economic injury
The petitioners also stressed that Manila Water customers incurred "unexpected costs" for purchasing water containers and "undue economic injury in their personal capacities, in the practice of their profession, or in the conduct of their business."
"The MWSS-Regulator Office, particularly its chief regulator, should act on the voluntary commitment of Manila Water to provide some relief in the water bills of its affected customers covering the periods of service interruption and ensure public participation in any proceedings," they said.
The petitioners also asked MWSS to order Manila Water to "implement a general rebate for all Manila Water accounts covering the average reasonable cost for the unexpected, emergency purchase of incidentals such as water drum, pails" and "implement a waiver of the P83.14 minimum charge for all Manila Water accounts which experienced water service interruptions and consumed 10 cubic meters or less per month."
Moreover, they asked the government regulator to conduct a review of the approved rate hike and suspend its implementation until a thorough performance review of Manila Water has been conducted. — Gaea Katreena Cabico