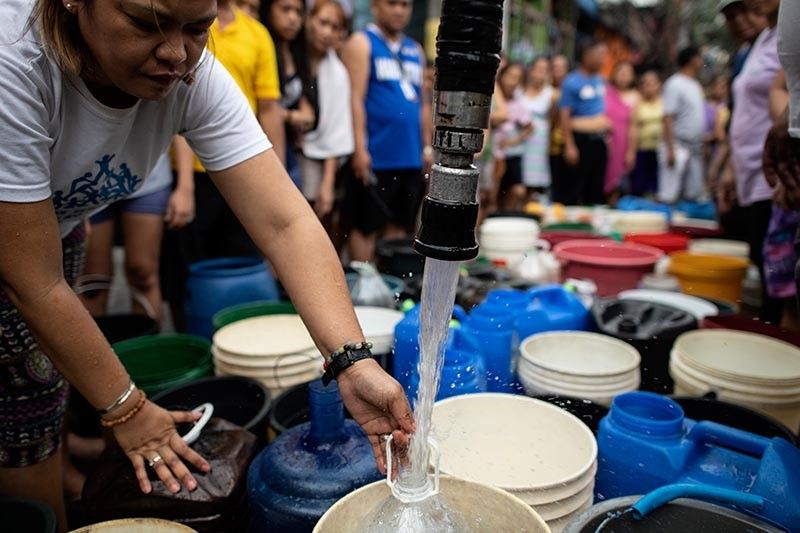 Residents of Addition Hills in Madaluyong City, Metro Manila, queue to recieve water distributed on water tank truck and fire trucks on March 15, 2019.
AFP/Noel Celis
Poe: Manila Water's apology best expressed in water bill adjustments
(Philstar.com) - March 25, 2019 - 10:09am
MANILA, Philippines — Service concessionaire Manila Water should give customers affected by the water shortage a fair and just adjustment to their bills, Sen. Grace Poe said Monday.
Poe, who chairs the Senate public services committee, stressed that consumers were not only inconvenienced by water service interruptions but they also spent money to buy water and containers, and transport these to their homes.
"Manila Water can absorb it, their income will not dry up. It is a drop in their bucket of profits. An apology is best expressed monetarily," Poe said in a press release, noting that bill adjustments should be felt by consumers immediately.
She added: "Manila Water should not be reaping profits even if the taps have run dry."
Manila Water, which services Metro Manila's east zone, has repeatedly said it is looking at possible bill adjustments for its customers.
Poe, moreover, called on government regulator Metropolitan Waterworks and Sewerage System to ensure that people would not shortchanged by the computation of the bill reduction.
Manila Water and MWSS are set to meet Monday to discuss the adjustments.
Legislative inquiries into the water supply shortage in both houses of Congress were conducted last week.
Poe earlier said the Senate panel is preparing a preliminary report on the matter. She noted that findings in the hearing were sufficient for the committee to recommend a revamp at the MWSS and press Manila Water to compensate consumers.
Residents in some parts of Metro Manila and Rizal have been dealing with hours-long water service interruptions attributed to a dry spell brought by El Niño phenomenon, lack of water sources and an increased demand. — Gaea Katreena Cabico