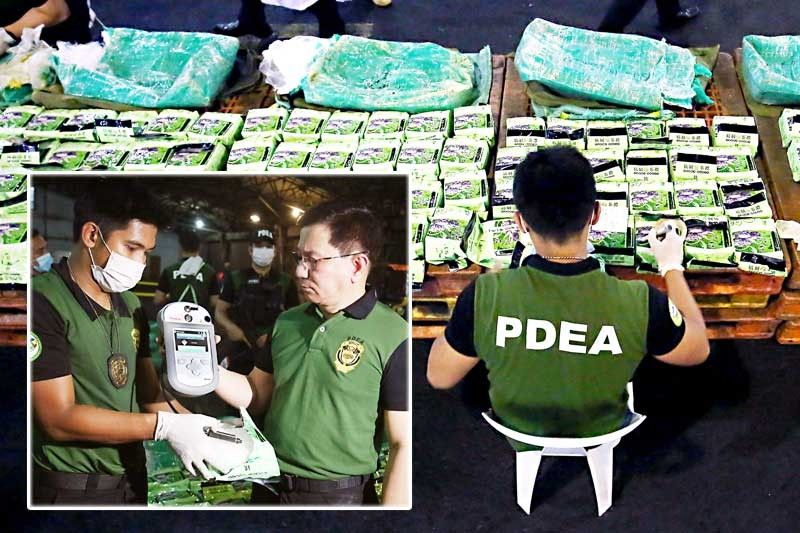 A Philippine Drug Enforcement Agency agent examines 276 kilos of shabu concealed in packages of tea following the interception of the shipment from Vietnam at the Manila International Container Port the other night. Inset shows PDEA chief Aaron Aquino using a handheld chemical analyzer to scan for the presence of narcotics in the package.
Miguel De Guzman
PDEA tags Golden Triangle
MANILA, Philippines — The Philippine Drug Enforcement Agency (PDEA) has again tagged the notorious Golden Triangle syndicate as the group behind the P1.8-billion shabu shipment seized at the Manila port on Friday night.
PDEA director general Aaron Aquino said the Golden Triangle syndicate is responsible for the shipment, similar to the drugs recovered last week in Ayala Alabang Village in Muntinlupa City.
The two shipments are worth more than P2.6-billion.
Aquino told radio dzBB that the PDEA is alarmed by the billions of pesos worth of shabu smuggled into the country by foreigners.
He noted that drug trafficking and smuggling into our country "will never stop" as long as there is no death penalty in the country.
The PDEA chief also noted that these foreigners "can buy judges, prosecutors and law enforcers," so that they can go back to their own country.
Bureau of Customs (BOC) officials were able to locate the container inside the Manila International Container Port and conducted X-ray examination that revealed the presence of suspected drugs.
BOC officials opened the container, declared as containing plastic resin, at about 6 p.m. and found 276 packs of shabu worth a total of P1.8 billion.
Aquino said that the drugs were seized after their international counterparts provided information that a shipping container from Vietnam was coming into Manila on March 17 with cargo containing huge shipment of illegal drugs.
The information came after local police in Vietnam seized an estimated 300 kilos of shabu in Ho Chi Minh City that used similar packaging to the illegal drug packages used in those recovered in Manila.
The shabu was concealed in 276 packs of tea put in bags and then placed in sacks. The contraband was allegedly shipped from Vietnam, which is part of the Golden Triangle of illegal drugs that also included Laos and Thailand.
The consignee was identified as a certain Wealth Lotus Empire Corp.
Anti-narcotics operatives confiscated some P1.1 billion worth of shabu during a raid on a house inside Ayala Alabang Village in Muntinlupa City and discovered more than 100 kilos of drugs concealed inside tea boxes and biscuit tins on Tuesday.
PDEA agents arrested four Chinese suspects believed to be members of the Chinese-run Golden Triangle syndicate.
PDEA's Aquino said his group first conducted a buy-bust operation outside a shopping mall on Madrigal Avenue in Alabang where three suspects were caught with more than 40 kilos of shabu.
In a follow-up operation, operatives raided the house in Alabang where another Chinese was nabbed.
The PDEA head said they will meet officials of the BOC and conduct further investigation.
The anti-narcotics agency will also conduct purity testing to determine if the illegal drugs matched seized drugs from other operations.
He added that the illegal drugs were likely intended to be distributed nationwide, from Metro Manila to the Visayas and even as far as Mindanao.
This is the third shabu shipment netted by authorities in recent years.
Last year, a top PDEA official got embroiled in a P11-billion missing shabu smuggling controversy.
In 2017, the BOC seized 604 kilos of shabu, hidden in metal cylinders, from two Valenzuela City warehouses. - With Evelyn Macairan