LTO: Decals an option in 'Doble Plaka' motorcycle law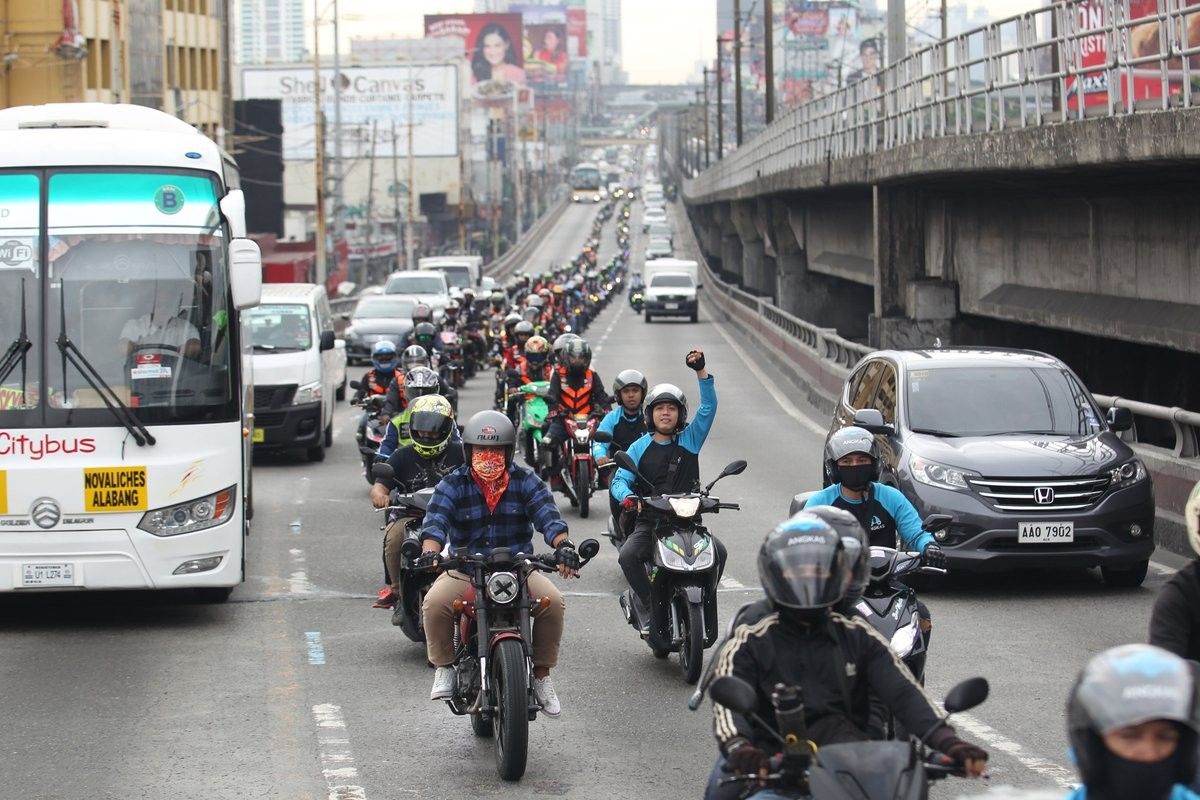 MANILA, Philippines — Motorcycle riders might not be required to install metal license plates in front of their motorcycles, a requirement under the Motorcycle Crime Prevention Act that riders have said pose a safety risk.
Assistant Secretary Edgar Galvante, chief of the Land Transportation Office, said at a meeting at the Senate with Sen. Joseph Victor "JV" Ejercito, the police Highway Patrol Group, and representatives of motorcycle dealers and motorcycle riders' groups that the metal plates he has shown media are just prototypes.
The larger license plates are supposed to curb crimes done by people on motorcycles, lawmakers said.
LOOK | Ipinakita ni LTO chief Edgar Galvante ang mga posibleng disensyo para sa mga bagong plaka ng mga motorsiklo kasunod ng pagsasabatas ng Motorcycle Crime Prevention Act. | via @gerarddelapena pic.twitter.com/8xCqWTkxjN

— News5 AKSYON (@News5AKSYON) March 18, 2019
Galvante said Tuesday that the use of metal plates is not final. "We are just preparing versions of it, just in case," he said in Filipino.
"One of the options is using decals. Actually, that's one of the options that we want to announce since this might satisfy the provision of the law," he also said.
RFID stickers on plates
He said the LTO also wants to install RFID chips on the new license plates to make it easier to identify individual motorcycles. He said the LTO already does this for license plates for four-wheeled vehicles to make it easier to retrieve registration information about the vehicle.
"If the option to use two plates is adopted, the front plate does not have to be made of metal," Galvante stressed.
Ejercito called the LTO being open to options other than front-mounted metal plates a good development. He said that he understands the outrage from motorycle groups, but said that he supported the bill because he believes the measure will help address discrimination of motorcyclists, especially at checkpoints.
"Hopefully, this proposal to use RFIDs and scanner will speed up the process at checkpoints so us riders won't be harassed at checkpoints too much," he also said.
Anger over the measure, which riders' groups say disregarded input from the motorcyling community and is discriminatory, has translated to calls not to vote for lawmakers who supported passage of the bill. Ejercito is seeking reelection in May.
Groups present at the meeting also raised concerns over a June 30 deadline for motoryclists to renew the registration of their motorcyles to get the new plates, pointing out that many are still waiting for the LTO to release regular license plates. They also said that fines of up P50,000 for a lost license plate are too high.
"Rest assured that I will do what I can to at least make the IRR and the implementation of this law will be reasonable and acceptable to the riders," Ejercito said. "Please don't consider me as no longer one of you, I am with you on this," the senator, also a motorcyclist, said.
Riders groups have scheduled rides on Sunday, March 24, to protest the new law.
Jobert Bolanos, chairman of the Motorcycle Rights Organization, said after the meeting at the Senate that the motorcycling community should not relax until the laws implementing rules and regulations are released.
"Our community should stay vigilant, we can't be complacent. We still need to let the government feel and hear our sentiments [on this law]. Let's see each other on March 24," he said in a message to viewers of a livestream by Rev Up Moto.