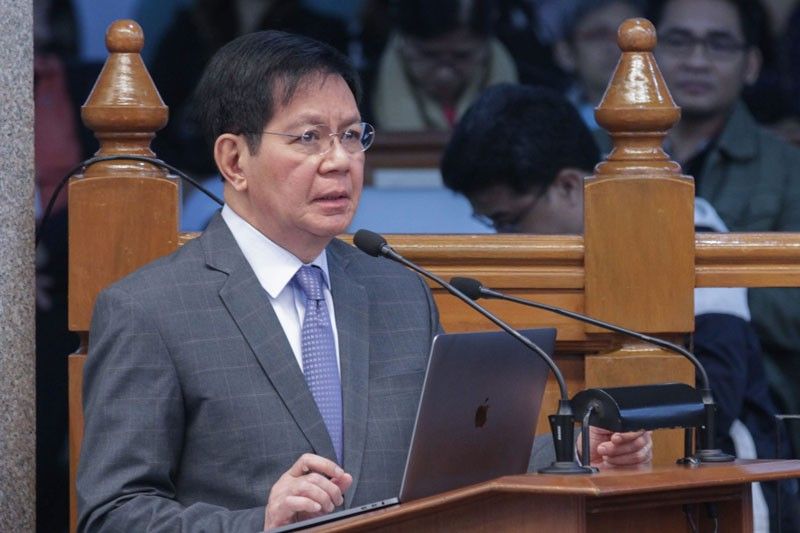 In a statement, Sen. Panfilo Lacson, who chairs the Senate Committee on Games and Amusement, said he is "inclined to think there is basis" in removing Alexander Balutan from the PCSO based on the sacked official's "demeanor and other data gathered" during a recent Senate hearing
The STAR/Geremy Pintolo, File photo
Lacson urges Palace to file criminal charges vs sacked PCSO chief Balutan
(Philstar.com) - March 9, 2019 - 1:04pm
MANILA, Philippines — Sen. Panfilo Lacson on Saturday urged Malacañang to file criminal charges against retired Marine general Alexander Balutan, who President Rodrigo Duterte sacked as general manager of the Philippine Charity Sweepstakes Office due to "serious allegations of corruption."
In a statement, Lacson, who chairs the Senate Committee on Games and Amusement, said he is "inclined to think there is basis" in removing Balutan from the PCSO based on the sacked official's "demeanor and other data gathered" during a recent Senate hearing.
'When we conducted Senate hearings on the possible corruption in the PCSO under his watch in relation to [small town lottery] operations, I kept asking myself — what has happened to this man?" Lacson was quoted as saying in news reports.
"Since Malacañang has already cited and announced the reason for his sacking, it is incumbent upon them to file the necessary criminal charges for violation of the country's anti-graft laws," he added.
The Palace did not mention the particular offense that Balutan committed which prompted Duterte to remove him from his post.
For his part, Balutan's spokesman Florencio Solmerin said the PCSO chief voluntarily resigned.
A member of the Philippine Military Academy Class of 1983, Balutan drew controversy over the PCSO's lavish Christmas party in 2017 costing P6 million.
PCSO board member Sandra Cam revealed the controversy but the president sided with Balutan.
According to a report from The STAR, an official close to the president said Duterte has had enough of the shortfall in the targeted income of the PCSO, including Small Town Lottery operations for the past months.
Duterte has been monitoring the income of the PSCO, as well as from STL, and noted how this was way below the expected income, the official said. — with reports from The STAR