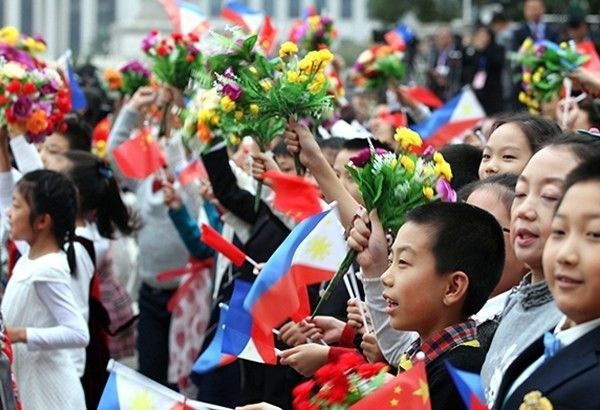 Children holding Chinese and Philippine flags wait to greet President Duterte in Beijing.
The STAR/Krizjohn Rosales, File photo
'Frustration over sea dispute no reason to hate Chinese people'
MANILA, Philippines — A seeming rise in anti-Chinese sentiment online—especially against Chinese tourists and workers—is an indication of Filipinos' frustration with how the government is dealing with the giant from the north, the president of a foundation for Chinese Filipinos said.
The president of non-governmental organization Kaisa Para sa Kaunlaran (Kaisa) stressed this point, noting that the public is becoming increasingly angry at developments in the South China Sea dispute with China and fear that the country is losing its sovereignty over the West Philippine Sea.
Kaisa is working for the "integration of the ethnic Chinese into mainstream Philippine society" and for building "bridges of understanding and tolerance between cultures and between ages," it says on its website.
"Our frustration is mounting and mounting. Who do you lash out at if it's already bursting already? So where does that frustration and anger go? Instead of going to the government, it's gone to the people (of China)," Meah Ang See told Philstar.com in an interview.
"Right now, what I'm seeing on social media, you have people lashing out against the Chinese in general as a people but there's also from time to time, the general public is also cautioned by the regular folks out there: 'Wait, this is a government issue, it's not their... they don't control their government either.' It shouldn't be racial at all."
Distrust of China
The Chinese are rarely out of the news lately—whether it is the arrest of citizens allegedly engaged in illegal online gambling, the reported bullying of a news crew by members of the Chinese Coast Guard or a memorandum of agreement on joint oil and gas development.
The Philippines and China signed 29 agreements during the two-day state visit of Chinese President Xi Jinping to the country last week. Among these is an agreement—a copy of which was only released Monday—on how to look for and develop resources in the South China Sea.
A Social Weather Stations survey released on the eve of Xi's visit to the country showed that Filipinos distrust China the most despite the Duterte administration's pivot to Beijing in exchange of huge grants for the government's ambitious infrastructure program.
The same poll found out that 84 percent of Filipinos reject the current administration's apparent inaction about China's intrusion in the West Philippine Sea—a turnabout from the confrontational approach of the previous administration to maritime disputes.
Beijing does not acknowledge the decision of the Permanent Court of Arbitration, which ruled that China's nine-dash line claim over the disputed waters has no legal basis.
OPINION: A creeping Chinese 'invasion'
Chinese influx since 2016
A total of 3.12 million Chinese arrived in the Philippines from January 2016 to May 2018, data provided by the Bureau of Immigration to Philstar.com showed. Of that figure, 2.44 million came from mainland China.
According to property firm Santos Knight Frank, residential rental rates in the areas near Manila Bay surged by 62.2 during the first half of 2018.
The country's gaming industry is seen to have attracted a lot of Chinese nationals to the country. Data from the Department of Labor and Employment showed that more than 50,000 alien employment permits have been granted to Chinese citizens, mostly working in online gambling.
RELATED: Sen. Villanueva on Chinese workers influx: 'Are these jobs Filipinos can't do?'
This has prompted the Senate labor committee to hold hearings into the influx of Chinese workers to the country. Its chair, Sen. Joel Villanueva, is concerned that Philippine Offshore Gaming Operations are bringing in foreigners for jobs that Filipinos can fill, or be trained to do.
Ang See said the lack of public information about the POGOs may be creating more tension. "People are definitely worried about it," she said.
She said that people don't know whether there is an online gambling den within meters of a school and because of the seeming lack of transparency, she said people are forced into "a guessing game and people will naturally veer towards the worst-case scenario."
She said: "With all of these issues going on with our government, we lash out at regular joes."
With this influx comes the seeming increase of anti-Chinese sentiment among Filipinos. Complaints about the perceived bad behavior of Chinese have been raised on social media by angry Filipinos.
ON INTERAKSYON: Why complaints against unruly 'Chinese' nationals are going viral
'Filipinos should refrain from using racial attacks'
Kanina lang. I queued to the cashier when chinese mainland guy cut thru the line, took off his shirt and paid for it. I felt so invaded even at Uniqlo. pic.twitter.com/T1ZgawigPG

— Papa Cologne (@apoterry) November 4, 2018
Early this month, a photo of shirtless man—presumed to be a tourist from mainland China—cutting in line at a popular clothing store in order to pay for the shirt he had just taken off spread on social media.
Another photo of a supposedly Chinese woman letting her young son defecate in public also went viral.
Comments on social media had racial undertones, with some even being outright racist.
Ang See explained that there will always be racial undertones, or even outright racial discrimination, "when there are bigger macro-issues involved."
"For example: This is in the 1920s, so matagal-tagal na. Nagkaroon ng rice crisis sa Pilipinas, so that's your macro. Dahil 'yung macro issue ay may rice shortage and nagkataon na nagtitinda ng bigas ay Chinese, therefore naging racial issue: '"Yung mga Instik kasi hino-hoard 'yung bigas para magmahal,'" she said.
RELATED: Anti-Chinese League of the Philippines
Ang See, however, said that although there have been complaints about the behavior of Chinese visitors and workers, Filipinos should not use racial attacks against them.
"Criticize the act because the act is wrong. [But] you have to remove the racial part. You have to remove the ethnicity from horrible acts because they are horrible. Period. [It's] not because they are horrible Chinese," she said.
"If you are going out of your way to be mean to a Chinese tourist, then that reflects badly on you. But if someone, any tourist, is violating our law, then go ahead tell them that they are violating the law. We can't let anyone get away with it, but it shouldn't be specifically only to Chinese tourists."
She added that Filipinos' reactions to tourists misbehaving would likely be the same despite race.
"Palitan mo yung Chinese, gawin mong Indonesian, gawin mong Malaysian, it will be the same. Kumbaga, if our government is interacting with another government this way, kung ano yung pattern ngayon, and their citizens are acting horribly in our country, feeling ko our reactions will be the same."
She also said: "So, tanggalin mo yung nationality, there is no difference. They are just regular people behaving badly. So, bakit siya na-exacerbate? Bakit natin siya nilalagyan ng ethnic undertone, ng racial undertone? Because of the issues that are coming out."