Duterte signs law on lifetime cellphone number, Human Settlement department, 18 other measures
February 19, 2019 | 8:41pm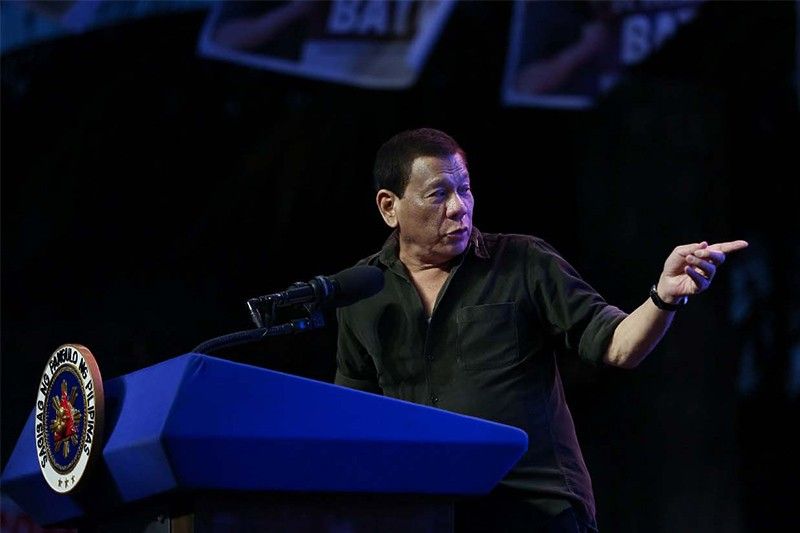 MANILA, Philippines — President Rodrigo Duterte signed into law 20 bills, including measures requiring telecommunication firms to provide mobile number portability to their subscribers and creating a Human Settlements department.
Republic Act 11202 or the Mobile Number Portability Act will allow cellphone users to retain their mobile numbers if they switch to another telecommunication service provider.
According to the law, mobile number portability will promote consumers' welfare because it provides them the freedom to choose their service provider without having to change their mobile numbers.
READ: Duterte approves lifetime cellphone number law
The system also seeks to encourage telecommunication firms to compete with each other in providing the best overall value they can offer and introduce innovations.
Public telecommunication entities will be required to provide nationwide MNP to all qualified subscribers free of charge.
The entities will change the type of subscription from postpaid prepaid or vice versa within 24 hours from the time a subscriber submits the application to avail of MNP. They will also set-up a mechanism for the implementation of MNP by interconnecting directly or indirectly with the systems and equipment of other service providers.
Telecommunication firms will also facilitate the availing of MNP of virtual network operator it is hosting in its network. VNO refers to an entity that offers telecommunications service under its own brand but uses the network of another company.
Subscribers will not be asked to pay interconnection charges for domestic calls and text messages they made after the law takes effect.
Telecommunication firms will be slapped with a fine of P10,000 if the portability or the giving of MNP service is not performed within the periods allowed under the law but delivered on or before a complaint is filed or delivered after a mediation.
A fine of not less than P40,000 will be imposed if the MNP is unjustly refused even after mediation
A fine of P100,000 to P300,000 will be slapped for the second to fourth instance where MNP is unjustly refused even after mediation.
Companies that committed the offense more than four times will be fined with P400,000 to P1 million and will lose their franchise.
The National Telecommunications Commission will be authorized to award a subscriber as much as P400,000 in damages. The amount will be collected from erring mobile service providers while the fines will be remitted to the National Treasury.
Also signed into law was the bill creating the Department of Human Settlements and Urban Development.
The agency will serve as the primary national government entity responsible for managing housing, human settlement and urban development.
The new law will merge the Housing and Urban Development Coordinating Council and the Housing and Land Use Regulatory Board.
It will also reconstitute the HLURB into an adjudicatory body called Human Settlements Adjudication Commission.
The new department will have administrative supervision over the National Housing Authority, National Home Mortgage Finance Corp., Home Development Mutual Fund and the Social Housing Finance Corp.
It will be composed of the Office of the Secretary, various bureaus, services and other regional offices.
Other national laws signed this month are the Special Protection of Children in Situations of Armed Conflict Act, which imposes harsher penalties on
anyone found guilty of killing, torturing, maiming and raping children and who subject them to inhuman and degrading treatment; the National Integrated Cancer Control Act, which will establish a program that aims to lessen deaths related to cancer; the Secondary School Career Guidance and Counseling Act, which will create a national counseling program to be administered by the Education department; and a bill establishing the Philippine Sports Training Center.
Two of the newly signed laws were holiday declarations. One declared September 3 as a special working public holiday throughout the country in commemoration of the
surrender of Japanese military forces led by General Tomoyuki Yamashita in Baguio City while the other declared January 17 as a special non-working holiday in Olongapo in recognition of the heroism of James Leonard Tagle Gordon.
The president also signed bills granting franchises to Malindang Broadcasting Network and More Electric and Power Corp. and extending the franchises of Ermita Electronics Inc. and religious group Iglesia ni Cristo.
The rest of the measures were local bills namely:
An act integrating the Cebu City Mountain Extension Campus as a satellite campus of the Cebu Technological University
An act converting the Northwestern Mindanao State College of Science and Technology in the City of Tangub, Misamis Occidental into a state university to be known as the University of Northwestern Mindanao
An act converting the Zamboanga City State Polytechnic College into a state university to be known as the Zamboanga Peninsula Polytechnic State University
An act establishing the Cordillera State Institute of Technical Education, integrating the Technical Education and Skills Development Authority training centers and TESDA-supervised state-run technical-vocational institutions in the Cordillera Administrative Region
An act changing the name of Lupon School of Fisheries in Lupon, Davao Oriental into the Davao Oriental Polytechnic Institute
An act recognizing the British School of Manila as an educational institution of international character
An act increasing the bed capacity of St. Anthony Mother and Child Hospital in Cebu from 25 to 200
An act increasing the bed capacity of Rizal Medical Center in Pasig from 300 to 500