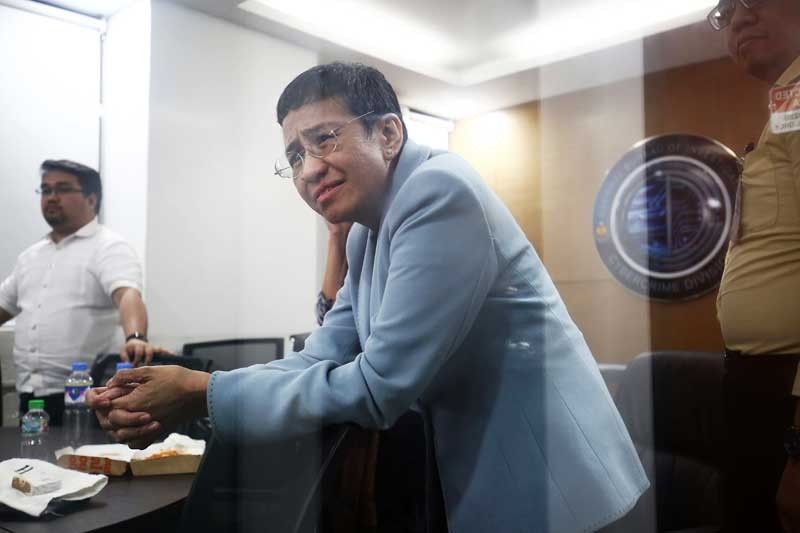 The United States embassy in Manila expressed hope that the charge against Ressa would be resolved quickly in accordance with relevant Philippine laws and international standards of due process.
Miguel de Guzman
Foreign governments weigh in on Maria Ressa's arrest
Janvic Mateo
(The Philippine Star) - February 16, 2019 - 12:00am
MANILA, Philippines — Several foreign governments have weighed in on the arrest of Rappler founder and chief executive officer Maria Ressa on cyber libel charges.
The United States embassy in Manila expressed hope that the charge against Ressa would be resolved quickly in accordance with relevant Philippine laws and international standards of due process.
On Twitter, British Ambassador Daniel Pruce expressed concern over the arrest of Ressa on Wednesday.
"I was honored to welcome her and many of our media colleagues to last week's local launch of the UK's global media campaign. The British government supports a free media," he wrote.
Canadian Foreign Minister Chrystia Freeland said she was "deeply troubled" by Ressa's arrest, saying a free press is a bedrock of democracy.
"Canada reiterates its call for due process to be respected and for journalists to be free from harassment and intimidation," she said.
Former US secretary of state Madeleine Albright, who called Ressa her friend, said her arrest is outrageous and should be condemned by all democratic nations.
US Sen. Brian Schatz of Hawaii called for the charges against Ressa to be dropped, saying the Philippine government should focus on protecting democracy rather than trying to silence journalists.
UN special rapporteurs Agnes Callamard and David Kaye also condemned the arrest of the journalist.
"And another terrible nail in the coffin. #Philippines Maria, I am thinking of you. You can count on me, you can count on us," said Callamard, the special rapporteur on extrajudicial executions.
"Let's be clear: this very serious escalation is harassment of media inconsistent with Philippine obligation to promote and protect freedom of expression," said Kaye, the special rapporteur on freedom of opinion and expression.
Earlier, New York-based Committee to Protect Journalists said freedom of the press is an essential pillar of democracy and human rights, calling on the government to drop all charges against Rappler and cease its campaign of harassment.
Christophe Deloire, secretary-general of Reporters Without Borders, said Ressa's arrest is an obvious violation of press freedom that should be denounced by all heads of states and governments.
CNN's Christiane Amanpour and Jim Acosta also expressed solidarity with Ressa.
"You know a government is desperate when they arrest a journalist. President Duterte: Free Maria Ressa now," Amanpour wrote on Twitter.
"Wake up folks. We are seeing a crackdown on reporters around the world. #FreeMaria," said Acosta.
The Southeast Asian Press Alliance (SEAPA) said the charges filed against Ressa should settle any remaining doubt that the Duterte administration will stop at nothing to keep a free and inquisitive media out of its way.
"The unrelenting harassment of the social news network, the latest indubitable demonstration of which is its beleaguered founder having just been served a warrant of arrest after office hours, belies all pretense of upholding press freedom by an administration that has from the get-go shown its abhorrence of an independent and critical press," SEAPA executive director Tess Bacalla said.
Be humane
Senators urged the courts to be fair and objective in hearing the case against Ressa, even as they urged law enforcers to be "humane" in serving arrest warrants on women.
Sen. Grace Poe, chair of the Senate committee on public information and mass media, said she was puzzled by the arrest, given the reported circumstances surrounding the case. Poe hoped that "the courts will follow and observe the right process because it is enshrined in our Constitution that we should protect press freedom."
"Without going through the merits of the case, I am praying that the courts will continue to be fair and objective and will not forget the safeguards, not just for press freedom, but for individual freedoms," she said.
Poe said authorities should also clear the issues about purported unfair treatment of Rappler.
"I hope that whoever is in charge will come out and speak transparently about the merits of the case and also the reasons behind their actions because the public deserves an explanation regarding this so as to dispel any fears and doubts about an unfair treatment," she said.
Ressa's arrest stemmed from a story published in May 2012, four months before the enactment of the Cybercrime Law. Rappler, highly critical of the administration, was also the subject of a tax evasion case.
Global media groups and human rights watchdogs slammed the latest blow to Rappler, saying it was an attempt to stifle press freedom in the country.
Sen. Sonny Angara lamented the manner by which Ressa was arrested late on a workday when the courts were already closed and could not receive her bail.
"Our law enforcement officers should evolve to the degree where they can perform their tasks in humane ways, i.e., not serve warrants on women when courts are closed; not make any threats and be courteous; will go a long way to enhance our people's belief in system," Angara said in a Twitter post.
Poe on Thursday said a free press helps keep democracy alive and attempts to silence and intimidate them are disturbing developments that may have a chilling effect on press freedom.
"I think that we should fear more if the press is silenced because it is really through the freedom of speech that we are able to guard the different institutions of government; that we are also able to uphold democracy in our country," she said. – With Paolo Romero