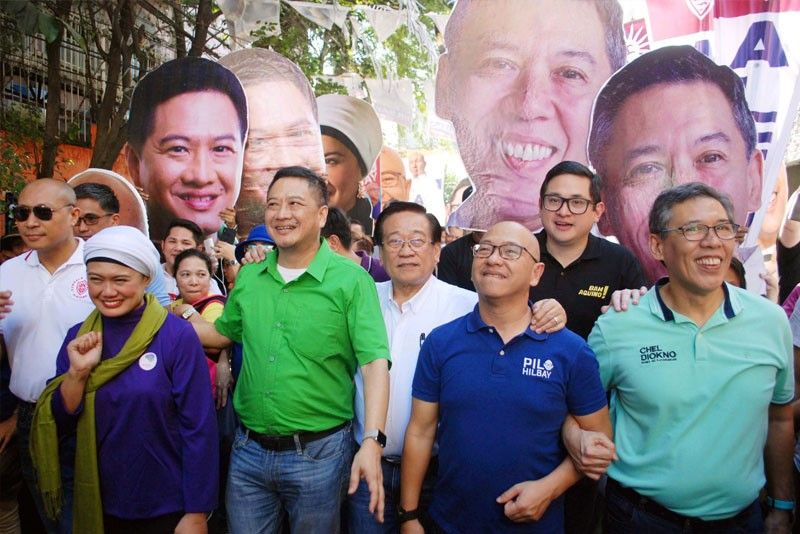 Otso Diretso senatorial candidates (from left) Rep. Gary Alejano, civic leader Samira Gutoc-Tomawis, former congressman Erin Tañada, election lawyer Romulo Macalintal, former solicitor general Florin Hilbay, Sen. Paolo Benigno 'Bam' Aquino IV and rights lawyer Jose Manuel 'Chel' Diokno campaign in the streets of Caloocan City yesterday.
Boy Santos
Otso Diretso goes house-to-house in Caloocan
Helen Flores
(The Philippine Star) - February 13, 2019 - 12:00am
MANILA, Philippines — Senatorial candidates of the opposition Otso Diretso or Straight Eight will adopt the grassroots campaign strategy of Vice President Leni Robredo to gain voters' support.
Otso Diretso candidates Sen. Paolo Benigno Aquino IV, Magdalo party-list Rep. Gary Alejano, human rights lawyer Jose Manuel "Chel" Diokno, former solicitor general Florin Hilbay, veteran election lawyer Romulo Macalintal, former Quezon representative Erin Tañada and Marawi civic leader Samira Gutoc-Tomawis started their campaign yesterday by knocking on the doors of residents in Caloocan City. Former senator Mar Roxas did the same in Capiz, his home province.
Admitting that most of the candidates are relatively unknown, Sen. Francis Pangilinan, campaign manager of Otso Diretso, said their candidates, along with 2,000 volunteers nationwide, would conduct the house-to-house campaign to introduce them to the voting public.
"This is a 90-day campaign period, if the elections will be held tomorrow, most likely only two of them will win," the senator said at a press conference at the Café Poblacion in Caloocan, referring to Roxas and Aquino, who have consistently joined the winners' circle or the Top 12 of pre-election surveys.
The complete Otso Diretso slate will have another proclamation rally today in Naga city, hometown of Robredo.
Caloocan Rep. Edgar Erice, Roxas' campaign manager, said the former interior and local government secretary traditionally starts his campaign in Capiz. Roxas served as representative of the first district of Capiz in the early 1990s.
Roxas' absence from the slate on the campaign's first day does not detract from the coalition's unity, according to other Otso Diretso bets.
"We should not make an issue out of it. We come from different backgrounds and we just 'volt in.' But we have a united message," Alejano said.
Pangilinan said Otso Diretso's schedule was primarily based on that of the Vice President.
"We will have several activities for (Roxas) to join," he said.
Diokno said the opposition slate's visit in Caloocan – known as a hotbed of killings in the government's war on drugs – was symbolic to send a message that law enforcement through the barrel of the gun should stop.
"The killings continue. It has not stopped. Silence is no longer an option with so many things happening. If nothing is done now, we will find ourselves in a dark place," said Diokno, son of the late senator and martial law victim Jose "Pepe" Diokno.
Diokno added that the lawyers' organization Free Legal Assistance Group is filing a petition before the Supreme Court assailing the constitutionality of the war on illegal drugs.
Tañada added that the midterm elections would serve as a referendum of the Duterte administration and its policies.
8-point program
The opposition bets launched their eight-point program, which includes the institutionalization of the government's conditional cash transfer Pantawid Pamilya Pilipino Program; sure employment for college graduates; higher minimum wage; peaceful community; better services for senior citizens and persons with disabilities; fair justice system; protection of Philippine territories, among others.
Now branding himself as "Mar, aming ekonomista (Mar, our economist)," Roxas said he would like to help the government improve the country's economy by creating more jobs for Filipinos.
Alejano said he would continue to fight for the country's sovereignty in the West Philippine Sea and push for more benefits for uniformed personnel.
Macalintal said he would work on bills that will promote the interests of senior citizens in the country, including an increase in the 20-percent discount provided to the elderly.
Diokno said the Otso Diretso candidates are banking on their clean track record, upright principles and competency.
Tañada said compared to other candidates who are into "politics of convenience," Otso Diretso bets are into "politics of principles."
Barangay residents
Gutoc-Tomawis engaged a resident in a discussion about the government's anti-illegal drug war, which the resident claimed has left thousands dead but failed to put a dent on the supply of narcotics.
"Every day, people are killed, people are arrested and yet there is still a huge supply of drugs out there," said the 60-year-old man who had worked as a waiter. He requested not to be named for fear of reprisal from the police.
He said he was glad to see new faces in the electoral contest, long dominated by celebrities and members of political dynasties.
Vendor Imelda Fallasgon said she appreciated Gutoc-Tomawis' house visit, saying it was the first time in her five decades of living in Caloocan that a senatorial candidate visited her barangay and shook her hand.
"Who knows, maybe she could win by doing that?" she said of Gutoc-Tomawis, a survivor of the Marawi siege who vowed to expose the atrocities committed in Mindanao under martial law.
But 64-year-old Yolly de Leon was disappointed that Roxas was not present to accompany Otso Diretso candidates.
"You know the Filipino sentiment that one's presence matters. He could have boosted the chances of (Otso Diretso) in the election," De Leon, a mother of four, said.
Otso Diretso yesterday also launched the second phase of their Project Makinig, a nationwide door-to-door drive to listen to voters' concerns.
During the 10-week first phase of the campaign, the party conducted 116,000 conversations in the form of surveys to determine voters' awareness on the track record of the candidates.
The campaign was launched by the Liberal Party in October 2017, recruiting 9,800 volunteers and mobilizing in 100 areas all over the country.
Macalintal, who spoke with Caloocan resident Renato Malaya during the house visit, said the survey results would serve as their guide in the elections.
"It will greatly help us. We may not be ranking in the surveys but we want to know what the people want from us that would convince them to vote for us. We go directly to the grassroots," Macalintal said.
Senior citizen Mar
Roxas turned 60 years old during his hiatus from politics and will be 62 on election day on May 13.
"I am a senior citizen now so there's a sense of urgency for me this time. I am not running for office because I need to prove myself. I am seeking office because I am thinking of the kind of country we're leaving behind for the next generation," Roxas said in Filipino during a radio interview.
Roxas added that he aimed to leave behind a country that is better than before.
"I will focus on improving the economy," the former interior secretary added.
Also speaking to a crowd of around 2,500 at Civic Center Roxas City, Roxas said he wanted to start his campaign where his political career began. He was joined by his mother Judy Araneta and wife Korina Sanchez.
"I want to begin each time with you," Roxas said in Hiligaynon.
Two Ilonggos expressed their gratitude to Roxas, who had pushed for the exemption of minimum wage earners from paying income taxes as well as cheaper medicine.
Leonardo Bade Sr., a tricycle driver for 20 years, said because of Roxas' legislation, he was able to send three of his children to college. They are licensed teachers, Bade said.
Vilma Portolo, a senior citizen like Roxas, said she receives P1,500 pension from the government every quarter – not enough to buy medicine but "thanks to the Cheaper Medicine law" of Roxas, she gets by with her maintenance medications.
For his part, Aquino warned about a rubber-stamp Senate, stressing that an independent chamber would ensure that the welfare and interest of the Filipino people are protected.
Aquino underscored the importance of the opposition in the Senate.
The Filipino people will suffer if the Senate will give in to every desire of the administration, he said.
"We have to be on the side of the Filipino people always," Aquino said in Filipino.
But the re-electionist senator said he is willing to work with the administration when the welfare of the Filipino people is at the forefront. – With Marc Jayson Cayabyab, Cecille Suerte Felipe, Ramon Efren Lazaro