Palace says renaming Philippines to 'Maharlika' needs congressional action
February 12, 2019 | 5:46pm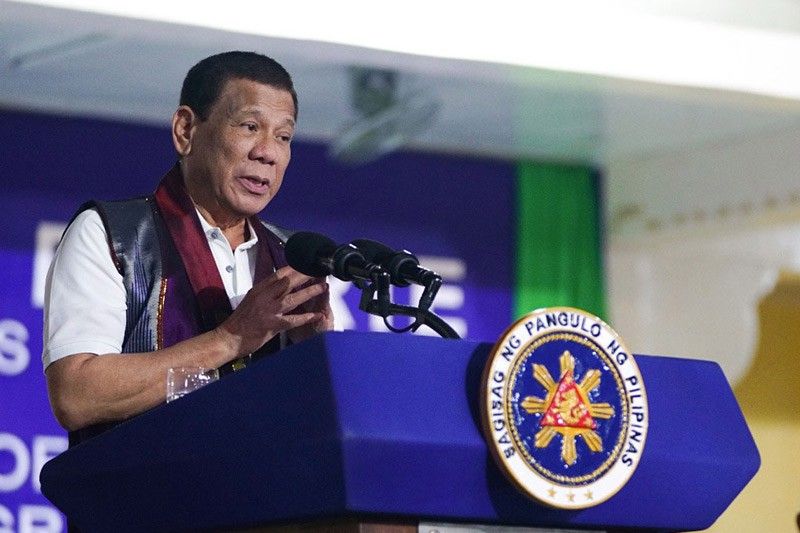 MANILA, Philippines — Changing the Philippines' name would require a new law and the public's approval in a referendum, Malacañang said Tuesday, after President Duterte had revived a proposal to rename the Philippines to "Maharlika."
In a speech delivered in Maguindanao last Monday, Duterte said former President Ferdinand Marcos was right in calling for a change in the country's name to "Maharlika," noting that "Philippines" has colonial origins.
He said Spanish colonizers had named the country after their King Philip II, who also financed Portuguese explorer Ferdinand Magellan's expedition to the Philippines.
"Actually, Marcos was right. During the time of Marcos, he wanted it changed. Maharlika. The Republic of Maharlika because Maharlika is a Malay word and it means serenity," Duterte said.
The president lamented that the proposal was overshadowed by allegations that Marcos was a dictator.
"Pero okay na yan. Balang araw palitan natin (But that's okay. One day, we will change it)," he added.
Palace: Duterte expressing an idea
Presidential spokesman Salvador Panelo said congressional action is needed to change the country's name.
"The Constitution provides that Congress may enact a law that can change the name of the country and submit it to the people for a referendum," Panelo said in a press briefing Tuesday.
"Let's see how it evolves. He is expressing an idea again as usual," he added.
Article XVI, Section 2 of the 1987 Constitution states that Congress may, by law, adopt a new name for the country, a national anthem, or a national seal, "which shall all be truly reflective and symbolic of the ideals, history, and traditions of the people." The law shall take effect only upon its ratification by the people in a national referendum.
Not the first time
Proposals to change the name of the Philippines have been around since the 1970s.
According to an article posted on the National Historical Commission of the Philippines' website, former Sen. Eddie Ilarde filed a bill seeking to change the country's name to "Maharlika" in 1978.
The article quoted Ilarde as saying that "Maharlika" is the Filipinos' "ancient heritage," long before the arrival of Western colonizers. "Maha" is Sanskrit for "noble" or "great" while "likha" means "create," thus, Maharlika means "nobly created," according to the article.
But some scholars are opposed to the name change, saying it would disregard Filipinos' historical roots and national identity. While those who support the name change claimed "Maharlika" connotes royalty, some critics said the term literally means "big phallus."
"Maharlika" is also the name of the guerilla force Marcos claimed to have led during World War II.
A New York Times report published on Jan. 23, 1986 disputed the claim, saying Army investigations "found no foundation" for the late dictator's claims that he led the unit.