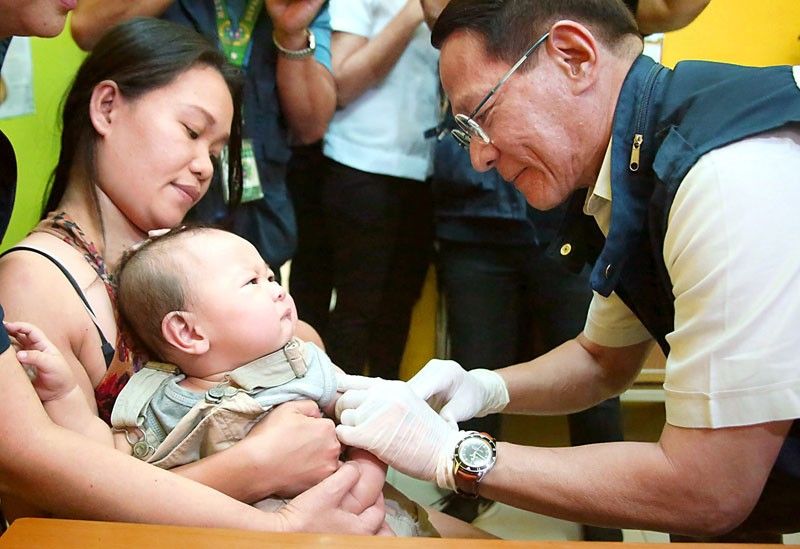 Health Secretary Francisco Duque administers a measles vaccine to a baby during his visit to a health center in Payatas, Quezon City yesterday.
Michael Varcas
Measles deaths hit 70, but vaccine trust returning
MANILA, Philippines — With 70 deaths, the Department of Health (DOH) yesterday said the measles outbreak in the country is not yet under control.
But the public seems to be regaining trust in vaccination, Health Secretary Francisco Duque III said.
Data showed that from Jan. 1 to Feb. 9 this year, a total of 4,302 measles cases were reported to the DOH.
Duque said the DOH has observed that more children are being brought to health centers for vaccination, citing the results of the agency's inspections in Baseco compound in Manila and Payatas, Quezon City, among others.
"I am happy that parents are now having a change of view on the DOH's immunization program. What we are seeing now is very different from what we saw (in the past) when people hardly went to health centers for vaccination," he noted in a press briefing at the Payatas B Health Center in Quezon City.
He noted that there are still areas being monitored by the DOH for increasing cases of measles.
Last week, Duque declared an outbreak of measles in the National Capital Region (NCR), Region 3 (Central Luzon), Region 4-A (Calabarzon) and Western and Central Visayas (Regions 6 and 7, respectively). Other regions were on tight watch for increasing cases.
The regions with high reported cases were NCR (1,296 cases with 18 deaths) Calabarzon (1,086 cases with 25 deaths), Central Luzon (481 cases with 3 deaths), Western Visayas (212 cases with 4 deaths) and Northern Mindanao (189 cases with 5 deaths).
The DOH has blamed "vaccine hesitancy" resulting from the Dengvaxia controversy.
Duque assured the public that there is enough supply of anti-measles vaccines since the vaccination rate in 2018 was low. In NCR, there is a surplus of 66 percent of the vaccines. But he has ordered a close monitoring of the stock level since the DOH has expanded the target population for vaccination to contain the outbreak.
"Our supplemental immunization covered infants aged nine months to 59 months. But we included babies aged six months so the demand will also increase," Duque added. – With Delon Porcalla, Miriam Desacada