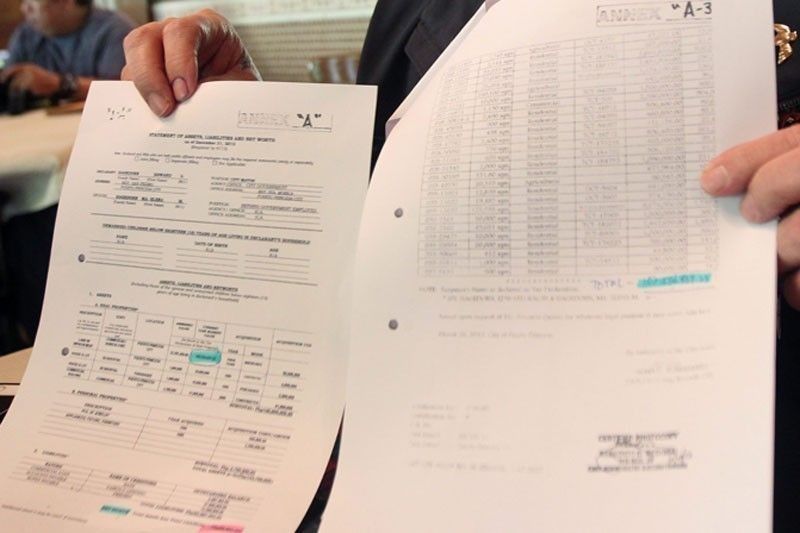 Albay Rep. Edcel Lagman said it was the first time for the House to impose "stringent and repressive requirements" for public access to the SALNs.
File
Lawmakers slam new House rules on SALNs
Jess Diaz
(The Philippine Star) - February 2, 2019 - 12:00am
MANILA, Philippines — Opposition congressmen yesterday criticized the House of Representatives for imposing strict rules on media and public access to the statements of assets, liabilities and net worth (SALN) of its members.
Albay Rep. Edcel Lagman said it was the first time for the House to impose "stringent and repressive requirements" for public access to the SALNs.
"What is so sacrosanct about the contents of a representative's SALN that the access to it by the public and media is made inordinately restrictive and tedious? Topping the stringent procedure is the condition that any request for access and disclosure must have the imprimatur of the majority in plenary session," he said.
Lagman urged members of the majority to review and relax the rules for the sake of transparency.
"If we have nothing to hide, why make public access to and disclosure of SALNs, which are public documents, extremely difficult to the extent of discouraging and deterring applicants from securing copies of said SALNs?" Lagman asked.
Rep. Tom Villarin of Akbayan said the rules "would curtail public access to lawmakers' SALN by imposing high fees, next-to-impossible requirements and a plenary vote before such public document will be released."
"The House has thrown away the tenets of public accountability and transparency. Resolution No. 2467 (containing the rules) goes against the meaning of public office as a public trust. It practically renders the requirement of SALNs by legislators ineffectual if these cannot be divulged. It provides double standards in exacting accountability," Villarin said.
He said if his colleagues have nothing to hide, they have nothing to fear.
Villarin pointed out that the rules are constitutionally questionable for "being class legislation."
"If legislators are making laws for the public to comply, they can't make rules to exempt ourselves for doing the same. This in effect is class legislation as it provides double standards in exacting accountability. We can't invoke our security to the level of national security to justify this House resolution," he added.
He urged concerned citizens to question them in court.
Rep. Carlos Zarate of Bayan Muna said the SALN access rules "clearly negate the principles of transparency and accountability enshrined in our Constitution and laws."
He said he and the other six Makabayan bloc members would continue releasing their annual SALNs even if the House wants approval in plenary session for any disclosure.
"In the spirit of transparency, we will oppose this resolution and we call on our people to also voice out their sentiments and call out our public officials to lead by example and make their SALNs available to the public," he said.
For his part, Bayan Muna chairman Neri Colmenares, a former congressman, said the rules would make it more difficult for the public to know the wealth of their lawmakers and whether they are engaged in corruption.
"This move is highly suspicious, especially now that the election is near and talks of billions of pork barrel in the national budget are in the headlines. This will only further aid corrupt politicians in hiding ill gotten wealth," he said.
The rules impose a lot of requirements on any journalist and any interested citizen requesting for copies of House members' SALNs. Even if the requirements are met, a request could be denied if the House finds the purpose not meritorious.
A requesting party will also be required to pay P300 for every copy of SALN. There are nearly 300 House members.