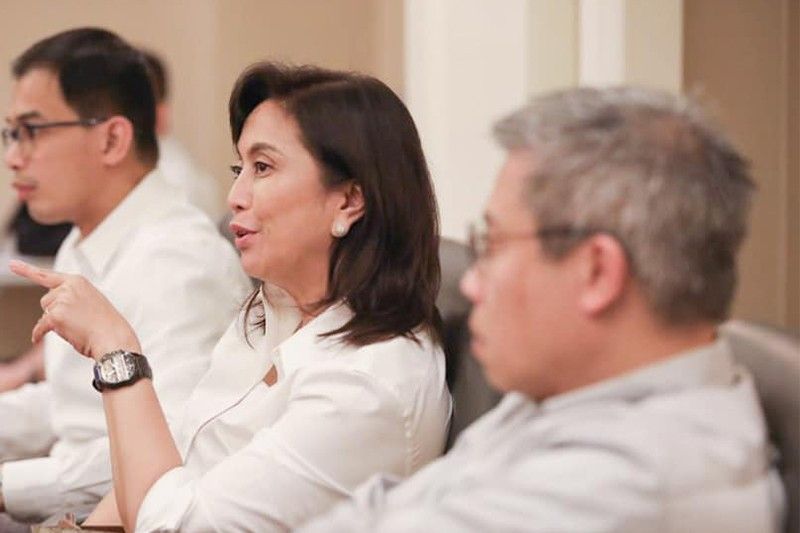 The camp of Vice President Leni Robredo slams Marcos' petition for technical examination in the ARMM
Vice President Leni Robredo's Facebook page
Robredo camp says Marcos 'skirting rules' with petition to examine ARMM precincts
MANILA, Philippines —The camp of Vice President Leni Robredo said the latest petition for a technical examination of votes in parts of Mindanao was her losing rival Ferdinand Marcos Jr. "desperately trying to save his dying election protest."
Robredo's lawyers Romulo Macalintal and Bernadette Sardillo released to the media their counter-manifestation to Marcos' petition, which they filed on January 14, on Thursday.
Marcos asked the Presidential Electoral Tribunal in a petition dated December 10 to introduce the technical examination of votes from the provinces of Maguindanao, Lanao del Sur and Basilan.
In the petition, Marcos asked the PET to subpoena relevant documents in connection with the technical examination conducted in an unrelated election protest filed by Autonomous Region of Muslim Mindanao gubernatorial candidate Sakur Tan against ARMM Regional Governor Mujiv Hataman.
Robredo's lawyer Romulo Macalintal decried the use of the examination from an election protest unrelated to the one filed by Marcos.

"[That] case has nothing to do with the election protest of Marcos now being heard by the PET," Macalintal said. "Robredo was not a party thereof nor was Marcos."

The pilot provinces petitioned and approved for ongoing vice presidential recount only include precincts in Camarines Sur, Iloilo and Negros Oriental.
"Furthermore, the technical examination covered only 200 clustered precincts out of the 2,834 clustered precincts in ARMM which Marcos tries to project an image as if the said technical examination already covered all the clustered precincts of ARMM," the lawyer said during a press conference on Thursday afternoon.
The recount of the said pilot provinces, where Marcos' alleges voting fraud took place, began last April. It is the first election protest of the PET to reach the recount level under the 1987 Constitution.
READ: Recount in vice president polls starts today

Marcos' December 10 petition asks PET to look at the thumbprints on the voters' registration records of all the clustered precincts in Tan's protest.
According to a report in the Manila Standard, former Sulu Governor Abdusakur Tan alleged that 80 percent of the voters in the ARMM were "fake."

Macalintal called the petition Marcos' "desperate attempt to circumvent the rules of the Presidential Election Tribunal (PET)."
Marcos' had already petitioned PET twice, first for a technical examination in areas in ARMM in August 2017, then to nullify votes in November 2017, due to alleged "widespread cheating." To these petitions, PET ruled to defer action until a recount is completed in the three pilot provinces already approved for recount.
According to Macalintal, after the PET upheld the 25 percent threshold ruling in the recount, Marcos "even suffered losses of votes" in several municipalities.
READ: Supreme Court ruling on shading threshold favors Leni Robredo

In addition to a technical examination, Marcos' petition also asks the PET to subpoena the relevant documents from Comelec and investigate chairman and members of the Board of Election Inspectors.
Macalintal called the Marcos' motion to investigate BEI members "premature."
"The parties are not parties in the Tan case, hence it is not for PET to direct the Comelec to make such investigation of its officials," he said.
Robredo's lawyers said in the petition that "Marcos is bound by his choice." They added, "His election protest will rise or fall on his designated pilot provinces of Camarines Sur, Iloilo and Negros Oriental."