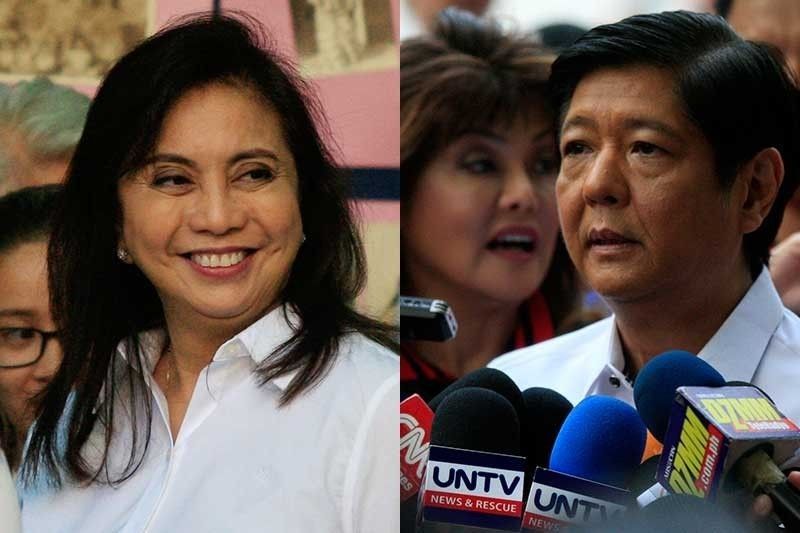 The manual recount of the Presidential Electoral Tribunal to settle the electoral protest of former Sen. Ferdinand "Bongbong" Marcos Jr (left) against Vice President Leni Robredo began on April 2 and is expected to take months.
The STAR/Edd Gumban
FULL TEXT: PET ruling on threshold issue in VP poll recount
(Philstar.com) - September 27, 2018 - 11:24am
MANILA, Philippines — The Presidential Electoral Tribunal has ruled to do away with the voting threshold that was the subject of fierce debate between Vice President Leni Robredo and former Sen. Ferdinand "Bongbong" Marcos.
The tribunal initially imposed a threshold of 50-percent for shaded ovals to be considered valid, but Robredo contested this and said that the Commission on Elections used 25-percent shading as its threshold in determining vote validity in the 2016 national elections.
The PET, on September 18, partially granted Robredo's appeal to use the 25-percent threshold that was also used by the poll body. It also clarified that it was not informed of the change in threshold used prior to the documents sent by Robredo and the poll body.
The tribunal held:
"After assiduously going through the parties' comments and arguments, the Court herein resolves to partially grant the Subject Motion (Robredo's plea) insofar as setting aside the use of fifty percent (50%) threshold in the revision proceedings is concerned."
It also said: "A range of twenty-percent to twenty-five percent shading threshold was adopted for the 2016 elections."
It also directed the head revisors—those who head the committee for recount—to refer to the election returns
Tribunal: Refer to Election Returns
The ER is an electronic and printed document directly produced by the VCMs that bears the date of election and the province, municipality and precinct where it was held. It also shows how many votes candidates received in the precincts.
"The Tribunal finds that the objective of the revision process of mimicking or verifying/confirming how the VCMs read or counted the votes can be achieved by referring to the Election Returns generated by the VCMs used in the 2016 elections," the resolution read.
"Thus, in the segregation of the ballots of the parties, the PET HRs (head revisers) shall be guided by the number of votes indicated in the ERs. In this way, the reading of the VCM is mimicked and verified/confirmed. Also, in using the ERs generated by the VCMs used in the 2016 elections and not merely adopting a specific threshold, the Tribunal's revision procedure will be more flexible and adaptive to calibrations of the voting or counting machines in the future," the ruling, penned by Associate Justice Alfredo Benjamin Caguioa, further read.
Here is a copy of the PET resolution on the voting threshold:
— Kristine Joy Patag