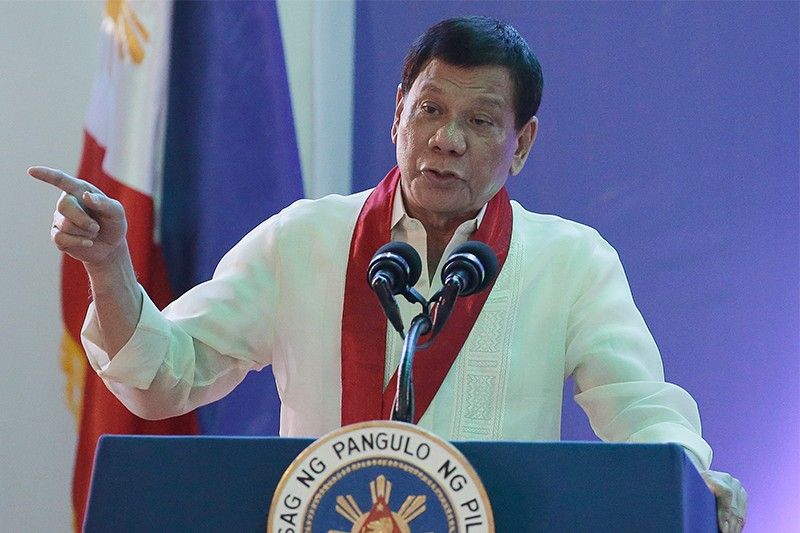 President Duterte's pay will go up from P298,083 to P399,739.
File
Duterte getting P102,000 pay hike
Jess Diaz
(The Philippine Star) - January 13, 2019 - 12:00am
MANILA, Philippines — President Duterte is getting an increase of almost P102,000 in his monthly salary this year.
Duterte's pay will go up from P298,083 to P399,739. He has repeatedly complained that his salary was not enough for his two families.
In contrast, the lowest-paid government worker is receiving a P1,000 salary increase, from P10,050 to P11,068. He will get a maximum of P11,732 depending on length of service.
However, the President and the rest of the more than one million officials and employees of the bureaucracy will not receive their pay hikes until the proposed P3.757-trillion 2019 national budget is finally approved.
The budget proposal is pending with the Senate, which has vowed to work on it as fast as it could when Congress reconvenes tomorrow after a month-long Christmas recess.
Senate Majority Leader Juan Miguel Zubiri earlier projected that senators would be able to finish tackling the spending bill by the first week of next month.
After Zubiri and his colleagues approve the budget, the Senate and House of Representatives will convene a conference committee that would come up with a common version.
The final version of the spending bill is then submitted to the President for his signature.
In a television interview on Tuesday, Budget Secretary Benjamin Diokno said his office would have to review Congress' version of the budget and compare it with the President's original proposal.
The review could take one week, after which he would present the budget to Duterte with his recommendations, he said.
If the President signs the measure, it would take effect after 15 days, Diokno said.
Despite persistent appeals from senators and congressmen, Diokno has refused to release funds for the salary increase of government workers, including Duterte and himself.
Diokno said he would be violating the law and the Constitution if he disburses the necessary funds.
This year's pay hike completes the fourth four-year salary upgrading program in the bureaucracy contained under Executive Order 201, which then president Benigno Aquino III signed on Feb. 19, 2016 because lawmakers failed to pass the proposed Salary Standardization Law 4.
Until today, there is no law covering such program, whose only legal basis is EO 201.
Aquino did not benefit from the salary adjustments he authorized. His monthly pay was P120,000, only a third of what Duterte is receiving.
Under Aquino's issuance, Vice President Leni Robredo, Senate President Vicente Sotto III, Speaker Gloria Macapagal Arroyo and Chief Justice Lucas Bersamin will have a maximum salary this year of P353,470, up by P101,000 from last year's P264,721.
Cabinet members, other officials with Cabinet rank, senators and congressmen will receive a pay hike of nearly P72,000, from P223,590 to P295,191.
The adjusted compensation for teachers and nurses ranges from P20,754, which is the entry pay, to P22,829. They received from P20,179 to P22,055 last year. Thus, their increase amounts to P575-P774, less than one percent of Duterte's P102,000.