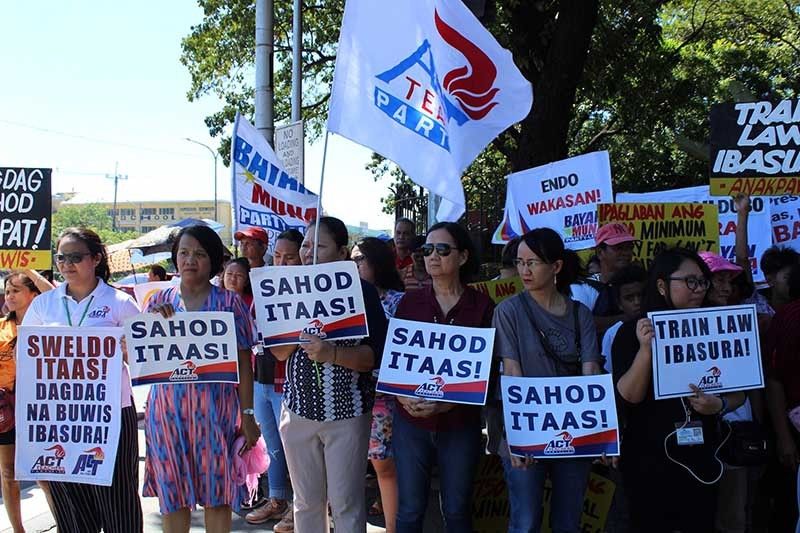 In this November 14 photo, members of ACT-Teachers call for an increase in the salary of teachers.
Facebook/ACT-Teachers party-list
CHR urges DepEd to speak in defense of teachers' group
MANILA, Philippines — The Department of Education should explicitly speak up to defend members of the Alliance of Concerned Teachers amid police attempts to "inventory" them, the Commission on Human Rights said Friday.
Jacqueline De Guia, spokesperson of the CHR, said the "inventory" of members of ACT—a legal organization for teaching and non-teaching personnel—calls for condemnation from DepEd to reassure and show support to the educators.
"We urge the DepEd to unequivocally speak up in defense of ACT and provide them with sufficient protection and support especially to those whose personal information have been released," De Guia said in a statement Friday.
She added: "The dignity and safety of teachers must be given utmost priority given their vital contribution in educating and honing the youth. Any violation against teachers diminishes their dignity and undermines their noble profession."
Teachers' Dignity Coalition, a "rival organization" of ACT, also urged DepEd to take a stronger stance on the "inventory" of their colleagues.
"The DepEd cannot expect teachers to be as effective stewards of the next generation if we are being subjected to harassment and intimidation for merely joining an organization to seek what we rightfully deserve," Benjo Basas, national chairperson of TDC, said Wednesday.
Education Secretary Leoner Briones on Wednesday said the agency would issue a reminder to school officials to refer to the central office any request on information covered by the Data Privacy Act.
ACT earlier claimed that police intelligence agents have been visiting schools in Metro Manila, Zambales, Camarines Sur, Sorsogon, Cebu and Agusan del Sur since the start of the year to "inventory" members of the teachers' union.
Education Undersecretary Nepomuceno Malaluan said no official request for the list of ACT members has been filed at the central office but he noted there were reports of cops conducting school visits to request such information.
PNP chief Oscar Albayalde on Monday ordered the relief of intelligence officers for "leaked" documents on the inventory of ACT members, which he said, caused "unnecessary panic" among the members of the teachers' group.
But he maintained that he did not issue orders to compile a list of ACT members.