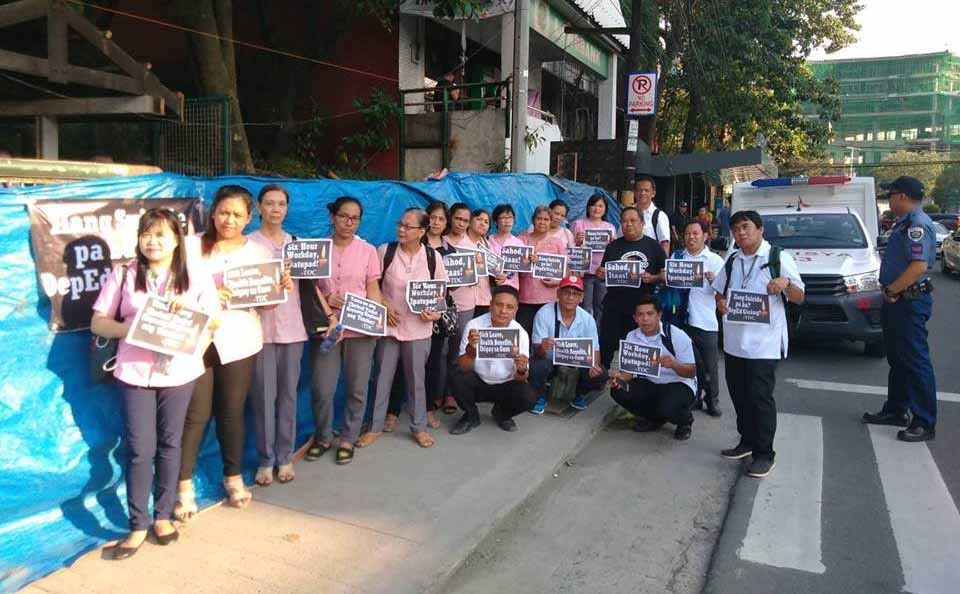 In this photo from TDC's Facebook page, members gather outside the Department of Education central office in Pasig City.
Teachers Dignity Coalition Facebook page
Hold DepEd officials accountable in 'inventory' of ACT, 'rival' group says
MANILA, Philippines — A teachers' group on Wednesday urged the Department of Education to take a stronger stance amid police attempts to "inventory" colleagues who are members of rival Alliance of Concerned Teachers.
Benjo Basas, national chairperson of Teachers' Dignity Coalition, told DepEd that teachers would not be able to carry out their duties effectively if they are subjected to intimidation and harassment.
"The DepEd cannot expect teachers to be as effective stewards of the next generation if we are being subjected to harassment and intimidation for merely joining an organization to seek what we rightfully deserve," Basas added.
He said that public school teachers are "overworked, undercompensated and continuously deprived of our economic and political rights, and are now being maliciously red-tagged for merely asserting what is granted to them by law."
Basas said teachers' groups have been calling for the full implementation of the provisions of the Magna Carta of Public School Teachers, which includes the freedom to organize.
Bases urged the department to exact accountability from public officials who "conspired" with the police, saying "an attack on one of us is an attack against all of us."
Unity among rival groups
TDC is a network of teachers in the country and has identified itself as a "rival organization" of ACT. TDC is associated with Partido Lakas ng Masa, Bukluran ng Manggagawang Pilipino and Sanlakas, activist formations that have been at odds with the national democratic activist movement.
"Unity is required to derail whatever sinister plans the PNP have up their sleeve. We will do whatever is required for teachers to be treated as dignified professionals and not what the police are painting us to be," Basas said, adding TDC is ready to march alongside colleagues in the ACT. Basas is a nominee of PLM party-list.
Rival groups held similar united protests in 2018, notably on Labor Day in May and during President Rodrigo Duterte's State of the Nation Address in July.
READ: PNP urged to clarify supposed profiling of teachers' group
A supposed memorandum from the Philippine National Police ordering the submission of a list of members of ACT—a legal organization for teaching and non-teaching personnel—was made public over the weekend, promtping a mix of denials as well as reassurances from government that police officers compiling names of a group that the Palace has labelled a "legal front" for communist rebels is nothing to worry about.
Director General Oscar Albayalde, PNP chief, earlier denied that there was an directive to visit schools and make an "inventory" of ACT members.
On January 7, Albayalde ordered the relief of intelligence officers of precincts in the Quezon City and Manila Police Districts, and the Zambales Provincial Police Office over the "leak" of memoranda related to the disavowed inventory.
State privacy commission flags 'inventory'
The National Privacy Commission for its part flagged the authorities' "profiling" of members of ACT and stressed that the act should be anchored on a legitimate purpose.
In a message, NPC Commissioner Raymond Liboro said that while the Data Privacy Act allows law enforcement agencies to process personal information of the public, "this, however, is not without limits."
"There has to be legitimate purpose, and the processing of personal data, especially those of sensitive nature, should only be to the extent necessary for the purpose," Liboro added.
"This means collection should always be consistent with full respect of human rights and the constitution, particularly the right to information privacy," the state privacy commissioner stressed.
Presidential spokesperson Salvador Panelo however defended the supposed act as he said that ACT members should not be worried if they are not doing something illegal.
Panelo, who is also the presidential chief legal counsel, also said that ACT is "a legal organization identified with the left."
He added: "The PNP and the president said that there are legal fronts, but actually, they are part of the left."
The NPC said that they also would like to hear from the PNP's Data Protection Unit on the issue.
NUPL mulls raps vs police
The National Union of Peoples' Lawyers meanwhile said that it is eyeing to bring the issue to court if the police would continue to conduct "such illegal, unconstitutional and invasive intelligence directive."
"Upon preliminary consultations with very concerned teachers, rights lawyers from the NUPL are seriously mulling to seek legal remedies in court to stop ongoing and impending police harassment, surveillance, discrimination and invasion of privacy of members of the [ACT]," the NUPL said in a statement.
The Commission on Human Rights and several progressive groups already raised concerns on the security risks the "profiling" brought as it is akin to red-tagging.
CHR spokesperson Jacqueline De Guia stressed that even if they are proven to be members of any leftist organization, it does not warrant a crime.
De Guia, moreover, urged the police to pursue cases against members of the teachers' group if they have clear evidence. Cases should be pursued within the bounds of law should there be clear grounds, she said.
"It is dangerous to cover infringement of rights with a veil of legality, which could lead to many forms of abuses, including harassment, breach of privacy, restriction of free movement, and even detention without charges," De Guia said.