Grace Poe tops Pulse Asia senatorial survey
January 10, 2019 | 12:00am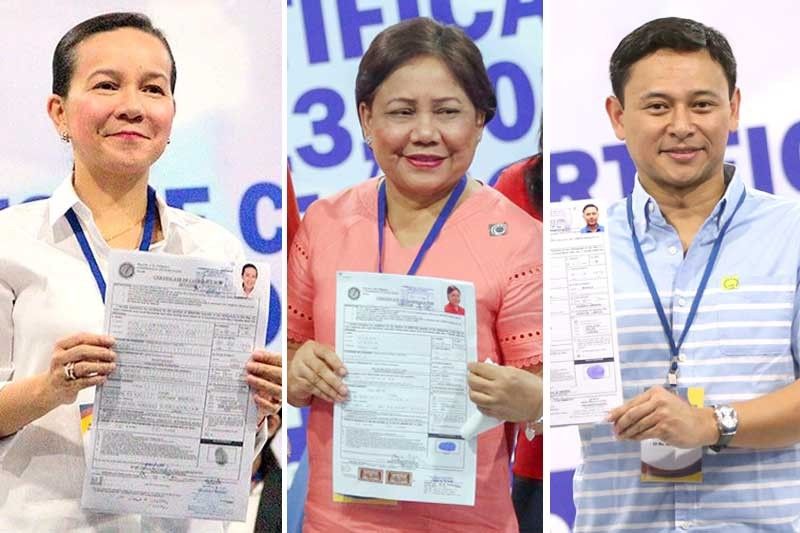 MANILA, Philippines — Sen. Grace Poe has kept her lead over other senatorial candidates in the May 2019 elections based on the latest Pulse Asia survey.
Poe's reelection to the Senate was supported by 75.6 percent of registered voters, according to the poll taken from Dec. 14 to 21.
In solo second was Sen. Cynthia Villar with an overall voter preference of 66.6 percent.
Sen. Sonny Angara and Taguig City Rep. Pia Cayetano shared third to fourth slots with voter preferences of 58.5 and 55.4 percent, respectively.
In fifth to seventh places were former senator Lito Lapid with 49.8 percent voter preference, Sen. Nancy Binay with 46.7 percent and Sen. Aquilino Pimentel III with 45.5 percent.
Former senator Serge Osmeña obtained a voter preference of 38.8 percent and was ranked eighth to 13th places.
He was followed by former senator Ramon Revilla Jr., who placed eighth to 14th with 37.6 percent of respondents voting for him. Revilla was acquitted of plunder by the Sandiganbayan before the survey was conducted.
Sharing eighth to 15th places were Ilocos Norte Gov. Imee Marcos (36.7 percent), former senator Jinggoy Estrada (36.3 percent), former Bureau of Corrections chief Ronald dela Rosa (35.7 percent) and former senator Mar Roxas (35 percent).
Sen. JV Ejercito Estrada garnered a 33.6 percent voter preference and was ranked ninth to 16th places. He was followed by Sen. Bam Aquino, who secured the 10th to 16th places with 32.6 percent.
Former special assistant to the president Bong Go ranked 14th to 16th with 29.7 voter preference.
Poe has been the consistent top-notcher in the last four surveys conducted by Pulse Asia for the 2019 polls, a matter partly attributed by Pulse Asia research director Ana Maria Tabunda to the influence of her late adoptive father, National Artist Fernando Poe Jr., more popularly known as FPJ.
"She is benefitting from the FPJ brand – the good guy who cares for the underdog, the down-and-out, the poor," Tabunda told The STAR.
Nevertheless, Tabunda said Poe has also made her father's pro-poor brand her own, apart from her competence and intelligence.
Poe topped the 2013 Senate race with 20 million votes but lost the 2016 presidential elections to then Davao City mayor Rodrigo Duterte by five million votes.
Meanwhile, the survey also found that 43 percent of registered voters already have a complete slate for the May elections.
It said 2.2 percent of registered voters refuse to identify the senatorial bets they will vote for in May 2019, 1.6 percent are not inclined to support any of these candidates and 1.1 percent are still unsure about whom to elect as senator.
The non-commissioned nationwide survey was based on face-to-face interviews of 1,800 representative adults 18 years old and above.
It has an error margin of plus or minus 2.3 percentage points at the 95 percent confidence level.
Reelectionist senators who landed in the winners' tally in the latest Pulse Asia survey were grateful for the continued support from voters and vowed to work harder.
Poe said she was humbled by the support.
Poe and Angara said the latest results will inspire and challenge them to work harder in making people's lives better.
Ejercito said he was satisfied with his slow but steady improvement in the poll even as he expressed optimism that his performance in the Senate and his clean track record will improve his ranking. – With Paolo Romero