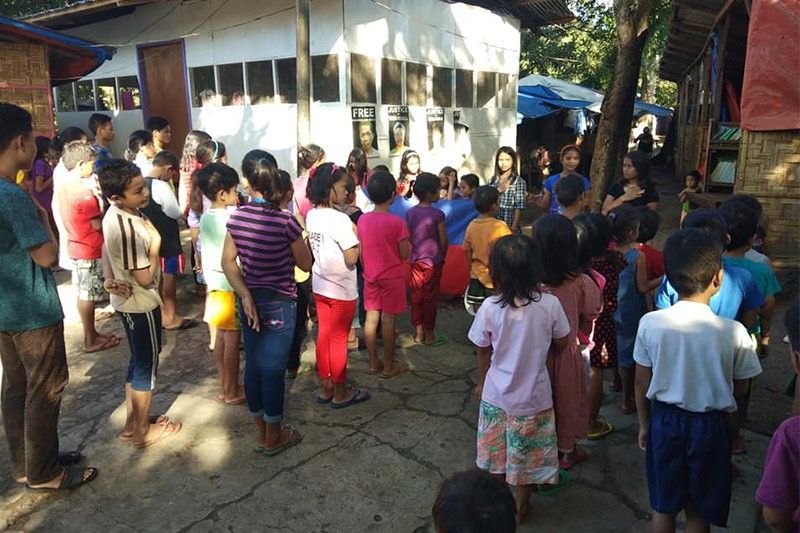 Salugpongan resumes classes inside of a church compound in Davao City
Save Our Schools Network Facebook page
DepEd urges Lumad school to adhere to operating permit's location restrictions
MANILA, Philippines — The Department of Education reminded tribal schools that government permits granted to them are location-specific after reports that a Davao del Norte-based Lumad school is holding classes inside a church compound in Davao City.
Jenielito Atillo, DepEd spokesperson in Davao Region, told state media on Tuesday evening that even though the permit is valid, it could only be used "in the location to which it was given."

"We offer our public schools nearby. We recommend that they send the children there so that their education can be counted," Atillo said.
However, the local education official said they don't have the authority to enter the compound and shutdown classes being offered by the Salugpongan Ta'Tanu Igkanugon Community Learning Center, Inc. at the private property.

Indigenous students who went to the school have been taking refuge at the United Church of Christ in the Philippines in Davao City after their lands in Talaingod, Davao Del Norte have been targeted by military operations over allegations that the campus is being used as a training ground of the New People's Army.
Salugpongan was also the school where former Rep. Satur Ocampo (Bayan Muna party-list) and current Rep. France Castro (ACT Teacher's party-list) went for a "rescue operation" last November, allegedly to help students and teachers get out of the militarized area around their school.

READ: Satur Ocampo, party-list lawmaker arrested for trafficking

Castro and Ocampo, along with 74 others, including 12 teachers and 29 students of Lumad schools, four pastors and an administrator of the school, were arrested in the operation for allegedly transporting 12 minors in five vans when they were pulled over at a military checkpoint in the province.
The group, however, said they were there to provide support to a Lumad community affected by paramilitary activities. The Save Our Schools Network said Ocampo's team was part of the fact-finding mission.

According to a Save Our Schools Network press release, classes resumed on January 7 at the UCCP Haran House in Davao City.

READ: DepEd: No order to close down Lumad schools

The press release said the school was forcibly closed by armed forces and paramilitary units who were harassing teachers and students.

"Teaching Lumad Children is such a monumental task. Education is vital to the social and cultural development of indigenous Communities, so when Lumad schools are attacked it is no exaggeration to say that the future of IP communities is at stake. Because of that, we from STTICLC shall fervently resume the classes of two campuses at Palma Gil Talaingod albeit in a different area – at the Bakwit site at Haran, Davao City," said Meggie Nolasco, Salugpongan executive director.