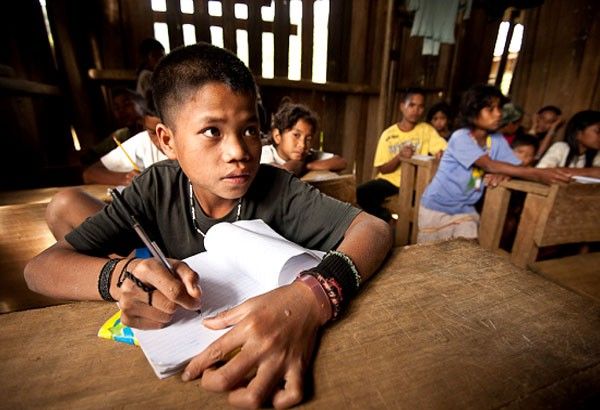 DepEd said it "continuously recognizes and supports the valuable contribution of non-government and community-led institutions in helping improve access to culture-based basic education."
Lila Shahani, file
DepEd: No order to close down Lumad schools
MANILA, Philippines — The Department of Education "did not order the closure of any school serving Indigenous Peoples learners," its central office said in a statement Tuesday.
"This is in view of a recent claim that a Salugpongan learning center in the region was closed 'upon the orders of the Department'," DepEd said.
According to a report by MindaNews, the division office in Davao del Norte did not issue a closure order either.
"We do not issue a closure order. The Division of Davao del Norte has no authority to issue such. If there is, the order should be issued by DepEd Central Office in Manila," MindaNews quotes Josephine Fadul, division superintendent, in its report.
DepEd said that, according to its regional office in the Davao region, tribal leaders from an IP community in Talaingod held a press conference on Monday morning and said that the closure of a Salugpongan learning center was a "community decision supported by a resolution issued by the IP community council."
Davao Del Norte Gov. Anthony Del Rosario said in an interview with ANC on Monday that the school closure order came from the local government of Talaingod.
"This is being supported by the tribal councils of this area. These are schools located in tribal areas not being chaired by DepEd," Del Rosario said.
Salugpongan school has 'permit to operate'
Salugpongan Ta' Tanu Igkanon Community Learning Center, Inc. (STTICLC), the school in question, is one of the three private IP schools in the region that was granted a permit to operate in 2014.
"Currently, there are 73 private learning institutions distributed in the region, with most of the learning centers found in Davao del Norte," DepEd also said.
According to DepEd, a "permit to operate" gives the school temporary authority to run while the applicant waits for its requirements to be approved.
"It is in the belief and confidence in the role of and partnership with private institutions and community stakeholders that the department consistently underscores the importance for these learning institutions to secure recognition and permit to operate from their respective DepEd regional office," the statement read.
It also said that it "continuously recognizes and supports the valuable contribution of non-government and community-led institutions in helping improve access to culture-based basic education through the Indigenous Peoples Education initiatives."
DepEd has an IP Education program that recognizes that the mainstream education program may not be accessible to or may not be culturally appropriate for IP communities.
'Talaingod 18'
The statement comes after kidnapping charges were filed against former Baya Muna party-list Rep. Satur Ocampo and ACT Teachers party-list Rep. France Castro for transporting students of an IP school in Talaingod, Davao Del Norte. Police said the group could not produce documents showing they were transporting the 14 minors with their parents' consent.
READ: Duterte backs police in arrest of 'Talaingod 18'
Prior to Ocampo and Castro's arrest, the Makabayan bloc filed House Resolution 2331 on November 21, condemning paramilitary group Alamara for allegedly "forcibly" closing the Lumad school.
"In the past few months, this battalion (56th Infantry Battalion) and its paramilitary group Alamara forcibly closed the Nasilaban campus by padlocking the school and harassing the teachers and students," the resolution read.